Charlotte's Web CBD Oil Review (2023)
Posted On January 31, 2023
---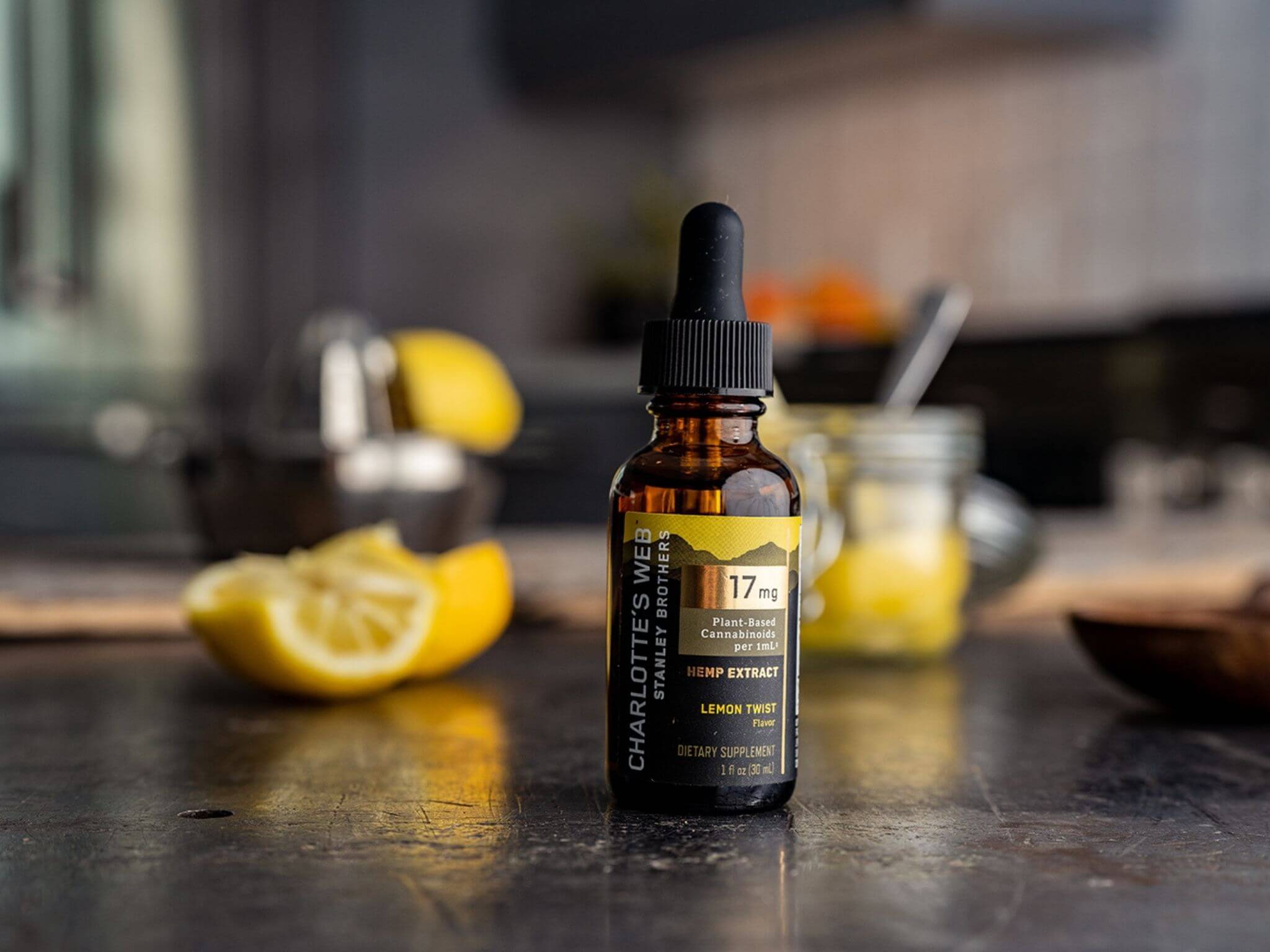 OVERVIEW
Charlotte's Web CBD oil started with seven Colorado-based brothers (the Stanley Brothers) who wanted to help a young girl and her family. It went on to become the gold standard for CBD oil in the United States.
Charlotte's Web CBD Quick Summary
Don't want to read the full review? Here's a quick summary of some things that stood out the most when we were doing our Charlotte's Web CBD Review:
Pros
Undeniable quality.
Taste and flavor are extraordinary (especially the Lemon Twist CBD oils).
USA-grown, USA-made products.
10mL sampler options so you can try the oils first without spending a lot of money.
Product range is much more affordable after the 2020 pricing structure update.
Cons
To be honest, none that we can think of.
Charlotte's Web CBD Complete Review
Before we get into our Charlotte's Web CBD review, let us remind you all of one thing. Hemp is a type of cannabis, and all forms of cannabis should at least have an underlying cannabis taste and/or aroma. Here at MyFitLife, we have reviewed many "CBD" products that are void of any cannabis taste or smell.
Charlotte's Web by the Stanley Brothers is certainly not a brand that falls into this category. It's obvious that their entire range of products, from their oils to their gummies, actually come from cannabis (US-grown hemp, to be exact). You realize as soon as you open the lid on a jar of gummies or CBD oil that this is legit, high-quality stuff.
In this Charlotte's Web CBD oil review, we'll be discussing the specific products we tried. We'll go over things like taste, effectiveness, price, and how these products compare to some of our favorite go-to oils. We'll also discuss the brand's refreshed pricing structure, including relevant discounts for 2020. Charlotte's Web used to be quite expensive compared to other top-of-the-line brands, but they have since modified their product range (without compromising on quality) and are now more accessible to a wide range of budgets. Keep reading to find out whether the brand is worth the investment.
Ready to shop authentic Charlotte's Web CBD products? Visit the official online store and browse current discounts:
The Charlotte's Web Story
Charlotte's Web™ CBD brand has quite a unique backstory. The brand started with seven Colorado-based brothers (the Stanley Brothers) who wanted to help a young girl and her family. You've probably heard about this high-profile news story in the New York Times or 60 Minutes.
With experience in hemp cultivation, the Stanley Brothers developed unique hemp varieties that were high in CBD. The plants would not get users high, but would still provide the users the opportunity to experience the potential wellness benefits of cannabis.
The brothers' assumptions were spot on, and back in 2012, the 'Charlotte's Web' CBD brand was born. As we said, you've likely heard about the Stanley Brother's fascinating story on national news channels. If you haven't, make sure and check it out online because we don't go into much detail about it here in this article.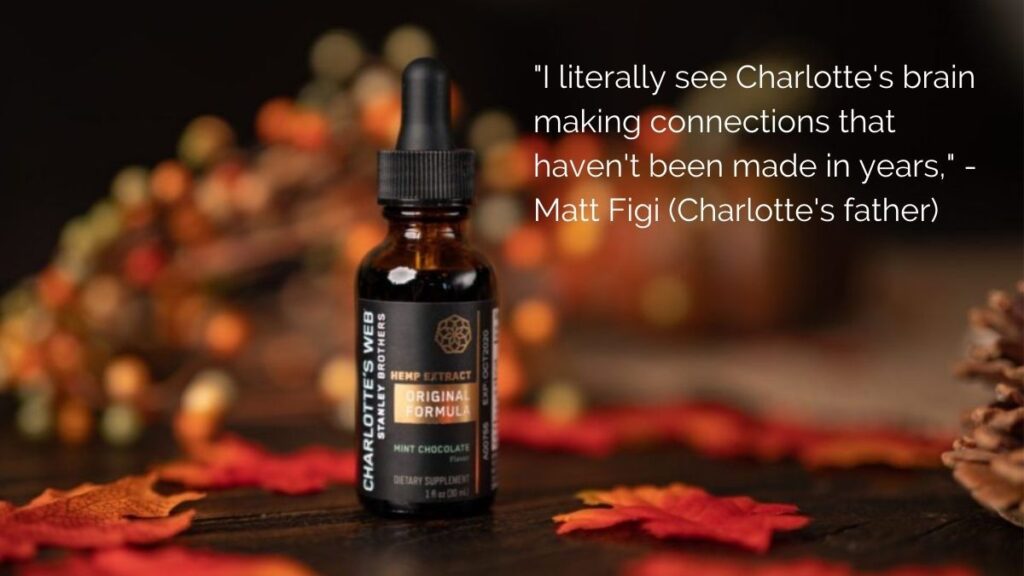 Anyway, the 'CW Hemp' brand created by the Boulder-based brothers went on to become the gold standard for CBD oil in the United States. Nowadays, many recognize the brand as the 'World's Most Trusted Hemp Extract' company. And as skeptical as we can be, we can't disagree much with this claim.
As far as the folks behind the brand itself, we've had the pleasure of speaking with them a few times and it's clear that their knowledge and passion for hemp and CBD go well beyond that of any other brand. This translates directly into their customer service, which is truly top-shelf. (Side note: whenever we review a brand, we usually call the contact phone number to get a feel for how they operate. Of course, we never tell them we're 'industry writers' doing a product review. After all, we want to get treated just like every other customer does).
All in all, we've been blown away by the level of care and knowledge that Charlotte's Web staff has. Most brands nowadays outsource their Customer Service to places like India – not these guys. It's clear the entire team is dedicated to quality, and that's what we've come to expect of CW Hemp products. After all, there's a reason why they're consistently regarded as one of the highest-quality hemp extracts in the country.
Anyway, enough about the people behind the CW Hemp label. Let's check out a few of the products and get on with the Charlotte's Web CBD oil review.
Uses and Potential Wellness Benefits of Charlotte's Web CBD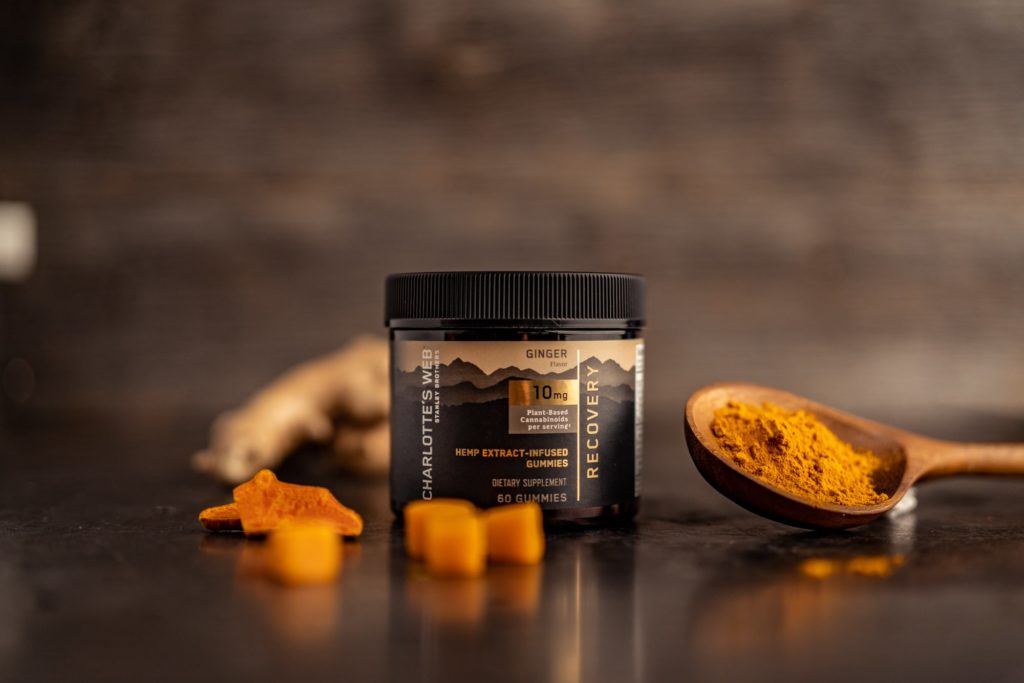 For decades, hemp has had the misfortune of being illegally classed with "other" forms of cannabis (i.e. marijuana). For this reason, it has been difficult for researchers to study it.
However, the limited amount of research that has been done on cannabidiol has been overwhelmingly positive. In fact, the world's first natural CBD-based medication, Epidiolex, was recently approved by the FDA for prescription use.
That said, it's important to distinguish between a prescription drug like Epidiolex and something like Charlotte's Web CBD oil. Charlotte's Web is not a medication – it's a hemp-based dietary supplement. As such, it is not designed or manufactured to "treat, cure, or diagnose" any disease or medical condition.
None of the products made by Charlotte's Web CBD oil – or any CBD company for that matter – are evaluated by the FDA. It's important to understand that.
If you want to read up on the potential health benefits of cannabidiol, you'll have to do that on your own time. Just make sure and search out quality, academic articles from .gov or .edu websites. There's a lot of bogus, agenda-driven stuff on the web, so be wary of that.
Of course, there are still many potential benefits to taking Charlotte's Web CBD oil. Our reviewer found the products to be incredibly helpful in supporting and maintaining a healthy sleep cycle, as well as calming him down and improving focus during long hours at work. As anyone who sits behind a computer screen for a living will attest to, it is tough to stay on task for eight (or more) hours a day.
As far as ordering online if you're actually wanting to buy Charlotte's Web CBD oil, it is an absolute breeze no matter where you live. And regarding where to order it online, you'll want to make sure you buy directly from the CW website so you don't end up with a knockoff product.
Charlotte's Web Hemp Oil: A Note on Hemp Legality
Back in November 2018, President Trump signed an updated version of the U.S. Farm Bill. In this bill was something called the Hemp Farming Act, which removed hemp as an illicit Schedule 1 substance. Under this Act, it is legal (with the proper licensure) to commercially grow and sell hemp in the USA. Still, some folks are wondering whether products like Charlotte's Web CBD oils – which are extracted from industrial hemp – are legal in all 50 U.S. States.
While the Farm Bill does legalize commercially cultivated hemp, there's slightly more to the bill than meets the eye. Products that are extracted and/or manufactured from industrial hemp – i.e. Charlotte's Web CBD oils – are widely available across the USA. As you know, these products can be readily ordered online and shipped nationwide. But what's actually meant by the term 'industrial hemp?'
In a nutshell, industrial hemp is a close "cousin" to the marijuana plant. Both hemp and marijuana come from the same plant genus – cannabis. Of course, the major difference is that hemp contains very little THC, which is the psychoactive ingredient in cannabis. In other words, products derived from hemp will never get you high – ever.
Charlotte's Web CBD oil is produced from some of the finest hemp in the United States. This much is known. In fact, as we mentioned earlier, the Stanley Brothers actually created a genetic lineage of hemp in Colorado that was specifically bred for its high CBD content.
DID YOU KNOW? The Stanley Brothers actually created a genetic lineage of hemp in Colorado that was specifically bred for its high CBD content.
Furthermore, rather than just isolating the CBD compound by itself, Charlotte's Web products utilize a complete hemp extract. You may have heard about products like these, which are commonly referred to as 'full-spectrum' CBD oils.
Generally speaking, almost everyone agrees that full-spectrum CBD products are superior to CBD isolates (there are always, of course, exceptions). This is because research has shown cannabinoids to be more effective in the presence of one another, rather than when they're working by themselves.
What Can Charlotte's Web CBD Oil Help With?
Given the full-spectrum nature of Charlotte's Web CBD, people consume their products for many different reasons. Personally, as we mentioned earlier we like to use them to help get a great night's sleep, and also to help maintain focus and engagement throughout the day.
Other than that, however, folks commonly use Charlotte's Web CBD for things like day-to-day stress, activity-induced inflammation (i.e. if you train or work out a lot), and just to generally calm down and relax.
If you read some of the online reviews out there, you'll see pretty quickly that CW Hemp products are effective. Very effective, in fact. This is quality CBD extract, and as we mentioned earlier in the review, it shows as soon as you pop the lid off of a Charlotte's Web product.
Charlotte's Web Hemp: Product-by-Product Reviews
For this particular Charlotte's Web CBD review, we tried four different products. Two of them were gummies (the 10mg 'Sleep' and 10mg 'Calm' formulas). The other was the 17mg Hemp Extract oil, and the last was the 15mg Hemp Extract Capsules. All of these products – and indeed all products across the entire Charlotte's Web range – have been reduced in price as per the company's new 2020 pricing structure. Some products are up to 40% less expensive compared to their 2019 (and prior) prices.
Charlotte's Web CBD Review: Capsules ($39.99 – $74.99)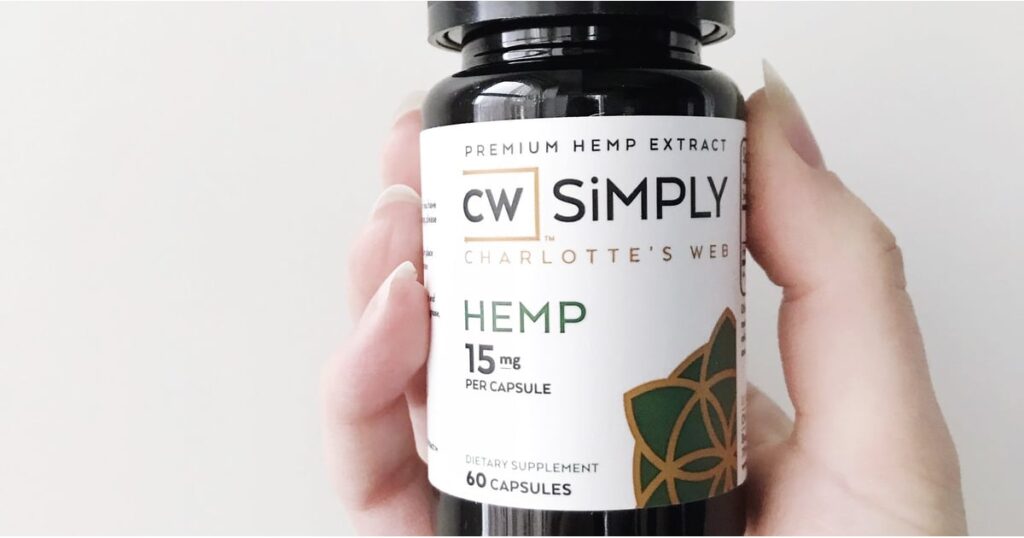 The first capsule our reviewer took gave him a very noticeable sense of "body calm," if that makes sense at all. (We don't mean at all that he got high; we want to reiterate the fact that Charlotte's Web CBD products will never get you high – ever).
The feeling itself is a hard one to describe, but he says his entire body felt loose, calm, and just…. relaxed. We didn't really have anything to judge the effects by, but we would assume CW Hemp capsules would be a fantastic product for those who are looking for improved workout recovery, or for those who just want to enhance their general wellness without taking a regular CBD oil.
Also, we should mention how easy and convenient it is to consume Charlotte's Web CBD Capsules. Just pop one in your mouth, take a sip of water, swallow, and you're done. That's it. Just like any other softgel supplement you've ever taken in your life.
Charlotte's Web CBD Review: Gummies ($44.99 – $107.97)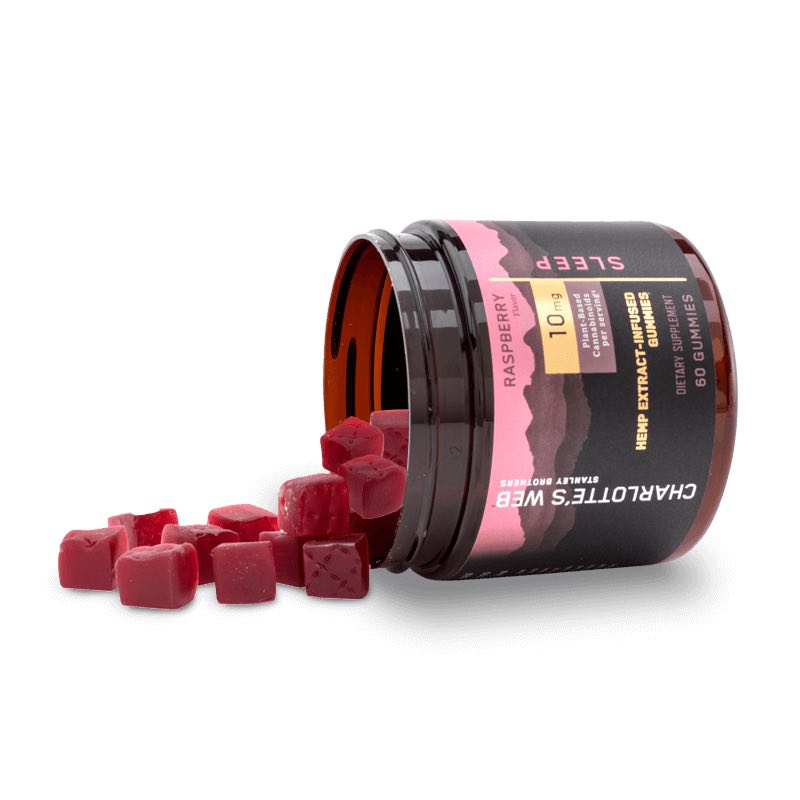 If you're wanting to improve your nightly habits and sleep patterns, we can't recommend Charlotte's Web CBD gummies enough. Especially their 10mg 'Sleep' Formula, which contains a shot of melatonin (melatonin is a natural extract that is commonly used to help improve sleep quality).
Truly, we found these things to work fantastic. The jar says to take two gummies a half hour before you go to bed, and we think this is a pretty spot-on recommendation. For our reviewer, it worked perfectly. He said he could not remember when he had a better night's sleep.
He also tried Charlotte's Web CBD gummies in the 'Calm' formula, which contains a boost of L-Theanine and Lemon Balm. Again, the effects were immensely positive. They helped calm him down, but he said the only qualm he had was that they made him feel a little lethargic. He wanted to just climb into bed after eating two of them, but had to finish out his day at work. At least he was calm and happy!
Charlotte's Web CBD Review: Hemp Extract Tincture ($24.99 – $191.96)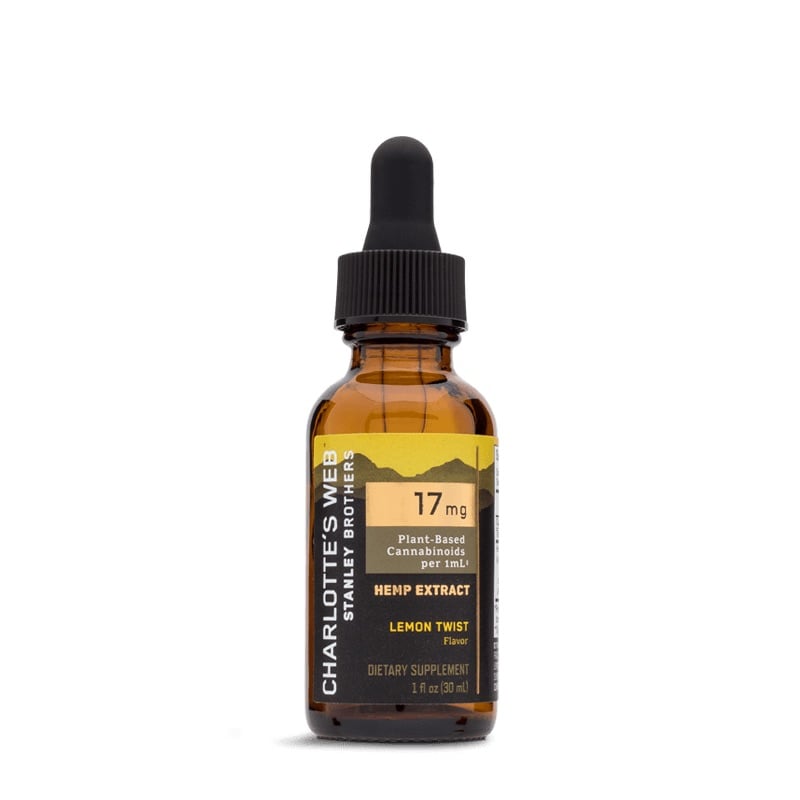 Let's talk about the flavor of this CBD oil first. We tried the 17mg/1mL 'Lemon Twist,' and it reminded us of those beautiful little lemon hard candies we used to eat when we were kids. In other words, it was a CBD hemp oil that actually tasted good. But the nice thing is that we could actually taste the underlying hemp extract as well, which was reassuring.
In terms of effects, the oil tincture didn't cause as much tiredness as the gummies did. It provided the same sort of difficult-to-describe body calm and relaxation, but with less of a feeling of lethargy. If we were going to take a CBD oil for daytime use, we'd use the CBD oil over the gummies for sure.
We tried the 17mg potency (that's 17mg of cannabinoids per 1mL serving) for $59.99, but Charlotte's Web also has stronger and less strong options as well. These include the 50mg Original Formula ($119.99), 60mg formula (also $119.99), and an entry-level 7mg/1mL formula for $29.99. If these other oils have the same effects that the 17mg oil has, we say that they are well worth the money.
And lastly, it's worth pointing out that Charlotte's Web also offers Starter Sizes for all of these different formulations as well. The smaller sizes allow you to buy a bottle for much less than the cost of a normal-sized bottle, which is great because it allows you to actually try the oil and gauge its effects before you commit to paying for a full-priced product (more info on the Starter Size CBD Oils below).
Additional Charlotte's Web CBD Products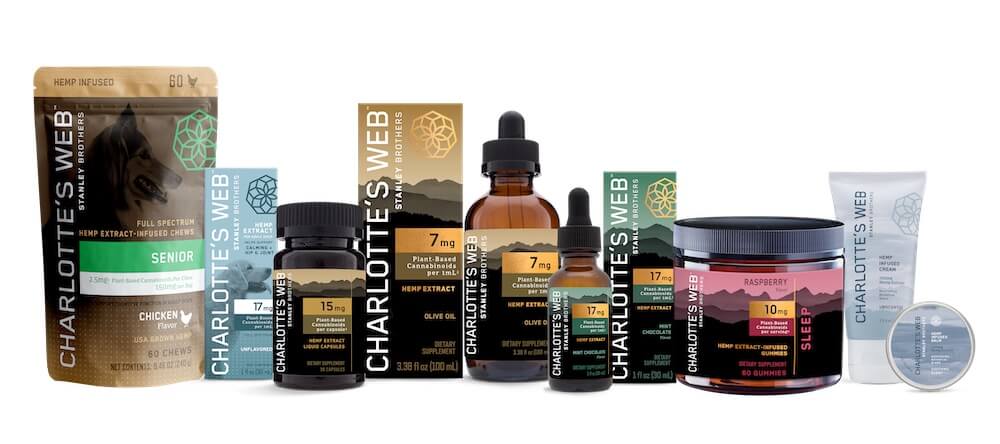 In addition to the products reviewed above, Charlotte's Web also sells CBD isolate oil, topical CBD creams, CBD oil for dogs, and various bundle, bulk, and starter size CBD oil packages at discounted rates. We don't yet have any firsthand personal experience with these products, but surely the quality of each is right up there with the specific products that we reviewed. After all, each of Charlotte's Web products come from the same organic, USA-grown hemp supply.
CBD Isolate Oil
Most of Charlotte's Web CBD oils are what's known as 'full-spectrum' oils. This means they contain an array of additional hemp phytocannabinoids (such as CBG, CBC) along with the CBD content. The major benefit of CBD isolate oils is that they contain virtually zero THC. In fact, CW Hemp Isolate Oils are tested using liquid chromatography technology to make sure that no more than 13 ppm (parts per million) THC end up in the final product.
Not that the full-spectrum oils contain a lot of THC. – they don't. By definition, industrial hemp (which Charlotte's Web CBD oils are made from) contain 0.3% THC or less by dry weight. Still, some people prefer to consume their CBD with next to no THC in it.
Like their other products, CW Hemp CBD Isolate oils are U.S. Hemp Authority certified and made from U.S.-grown hemp. They contain 20mg of CBD in a single 1 mL serving, and are unflavored.
Topical CBD Creams
CW Hemp's line of topical CBD creams, balms, and roll-on products received a major facelift (including lower prices) in 2020. Many of these products received new and improved formulations, as well as sleek new packaging designs. Most surprisingly of all, however, was the fact that Charlotte's Web lowered the price of their topicals while nearly doubling the milligram amount of CBD that they contained. As explained earlier, the reason behind this was to make the products more competitive in the general market (which unfortunately is becoming over-saturated with cheap, poor quality products), as well as more accessible and more affordable to a wider range of budgets.
These are some of the recently-released Charlotte's Web CBD topicals that benefitted from the increased CBD content and lower prices that the company initiated:
525mg CBD Balm Stick ($39.99) with menthol and oils that is designed to be applied to large areas of the body
510mg Cooling CBD Gel ($39.99) with menthol and arnica for deep, soothing applications
CBD Roll-Ons (Lavender and Peppermint aromatherapy blends, $14.99 each) that are supposedly incredibly relaxing
What's All the Buzz About CW Hemp's New Line of Topicals?
One of the things that sets Charlotte's Web apart from other CBD topicals on the market is the fact they test their entire range a minimum of 20 times for safety, quality, and consistency. They also source from 100% non-GMO hemp that is grown right here in the USA on family-run farms.
We've been really wanting to try the new CBD Roll-On topicals, which are designed to be used on the temples, forehead, and wrists or for other smaller areas of the body. Based on what we've heard, these essential-oil infused aromatherapy topicals provide an otherworldly level of relaxation – and they're only $14.99. Check out the link at the bottom of this article to browse the complete selection.
Another new topical we've been wanting to try is the 450mg Balm that comes in a small tin jar. These are apparently great for use right after waking up, and like the roll-ons, are made to target smaller and more specific areas of the body (i.e. the elbows, wrists, knees, and knuckles). For larger areas with wider expansions of muscle – like the back or thighs – the CBD Balm Stick (which includes menthol, peppermint oil, turmeric oil, and ginger oil) is a better option.
Lastly, Charlotte's Web still of course sells their famous CBD Cream, which has been boosted up in potency to 750mg (2x more CBD per ounce). This can be used on sensitive skin, and includes ingredients like aloe vera, coconut oil, oat extract, and sea buckthorn oil for an intensely moisturizing experience on all areas of the body.
CBD Oil and CBD Gummies for Dogs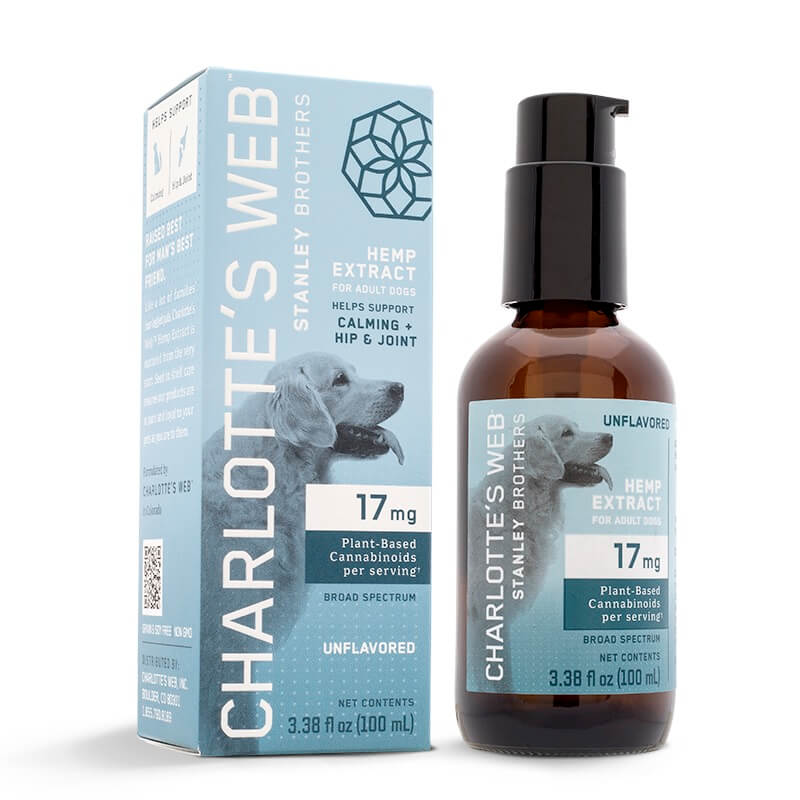 If you care just as much (or more) about your dog's health as you do your own, then it makes sense to invest in the quality of Charlotte's Web. The brand offers things like Calming Chews, Hip and Joint Chews, and a flavored Full-Spectrum Hemp Extract made specifically for dogs. Interestingly, they also offer bundle packs where you can combine a CBD 'human' product (i.e. a product for yourself), along with one of the dog-specific products and save some money.
We also like the idea that they offer Chicken-Flavored Chews made specifically for senior dogs ($19.99), which we imagine are super popular based on the number of folks who are giving CBD to their aging canines. And if you're not sure which product to try, you have the option of buying a 'Pet Bundle' which includes both the calming 30mL CBD drops and the Calming Pet Chews.
Lastly, if you're interested in supporting a good cause, the CW Hemp Freedom Service Dogs Bundle ($75.98) comes with one bottle of the Chicken-Flavor 30mL oil, one jar of the Hip and Joint CBD Chews, and a Charlotte's Web Dog Bandana. Benefits go to the Freedom Service Dogs of America, which helps U.S. Service Veterans in need get access to a trained service dog.
Bundle & Bulk Charlotte's Web Options
Another unique aspect of Charlotte's Web CBD products is the opportunity to purchase bundle packs with multiple different products. We know how frustrating it can be to try and find the right CBD product for your needs, which is why we believe these bundles offer such extraordinary value. They allow you to try out a few different products in one single order so you can figure out what works best for you.
For those interested in saving some money on high-quantity orders, Charlotte's Web also offers bulk purchasing options for both their gummies and their CBD oils. Be sure and use the link below to check out all available options.
Starter-Size CBD Oils
Even with the brand's newly updated price structures, Charlotte's Web CBD oils can still be on the expensive side of things. Quite literally, this is just the price you have to pay in order to get quality, reliable, well-made CBD oil.
Fortunately however, Charlotte's Web has implemented a new 'Starter Size' option that allows customers to try out different CBD oils at a far cheaper price than buying a full-size bottle of oil. These starter sizes come in small 10mL bottles (the normal-sized ones are 30mL), and are available in the 17mg/1mL formula, the Original 50mg/1mL formula, and the 60mg/1mL formula. With prices as low as $0.08/mg, this option represents a truly incredible bargain both financially and in terms of finding the best CBD oil for your needs.
Final Words About Our Charlotte's Web CBD Oil Review
All in all, we can't recommend Charlotte's Web CBD oil enough. If you've read some of our other reviews in the past, you'll know we're pretty skeptical. We've been harsh with other brands, and many products in the past have been on the receiving end of full-blown disapproval. It actually feels a bit awkward to finally have something positive to say about a CBD brand. Or maybe it's just that we've reviewed so many subpar CBD products in the past.
As we've mentioned a few times, one of our favorite things about Charlotte's Web products is that you can actually smell and taste the cannabis that they came from. We really, really appreciate that. And of course, we appreciate the fact that they just flat out work.
And now, with the company's updated prices, these ultra high-grade CBD products are more affordable than they ever have been. On a price-per-milligram basis in fact, some of the formulations come in between $0.08 and $0.10 per milligram, which is truly astonishing for a brand of Charlotte's Web caliber. We highly recommend trying out the new line of CW Hemp topicals (which are up to 40% less expensive and contain 2x the amount of CBD), as well as the Starter Sizes if you want to sample authentic Charlotte's Web CBD oil but don't want to commit to spending a lot of money without first seeing how the products work.
Anyway, we sincerely hope that this Charlotte's Web CBD oil review was helpful and informative for you. If you've got any additional questions, don't hesitate to get in touch with us here at the MB team. For the quickest response, we'd recommend leaving a comment below.
---
Trending Now