Delta Extrax Review (2023)
---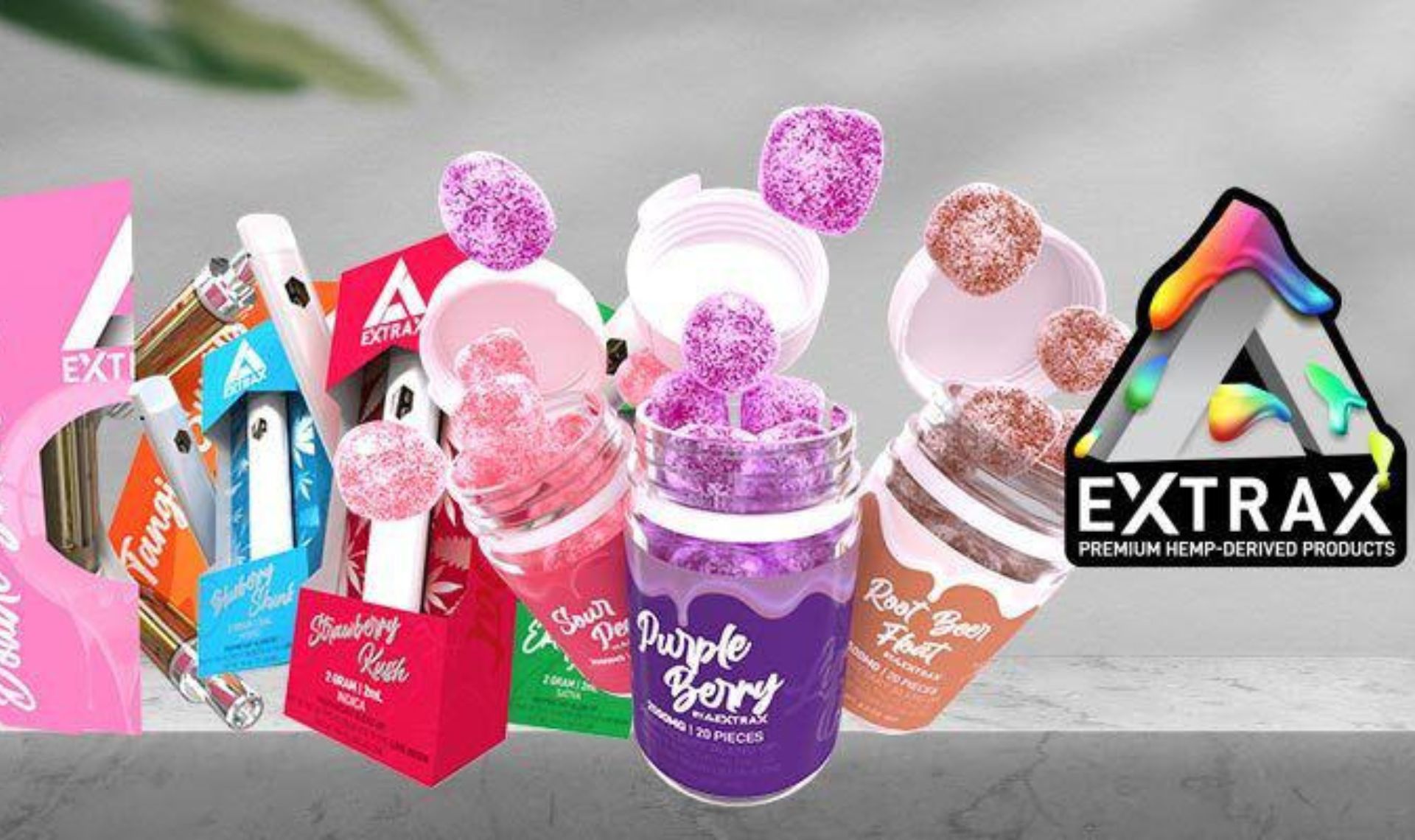 After spending hours testing Delta Extrax products, I've been to the moon and back enjoying some of the goodies they offer.
Their marketing strategy seems to revolve around bright colors, cartoons, and festival culture. With that in mind, it's safe to assume that the brand's origins are equally exciting, right? Unfortunately, there's not much to know about the company other than it was founded by Chris Wheeler in 2014.
Delta Extrax was recently introduced as Savage Enterprises' premium hemp extracts brand and has amassed major popularity ever since.
This California-based retailer focuses on Delta-8 and 10 THC products, hence the name. Delta Extrax has snowballed in popularity over the years, as it has become known for its selection of high-quality and trendy formulas.
Before I jump ahead in my Delta Extrax review, I thought it best to go over some highlights.
Highlights
Pros
A wide selection of THC products to choose from
Provides educational resources for those unfamiliar with cannabinoids
Offers a subscription program for some of its products
Affordable products
Positive customer reviews
Free shipping on orders over $50
Cons
Nothing with mild potency
Most lab tests are not full-panel
Edibles and bongs have become associated with a sort of hip glamour. It's no secret that the cannabis industry is often catered to the urban youth, as THC is usually in conversation with hippie coffee shops, vintage record stores, VIP clubbing, and other 20-something activities.
What I like about them is that Delta Extrax has some of the most potent hemp products available. They leverage their experience with their commitment to delivering quality products. Whatever they're doing is clearly working.
What could be better? They do not list potency on the packaging for vapes and disposables and most of the tests are not full panels so you can't be sure of testing outside of potency either.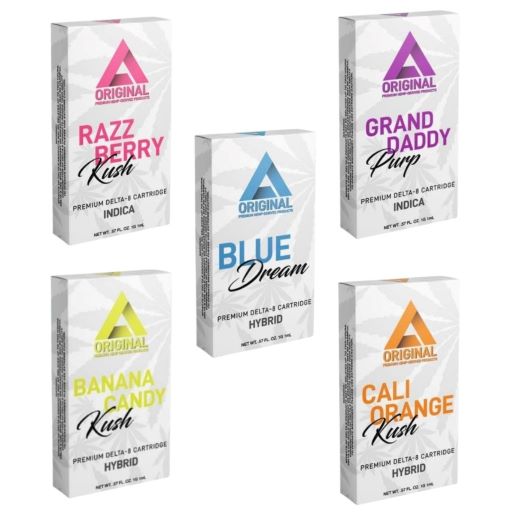 Vape Cartridge
The most direct and powerful way of consuming Delta-8 THC is either by smoking or vaping. The latter works just as efficiently but has fewer health problems than the former.
Delta Extrax seems to have understood this well and has introduced several flavors in this line of products.
Blue Dream, Razz Berry Kush, Banana Candy Kush, Strawberry Cough, Cali Orange Kush, and Grand Daddy Purp are the options you can find. These will fill every puff of vape with fun.
The above-mentioned choices are different strains mixed with a perfect blend of flavors. The different strains have different proportions of Sativa and Indica or their pure forms that make every option completely distinctive in feel and effect. These cartridges are disposable and have a THC content of less than 0.3%.
It is the little amounts of extra ingredients that keep the brand on top of its game. As you perhaps wonder as to what the extra ingredients are, they are terpenes, in their cleanest form. Different options contain different terpenes. The makers infuse them in the products, adding another dimension to their enjoyability.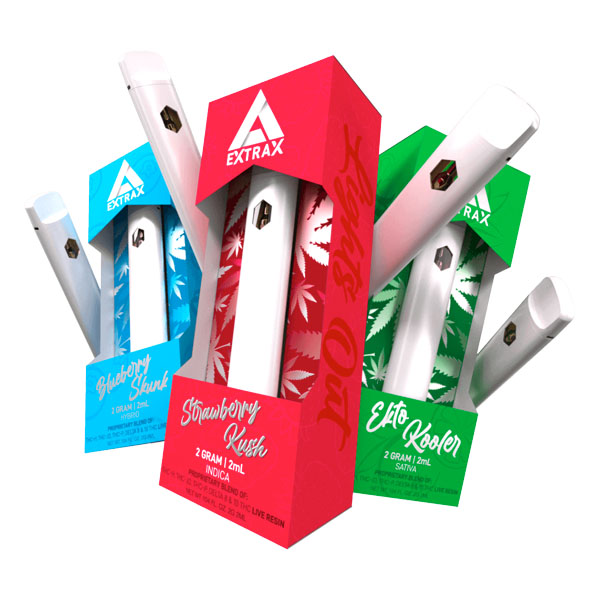 Disposables
Delta Extrax disposable vape pens are packed in a thick paper box with attractive foil detailing. No need to hunt for the elusive battery. Just puff and go.
All the crucial info is listed right on the packing: strain, type, ingredients, and suggested use.
Delta Extrax' disposables allow you to take a small or large hit. No matter the size, the live resin distillate is velvety smooth.
Formulated with a blend of Delta 10 and Delta 8 THC distillate, this vape is a potent portable. Made with tasty terpenes, these puff-and-go vapes tend to produce a more potent high than most Delta 8 vapes.
Each disposable comes in a 1 g size. I prefer this amount as .5 g pens seem to go quickly.
All the brand's vape pens are conveniently rechargeable with a standard USB micro charger. If the vape pen loses its charge, it's not a total loss.
Customer feedback is overwhelmingly positive. Users love the intense high, and smooth hit. The overall consensus is that these disposables last a long time for vapes.
And while I didn't sample this, I expect it's the same as the regular cartridge, which I'd rate 5 stars
Novice cannabis users should be careful with this product. Its lab test indicates that it contains about 90% total HHC. Strap in. Get ready for take-off!
Delta Extrax HHC Live Resin devices are the ideal option for potency chasers. The extensive terpene profile and intense potency will impress the most stringent concentrate snob.
All in all, I was surprisingly pleased with the disposable pen's quality!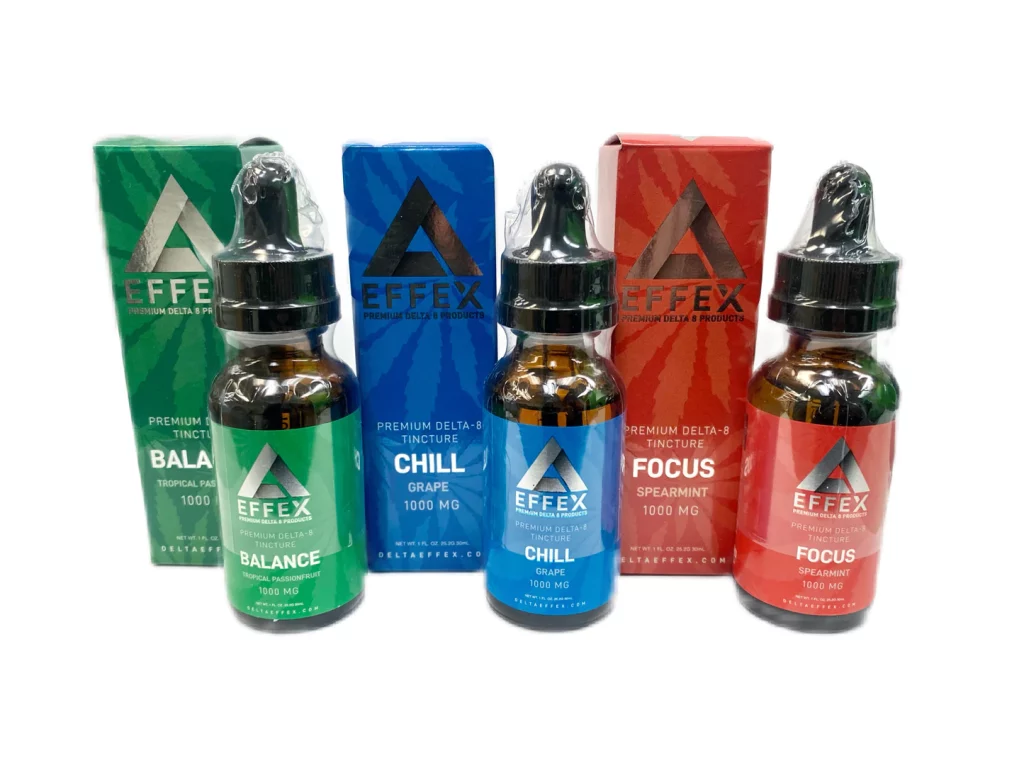 Tinctures
Delta Extrax sells a decent selection of Delta 8 tinctures in 1000 mg bottles.
Choose between three tinctures: focus (sativa), balanced (hybrid), chill (indica).
Available in select flavors (respectively): spearmint, tropical passionfruit, grape.
They're plant-based and vegan!
Each 1000 mg tincture has an eyedropper with .25 ml intervals, making dosage a breeze. There is approximately 33 mg of delta 8 THC per 1 ml dropper full.
The tinctures are formulated with a cannabis distillate and natural terpenes.
Take a drop or two sublingually, under the tongue, to experience quick effects in about 20 minutes. Or use it in your preferred beverage for a gradual high, similar to an edible experience.
With over 300 five-star reviews, this product is well received by fans. Customers rave about the unrivaled potency, felt almost immediately with just a few drops.
Consumers claim the Chill tincture is ideal for a solid night's sleep. The Balanced tincture is perfect for total relaxation.
The only caveat here is that they are available in a single potency only.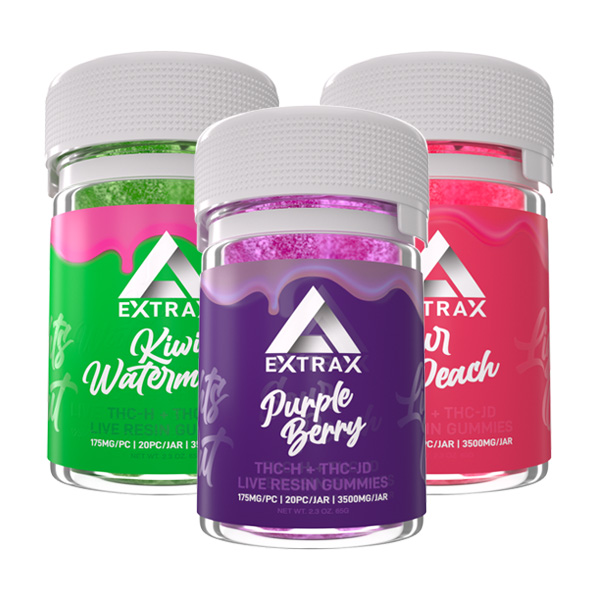 Edibles
Popping a gummy is undoubtedly the most pleasurable and discreet way of enjoying your most-loved cannabis extract. Formerly, it was mostly CBD. But Delta Extrax has brought the combination of the sweetness of gummies and the high effect of the Delta-9 compound.
II was thrilled when my packet of Delta 9-infused gummies arrived on my doorstep because I haven't been sleeping great lately, and needed some help. When I'm juggling a lot, I get stressed out and my mind just won't shut down at night. I was hoping these gummies would help my body could get the rest it needs.
The pink lemonade flavor is delicious. I couldn't taste any of that bitter THC, so it was like I was just eating real candy. I started to feel the effects of the THC in about thirty minutes, and even though I only took 7.5 mg, it was strong. I felt the head high first, which helped me focus on one thing rather than the usually scattered mind that plagues me at night.
Soon, the Delta 9 THC made my body feel like it was sinking into the mattress until I fell asleep. I managed to sleep through the night without waking up, which was heavenly. I woke up still feeling the psychoactive effects, so if you have an important meeting the next morning, I recommend taking it early in the evening.
Summary
Before we reiterate that the ultimate choice is completely yours, let's state some facts.
The D-8 market is growing fast and sharp; bringing in immense opportunities to new companies foraying into the cannabis marketplace. You could easily find tons of brands that are just there to make a quick buck. They may not be as reliable as the brands we would usually project.
However, with Delta Extrax, you can be sure about the ingredients and lab results of the products.
Delta Extrax is one of the most sought-after brands due to its wide range of effective and quality products.
The brand thrives on giving its customers the best of natural Delta-8 THC through seamless scientific research and development.
Its popularity speaks for its trustworthiness.
Overall, If you're interested in potent products that taste great and actually live up to their listed potency, Delta Extrax has something for you.
I thoroughly recommend that you check out Delta Extrax!
---
Trending Now