Overview
JustCBD is a relatively new company, being founded in 2017, but nonetheless remains a quality and well-respected name in the industry. They provide a transparent and trustworthy source of CBD oils and CBD-infused products to aid in overall health and well being.
JustCBD Oil Highlights
Pros
Enormous range of CBD products
Wide range of flavors
All products are third-party tested
Extremely effective for mild ailments
Professional customer support
Fully transparent and accurate
Cons
Relatively new brand compared to other veterans
Not enough information about the brand
Not long ago, JustCBD Oil was kind enough to send us a sample package of virtually their entire product lineup to review here at Myfitlife. When this happens, it generally tells us one crucial thing: that the company is so completely confident in the quality of its products, they're willing to let total strangers test them out and publish their thoughts for thousands of people to see online.
And just to be clear, we were under no obligation to say good things during our JustCBD Oil review; all of the forthcoming thoughts and opinions are ours, and ours only. We tried these products, and what follows is our genuine, honest thoughts about them.
So without further ado, we present our complete review of JustCBD Oil, including our personal thoughts on the price and effectiveness of their oil tinctures, edible gummies, vape juices, hemp CBD joints, flavored dog treats, and topical CBD lotion.
JustCBD Oil: A Brief Company Background
To be fair, we had never heard of the brand JustCBD oil before checking out their range of products for this review. We will say however that the postage label on the box they sent was from Boca Raton, Florida, so it's safe to assume they are a USA-based operation (which generally is a good thing in terms of the quality of the CBD oil… at least in our experience).
Some light company research disclosed that the brand has been around since 2017, which is somewhat of a surprise considering we've tried and reviewed dozens and dozens of American CBD companies here at Myfitlife over the last few years.
Regardless, we can say that the company offers published lab reports of all of their products for sale, which is crucially important in today's market where the majority of CBD products are still unmonitored and unregulated for quality assurance.
JustCBD oil also ships nationwide (as well as worldwide), and has an exquisite customer service platform with responses to emails generally completed within an hour. They also offer one of the better first-time buyer promotions that we've come across, with a coupon code available for $25 off on the first $75 that you spend in the online store (that's a 33% discount!).
Furthermore, each and every one of their products is sourced from 100% U.S. grown industrial hemp, which in our experience, is loads better than the dried out, low-CBD fiber that some companies typically get from China, India, and so on. Simply put, things were looking up for our JustCBD oil review before we even cracked open the box of goodies.
JustCBD Review: Opening the Box
The team over at JustCBD really loaded us up with sample product when they sent over our "CBD test box." We received:
Six different jars of CBD edible gummies
A bottle of 550 mg CBD oil tincture
A 100 mg Master Kush Indica CBD 'Hemp Doobie'
A 2 oz (100 mg) bottle of CBD Infused Pain Cream
A jar of CBD Infused Dog Treats
A Sour Diesel (Sativa) 200 mg (1 mL) CBD Vape Oil Cartridge
A 100 mg Mango flavored Vape Pod cartridge
A 60 mL (500 mg) bottle of Pineapple Express Vape Liquid
Let's take a look at each of their prices so that we can compare them in terms of value to some of the more widely-known names in the CBD industry.
Initial Thoughts on JustCBD Products
So the very first thing that comes to mind after wrapping up our JustCBD review is how "dangerously flavorful" the products were. And make no mistake — we mean that in a good way!!!
Each and every one of the CBD edibles gummies products (in addition to the dried fruit) was so good – and smelled so good – that it was tough to not sit there and eat the entire jar all at once. (Which brings up another point – make sure and keep these out of the reach of children).
Another thing that stood out was how much the 'Master Kush' CBD Doobie actually smelled like weed. As soon as you open up the little tube that it comes in, wow – it legitimately smells like "regular" pot. (Some people think hemp doesn't smell like cannabis, but trust us… it does).
Of course, it says right there on the package that the Doobie is made from 100% USA-grown industrial hemp (which is now a legal commercial crop under the newly-signed U.S. Farm Bill). Of course, the CBD Doobies will not get you high since they contain 0% THC.
Another highlight of our JustCBD review was the opaqueness and robust honey flavor of the 550 mg CBD tincture. So many CBD oil products that we've tried just seem like glorified olive oils, but the tincture from JustCBD really seemed to have some 'therapeutic goodness' in it. Oh, and the honey flavor also makes the consumption process a little enjoyable than other brands we've tried in the past (and by "other brands," we mean most brands).
Negative Thoughts?
This is of course a bit tongue-in-cheek, but really the only thing we can find negative to say about JustCBD is that their gummies are too freaking good! Like we said earlier, they are so tasty it's actually tough to limit yourself to just one at a time – you'll legitimately want to eat the entire jar at once (well maybe not the entirejar, but you get the idea…).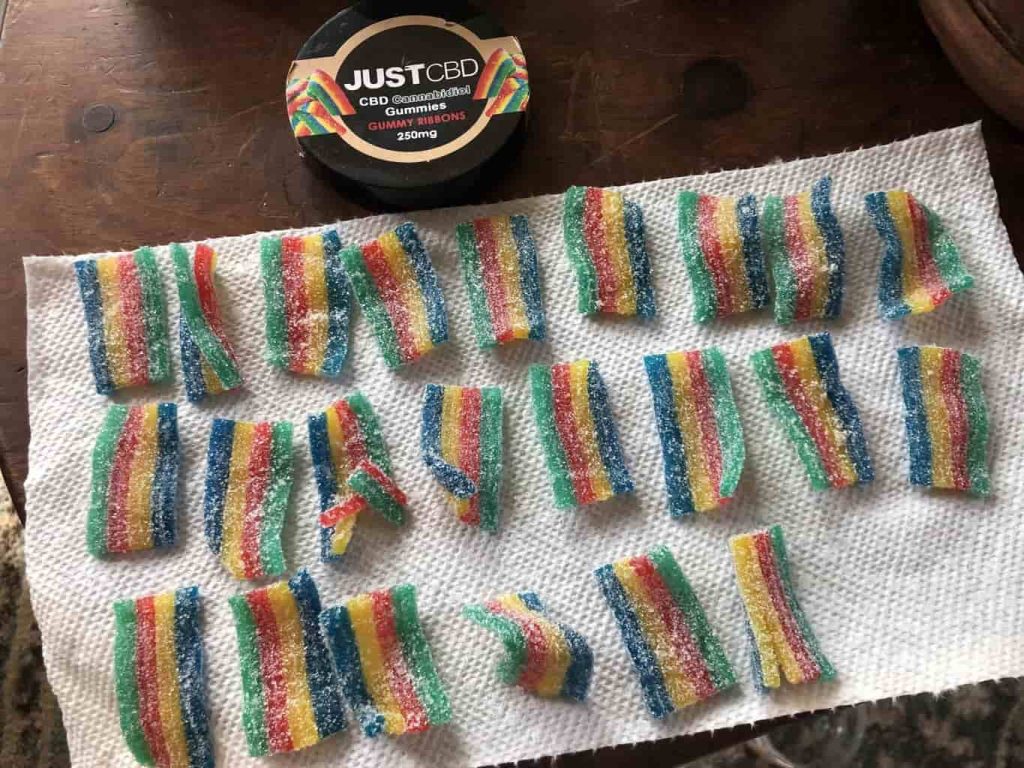 JustCBD Oil Review: Does it Work?
in regards to potency and how effective JustCBD products really were, well… we were blown away by the therapeutic effects that were actually produced. Rather than going through and randomly jumping from product to product, we'll try and itemize our JustCBD review by breaking down the results according to each product we tried.
Gummies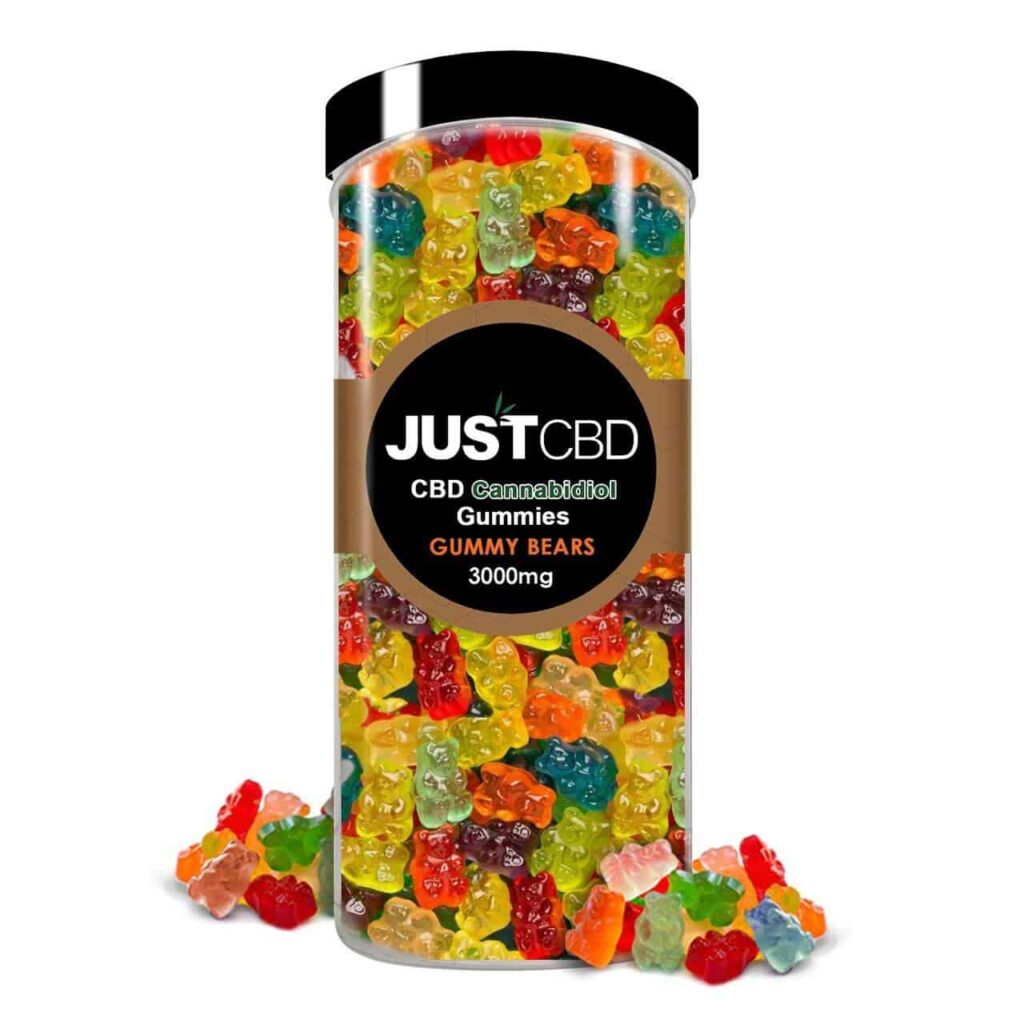 The most obvious effects we got from the JustCBD Gummies were total body relaxation and sleepiness. If you're trying to stay hyper-alert and wide awake, we would not suggest taking the more potent gummies (25 mg and above), as it seems like they'd induce drowsiness pretty well. If you're taking for stress, anxiety, or trouble sleeping however, it seems like they would work very, very well.
CBD Tincture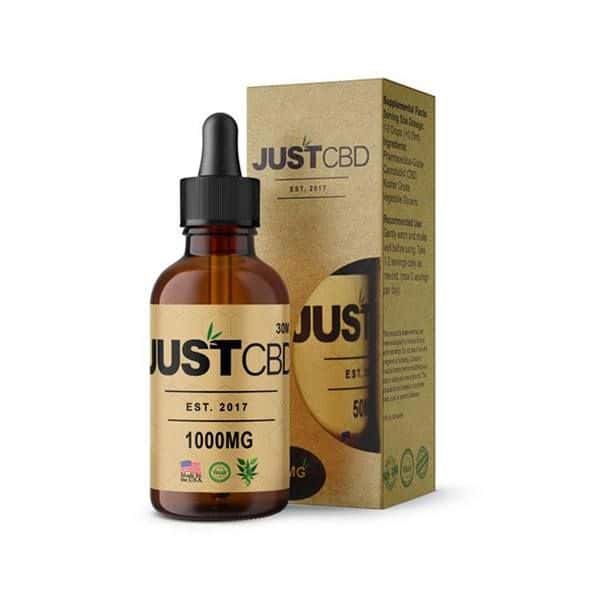 Like the CBD gummies, JustCBD oral tincture seems to be most effective at producing body relaxation. It didn't wipe pain away like ibuprofen would, but it did seem to eliminate mild soreness and just kind of enter the body into a relaxed, "feel good" state. It's a difficult feeling to describe, but it definitely had positive effects – no question about it.
Infused Pain Cream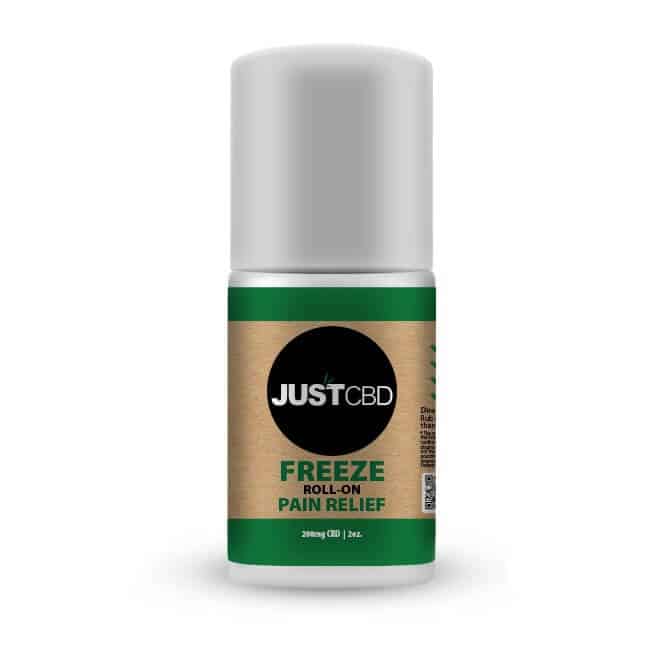 To be honest, we did not experience much of any effects with the pain cream. One of our editors plays soccer twice a week and was dealing with some pretty significant calf soreness after a recent game, and applied four "squirts" of the 100 mg Infused Pain Cream to the back of his leg. He said the soreness may have eased just a little bit, but nothing too dramatic. In our opinion, if you're having a hard time telling whether or not a medication is working, then it's probably not. That said, JustCBD also offers a more potent 200 mg topical that may have had better results, so if you are looking for a topical or something to help reduce joint pain or inflammation, you'd maybe want to go with that one.
CBD Infused Dog Treats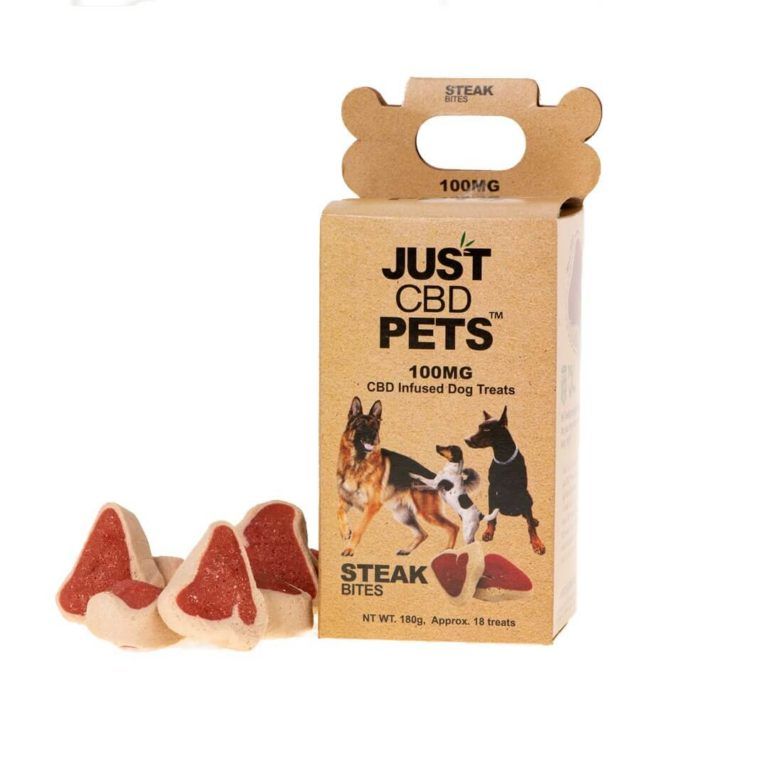 Naturally, we can't say what kind of effects these treats had on the dog we tried them on, but we will say that she absolutely loved them. We used the Steak Bites CBD Infused Treats, and gave her one per day and she wolfed them down every time. Honestly, she did seem to be a little more energetic and spunky after taking them, but again, the effects were not immediately obvious.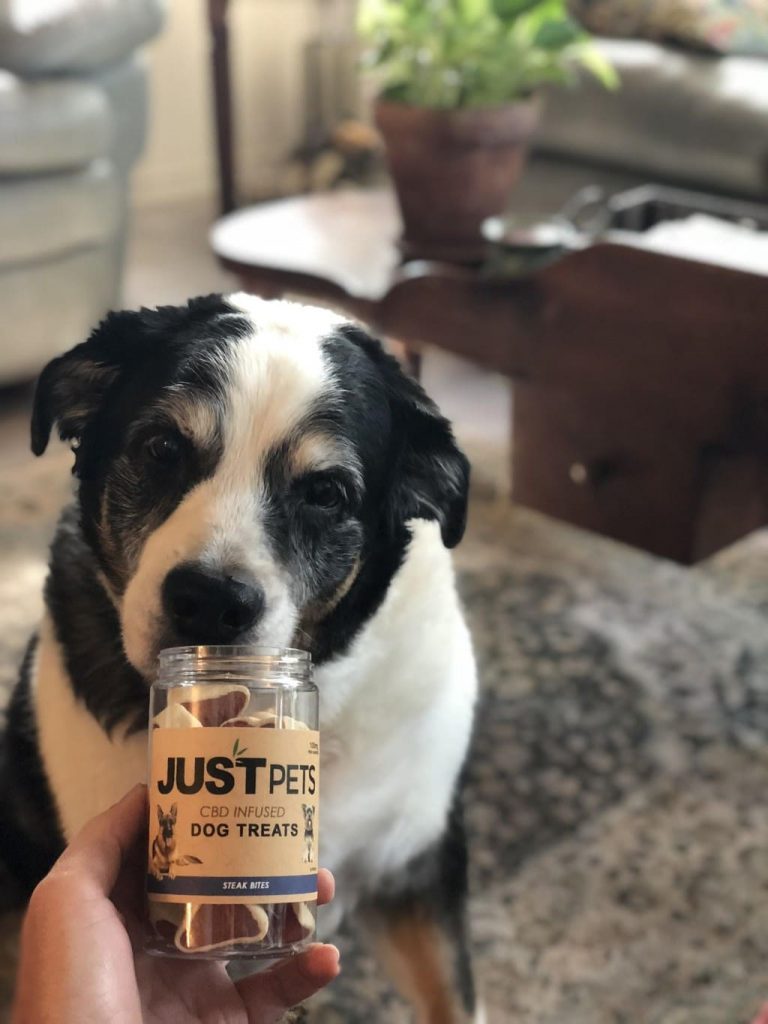 That said, they certainly didn't appear to have any negative effects whatsoever. Also, CBD dog treats would probably have much more noticeable effects on a dog that has specific ailments (pain, arthritis, lack of appetite, etc), rather than the Australian shepherd mix that we gave them to, who is generally healthy and in good shape, but just kind of, well… old.
Sour Diesel Vape Cartridge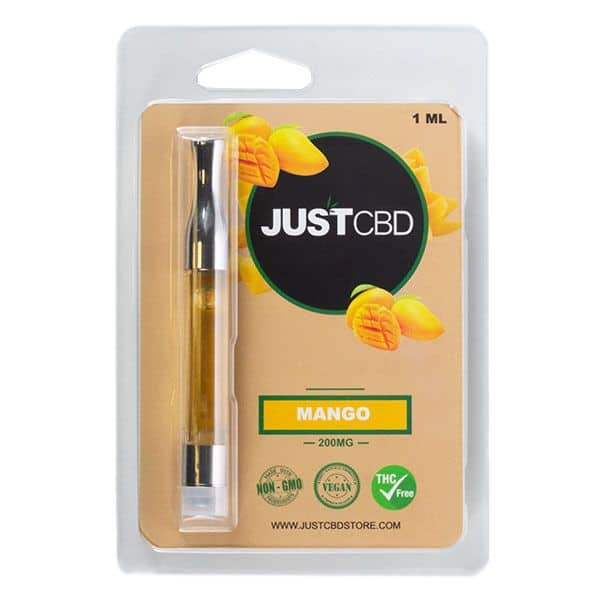 So we'll be honest, the editor that tried this vape cartridge is not a huge fan of vaping. He did a few puffs, and commented that the flavor was actually super smooth and seemed to have pretty obvious body relaxation effects – much in the same way that the gummies and oral tincture had. Also, the small puffs that he took produced massive clouds, and he didn't cough at all. So if you prefer vaping over smoking – or just like the taste of a quality inhalation – we would have no problem recommending the JustCBD vape cartridge. But be advised that the vaporizers are sold separately.
CBD Bath Bombs and Soap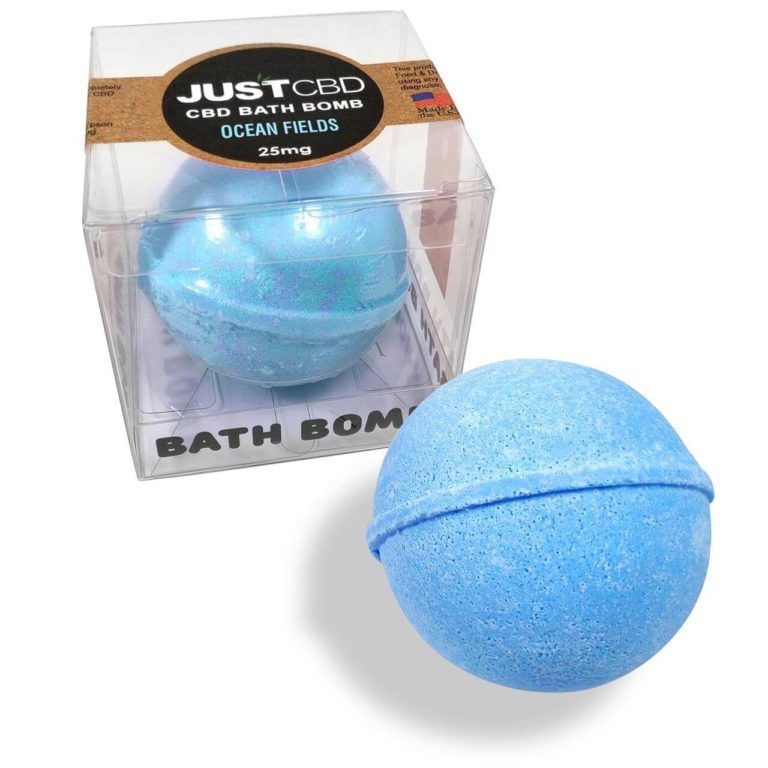 For those who want to relax and ease away stress, Just CBD offers bath bombs and soap to help make you feel refreshed and rejuvenated. Each piece has all-natural CBD oils that aim to also bring back your skin's natural health and condition.
The hemp soaps are available in 4 different variants. The bath bombs, on the other hand, are offered in 6 variants.
The bath bombs are formulated with 25mg of hemp isolate, Epsom salt, essential oils, sodium bicarbonate, corn starch, and colors.
The soap, meanwhile, contains really good oils for the skin like organic olive oil, coconut oil, palm oil, and hemp oil.
Final Thoughts
All in all, we were thoroughly impressed with our JustCBD review. The products definitely produced positive therapeutic results, and we reckon they would work well for people suffering from mild stress, anxiety, and sleep issues. They also seemed to work quite well for mild pain relief, but may not work well for all types of pain.
Also, in terms of price, the overall value of JustCBD oil products is impressive; they rank in nearly across the board at roughly 15% less expensive than brands of comparable quality and offer shipping throughout the states (as well as worldwide).
---
Disclaimer: Please keep in mind, though, that before you start using any CBD-based or related products, you should always consult with your family doctor. While I can tell you about the general collective feeling that most people have about certain CBD providers, this information should never substitute that of professional advice.
---
Trending Now