Royal CBD Review (2022)
Posted On February 3, 2022
---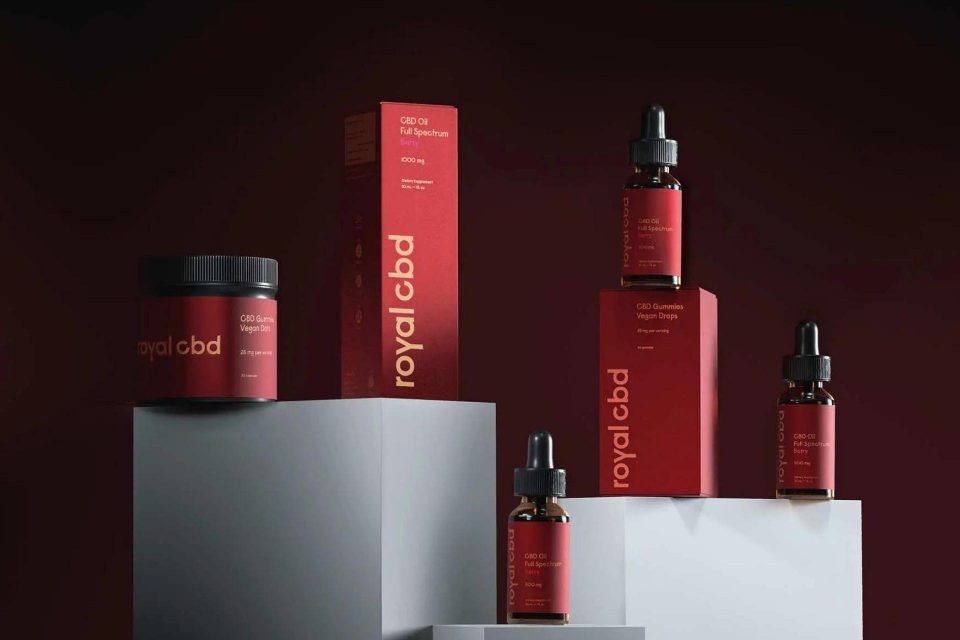 Consistency in quality and transparency — these two features are what separates good CBD companies from fly-by-night businesses.
Despite being a newcomer to the market, Royal CBD offers premium quality CBD and unmatched transparency.
The company likes to keep things simple, considering the fact that the majority of new CBD vendors prefer to use fancy buzzwords instead of providing customers with what they really need — factual information about the product.
Today, I'd like to share more details about Royal CBD. In this article, you'll learn about the company's mission, manufacturing practices, product offerings, and more.
What Makes Royal CBD A Trustworthy Brand?
I'm a big fan of all Royal CBD products; I've been testing them for a few months now, and so far, their full-spectrum CBD oil is my favorite option. Here's what I love about their manufacturing practices:
1. Royal CBD Uses American-Grown Organic Hemp
I was excited to learn that Royal CBD uses organically cultivated hemp plants to make its CBD extracts.
None of their products are certified organic yet — but this is more an issue within the industry than it is on behalf of Royal CBD. It can take months and a considerable investment of time and money to get approved as being certified-organic in the United States.
Nevertheless, the farming methods used to grow the companies hemp are confirmed to favor organic methods as per the lack of pesticides found in the third-party lab testing.
Why is organic hemp so important?
Hemp is a bioacummulator — meaning it will draw everything from the soil it was planted in. If the soil is polluted, your crops will absorb the contaminants, which can also compromise the quality of final CBD products. That's why it's so important for hemp plants to be grown in fertile soil without the use of harsh chemical fertilizers or pesticides.
2. The Company Employs Supercritical CO2 Extraction
CO2 extraction is the highest standard for making CBD products. This method uses low temperatures and high pressure to pull cannabinoids from hemp. It allows manufacturers to avoid using toxic solvents to make the extraction, and it preserves terpene levels more than most other extraction techniques.
3. Each Batch of Product is Tested in an Independent Laboratory
Transparency is my number one requirement for CBD companies. If a company doesn't show lab reports for their products while making bold claims about their effects, I won't use it. I suggest you do the same if you don't want to end up with snake oil that has little to no CBD content at all.
Royal CBD has high transparency standards. Each batch of their product is tested in a third-party laboratory to prove the purity is consistent with what it says on the label.
4. They Have a Diverse Product Lineup
Royal CBD offers a basic range of CBD products. While they don't sell as many goods as some other brands out there, they have everything for both beginners and experienced users alike. You can choose between full-spectrum CBD oil, softgel capsules, and ZERO THC gummies — all available in different potencies.
5. Available as Full-Spectrum or ZERO THC Extracts
Full-spectrum extracts are the preferred option among CBD consumers because they're widely considered by experts to have stronger effects and produce fewer side effects.
However, full-spectrum products also contain trace amounts of THC (usually less than 0.3%). Some people prefer to use products that guarantee 0% THC — which is the psychoactive cannabinoid found in the cannabis family of plants. This may be due to sensitivities to the compound, or for those who have to take periodic drug tests and don't want any chance of false positives.
Royal CBD caters to all types of CBD users. They sell both full-spectrum extracts (oil and capsules) and THC-free products (gummies).
What Products Does Royal CBD Sell?
Royal CBD's assortment is all about the classic formats. The company offers standard oil drops, softgel capsules, and CBD-infused gummy bears. Here's my take on each of these products:
1. Full-Spectrum CBD Oil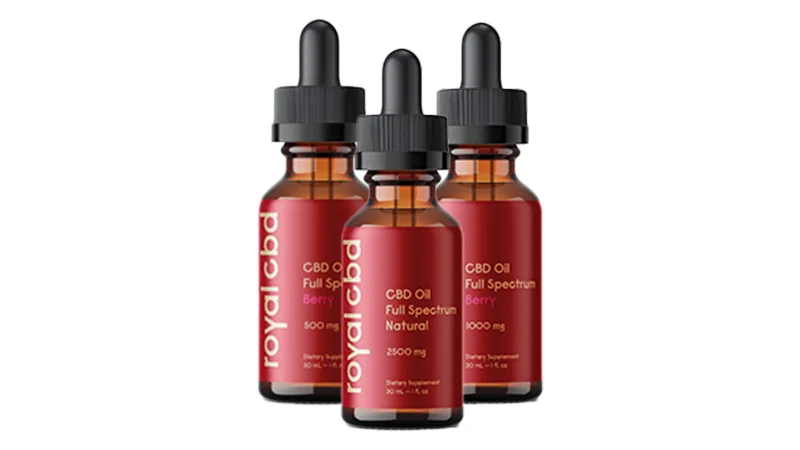 Pros:
Available in 3 potency options: 500mg, 1000mg, and 2500mg
Available in 4 flavor options: Natural, Mint, Berry, Vanilla
Contains the full spectrum of cannabinoids and terpenes
Suspended in premium MCT oil
It has a nice taste; no bitterness or botanical aftertaste
Lab-tested for potency and purity
Cons:
Not available in larger bottle sizes
Flavor-infused only available for 500mg and 1000mg
My Thoughts on Royal CBD Full-Spectrum CBD Oil
I've been using this oil to ease anxiety after giving birth to my second child. I remember I couldn't stop gritting my teeth every time I got stressed, so I was so happy when the full-spectrum CBD from Royal helped solve this problem within the first days of supplementation.
The oil has a nice amber-gold hue, which is a good indicator of oil quality. The extract is clean and viscous, carrying a wealth of beneficial cannabinoids and terpenes.
It's also one of the tastiest "natural" CBD oils I've ever tried; the experience is very smooth, without the harsh botanical aftertaste in the mouth.
2. ZERO THC CBD Gummies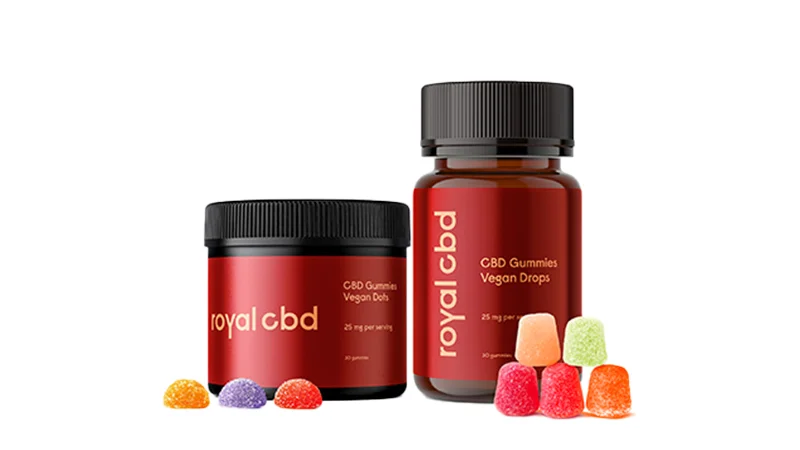 Pros:
They taste delicious — a nice combination of fruity and herbal flavors
Easy to dose — each gummy bear comes with a fixed dose of CBD (either 10mg or 25mg)
Contains zero THC
No artificial flavorings and colorings
Vegan-friendly formula
Gluten-free
Cons:
Only 30 gummies per bottle
My Thoughts on Royal CBD ZERO THC Gummies:
These gummies are extremely easy to dose because they come with 10mg of pure CBD per piece. Whether you need 10, 20, 30, or 50mg, you just need to multiply your serving size until you reach your recommended dosage.
For someone who doesn't need that much CBD, these gummies are a great option due to the cost-efficiency they offer. One container makes for a monthly supply for me, as I'm not a daily gummy user — I only take them on occasion when I need them, such as after a particularly stressful day, when I feel anxious, or if I can't fall asleep.
I enjoy their taste; you can feel they're made with 100% natural ingredients. I only wish Royal had more flavors in their assortment, but I'm aware they're a growing company and they need time to fully spread their wings.
3. Full-Spectrum Softgel Capsules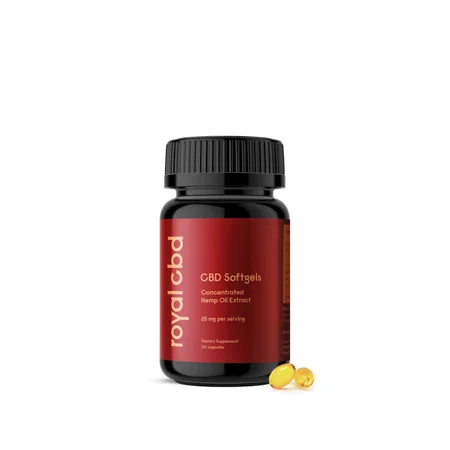 Pros:
They contain the full spectrum of cannabinoids and terpenes
Suspended in premium MCT oil
Easy to swallow
Available in 25mg potency
Easy dosing with a fixed amount of CBD per capsule
Cons:
They're a bit more expensive than the competition
My Thoughts on Royal CBD Full-Spectrum Capsules
For most of my life, I've had a distorted image of capsules. In the past, a large share of supplements involved huge caps that would get stuck in my throat. Even if you swallowed them with a glass of water, you'd still feel that unpleasant painful sensation in the throat for at least one hour.
So, after a long time of abstinence from capsules, I was encouraged by a friend to try the Royal CBD softgels, which are about twice as small as regular capsules. I'm not a fan of this CBD format anyways, but those little softgels were actually easy to swallow; they didn't stick to my tongue or palate; I also needed only one little sip of water to keep them moving down my throat.
4. Royal CBD Cream (Cool Relief Balm)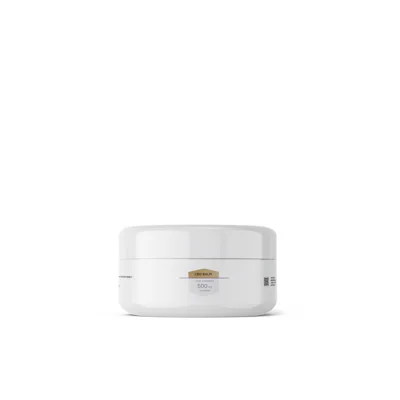 Pros:
Broad-spectrum CBD
500 mg of CBD per jar
Infused with menthol
Contains a blend of fats that improve absorption
Provides a soothing and cooling sensation
Cons:
Sometimes gets a bit greasy if you apply a larger amount
My Thoughts on Royal CBD Cream:
What I like about this topical is the blend of fats from plant oils, such as hemp, sunflower, and coconut. These oils improve the absorption of CBD on top of providing a protective layer on the skin.
The addition of menthol creates a cooling sensation on the target area after each application. The cream also has a nice smell resulting from essential oils such as ginger, clove, rose, and lavender.
My only concern is that the cream gets a bit greasy if you apply it liberally on the skin, but that's the case for the majority of CBD creams.
Other than that, it's my favorite post-workout treatment to deal with soreness and improve regeneration.
5. Royal CBD Roll-on Gel (Icy Menthol)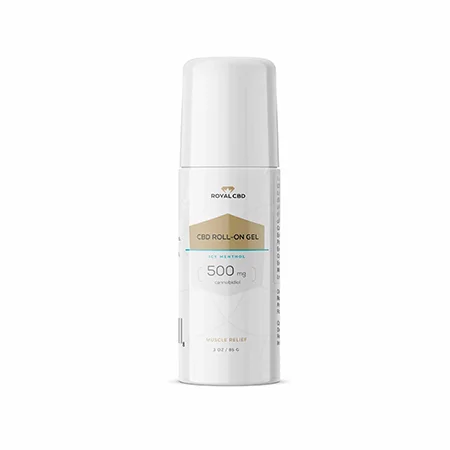 Pros:
500 mg of broad-spectrum CBD
Easy to carry around
Convenient application
Contains menthol and aloe vera
Cons:
No fats to boost the absorption of CBD
My Thoughts on Royal CBD Roll-on Gel
I absolutely love this product thanks to its convenience and ease of use. I'm a casual biker and the Royal CBD Roll-on Gel is my faithful companion every time I get on the road. It's a game-changer when it comes to pain relief after injuries; the cooling effect is even more pronounced than with the Royal CBD cream. It also doesn't leave a greasy feeling upon application.
That being said, there are no fats in the formula, which may raise concerns about the absorption of CBD.
7. Royal CBD Pet Oil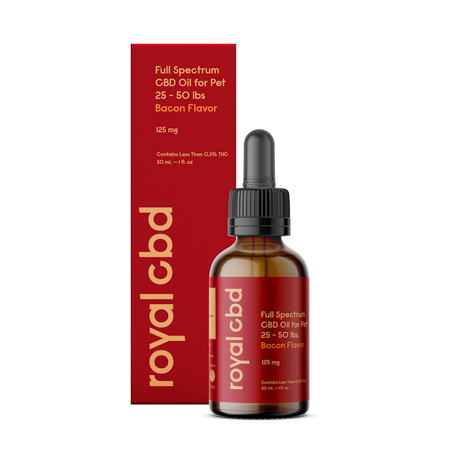 Pros:
Organic hemp
3 strengths available
Up to 500 mg of CBD per bottle
Delicious bacon flavor
Suspended in MCT oil for higher bioavailability
Lab-tested for quality and safety
Cons:
Only one flavored option available
My Thoughts on Royal CBD Pet Oil:
Dogs can reap the benefits from taking CBD oil in a similar way humans do. After succeeding with its line of CBD for humans, Royal CBD has introduced CBD pet oil and three types of dog treats suited for different needs.
The Royal CBD Pet Oil is available in 3 strengths:
The lowest potency has been designed with smaller dogs in mind, while the concentrations upwards of 250 mg are tailored to larger breeds that need more CBD in their routine. Royal CBD uses a whole-plant extract, leveraging the entourage effect. As a result, your buddy doesn't need to take as much CBD oil as with isolates or broad-spectrum CBD.
This product comes in the beloved flavor of all dogs — bacon. If your dog fusses over the natural taste of CBD oil, this product should help them become friends with the dropper.
Final Verdict
A Great Choice for Premium CBD Products at a Reasonable Price
For a relatively new brand, Royal CBD could confidently compete with some of the industry's veterans when it comes to the quality of their CBD products.
The guys at Royal make it clear that they're a premium brand, so the prices are a little bit higher than what your average vendor offers. Despite being slightly above average in cost, the overall quality and corporate transparency provided by this company make this added cost well-justified.
It pleases me to see how the company has grown over the years, becoming one of the industry's leaders. Each product is crafted to the highest standards, and the new formulations are well-thought-out on top of delivering top-shelf quality ingredients.
---
Trending Now