Sunday Scaries CBD 2021 Review
Posted On December 7, 2019
---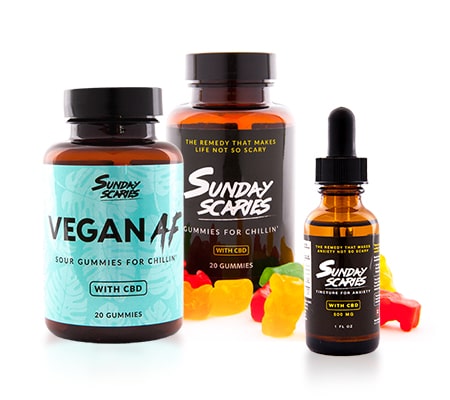 Overview
Sunday Scaries is a CBD company with a focus on CBD-infused goodies such as gummies and candy. They source their hemp from a family-owned farm in Colorado, and make it their goal to make Sundays a little less scary through fun treats, as the dreaded Monday approaches.
Sunday Scaries CBD Quick Summary
Pros
Strong focus on relaxation and stress-relief
Detailed guidance on usage and dosing
All products contain extra vitamins B12 and D3
Uses high-quality Colorado-grown hemp
Lab reports easily accessible on the website
Cons
Has a relatively limited product range
Only one strength of CBD oil available
If you've read enough, head over to the official Sunday Scaries website to see their full product range. Don't forget to use our exclusive coupon code to save 20% at Checkout!
Sunday Scaries Complete Review
If there is one consistent feeling that permeates throughout all of modern life, it is that blindingly frustrating, terrifying sensation of having to go to work tomorrow. During the week it isn't a big deal, as you are starting to get used to the monotony and gentle torture of the modern workforce. However, it is still absolutely horrible on Sunday.
Sunday, that last beautiful day before the beginning of yet another work week. It is so closely tied to that horrible feeling that there is even an actual phrase for it – "Sunday Scaries."
However, there are a few things you can do for yourself to try and make the experience of having to start your work week the next day a whole lot easier; one of the best options is to take CBD. The only thing you need to think about is where you are actually going to get your CBD from.
Sunday Scaries is, fittingly, one CBD retailer that focuses all of their efforts on making CBD products to help relieve anxiety and calm you down. Let's take a look at a few of Sunday Scaries' products, as well as who the company is, to determine whether or not we should give the products a try.
What Is Sunday Scaries CBD?
Sunday Scaries is a company founded by two bartenders well-versed in mankind's desire to put off the coming work week. With all of their experience in helping people deal with their unending stress and anxiety as a result of their forthcoming working week, the two founders of Sunday Scaries, Beau and Mike, set out to form their own CBD company.
In their 'Our Story' section, they focus on the horrendous stress of their jointly owned bar. They found that they didn't have any useful way to relax and decompress after all the stresses of trying to run a business.
Thanks to a friend's gentle convincing, they found that they loved the calming results from CBD, as well as the complete lack of side effects. However, whenever they went and tried to buy their own CBD oil online, they struggled with the lack of proper dosage guidance or intended effects based on said dosage.
So, the team set out to create a CBD retail store that not only provides helpful dosage information, but it is also clearly designed for specific purposes and uses. This feature makes it much easier to use the products as a consumer.
The key focus of Sunday Scaries is on accurate dosage, as well as making all of its products actually useful for its consumers; to that end, every single gummy fits the exact 10mg specifications that the brand has set out. This is to make sure that you can easily tell how much CBD you are getting at any one time, and that you don't accidentally take too much or too little.
Let's take a look at a few of their products to determine which ones would be most suitable to you to help beat the Sunday Scaries.
Sunday Scaries Highlights
Incredibly Accurate Dosage: With a keen focus on accurate dosages, Sunday Scaries is a CBD product you can take and know exactly how much CBD you are getting.
Focus on Anxiety & Depression: CBD has a great many uses. However, one that is far too often underutilized is its ability to help fight anxiety. So, Sunday Scaries focusing on helping those with this condition is extremely welcome.
Trustworthy Sources of Hemp: All of Sunday Scaries CBD comes from hemp grown within Colorado. This ensures not only that all of their hemp is completely legal and low in THC content, but also that it is going to be as high quality as possible. After all, considering the fact that the first major growing operations for both marijuana and industrial hemp plants were in Colorado, it stands to reason that the very best established growers are already in existence within Colorado. This ensures that the hemp Sunday Scaries use is of the very best quality.
Contains Essential Vitamins: Sunday Scaries enriches all of its CBD products with vitamins B12 and D3 for the purpose of improving the nervous system and immune system. These two vitamins are incredibly important at fighting off feelings of depression or anxiety, making them extremely welcome additions to any CBD product.
Sunday Scaries CBD Anxiety 500mg Tincture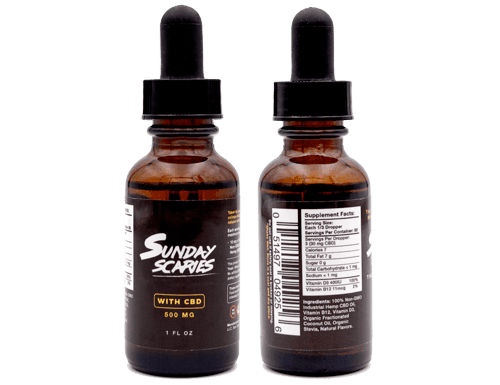 Sunday Scaries' CBD Tincture is a great example of a CBD tincture that works with an extremely precise dropper. With each bottle containing 500mg of CBD, each full dropper is able to deliver 30mg of CBD at a time, offering not only a high-quality full-spectrum CBD oil but also a variety of nutrients that help keep your body healthy.
Sunday Scaries' CBD oil uses coconut oil as its choice of inert suspension oil, along with a secret ingredient: Organic stevia. This sugar-free sweetener gives the CBD oil a subtle kick of sweetness that helps the flavor and gets rid of the harsh, unpleasant sensation of too strong a dose of CBD.
Although the product itself is great, with an extremely convenient size and dosage quantity, the best part of the Sunday Scaries CBD Tincture is the sheer wealth of information the company provides regarding its product and how to take it.
Most CBD websites will tell you the price of the CBD, along with a small amount of information about the ingredients, but with Sunday Scaries you not only get their ingredients and the rationale for including them, but you also get a massive compendium of knowledge to go along with it.
How to take it, how much to take for a specific reason, whether you should take CBD tincture or CBD edibles; the list goes on and on.
Though not everyone wants to read a massive wall of text about what they should know about CBD, it is an incredibly positive sign for the company, as it demonstrates that they not only care about their products but that they care about their consumer and want you to only buy the best things possible for yourself.
Sunday Scaries CBD Gummies for Chilling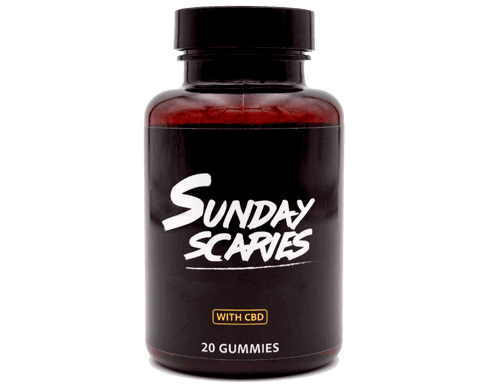 CBD edibles have recently become all the rage, with a myriad of different ways of getting the CBD content that you want into your body. Sunday Scaries offers a fairly standard CBD gummies option that is not only rich in CBD, with 10mg of CBD per gummy, but also full of high-quality ingredients.
In place of the sugar-free stevia in the CBD tincture, Sunday Scaries puts pure cane sugar in its CBD Gummies so as to provide that crystal-clear sweetness that doesn't have any kind of harsh, bitter after-notes.
As ever, there is a full list of useful information on how to take their CBD gummies, including how many you should take at once, along with a recommendation to take a couple of deep breaths as well.
The flavor is fantastic; with a myriad of different flavor choices, it is impossible not to find one flavor of CBD gummy that you like the best.
However, what if you are concerned about the gelatin content within the CBD gummies? What if you are a vegan and abhor the idea of eating any animal products?
Sunday Scaries CBD Vegan Gummies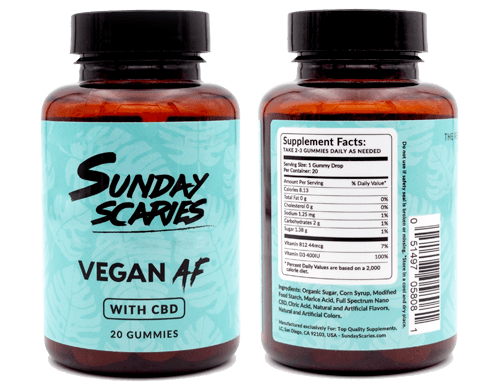 Sunday Scaries' CBD Vegan Gummies are functionally the same product as their CBD Gummies for Chilling. However, they contain absolutely no gelatin or animal products, making them completely vegan-friendly!
Although they cost just a little bit more, these vegan gummies are a great option for those who really enjoy imbibing CBD orally, but desperately want to avoid subjecting themselves to eating animal products.
Sunday Scaries Product Range
For each of Sunday Scaries' products, they offer either a one-time purchase price or a monthly plan, wherein they ship a new product to you every single month. This usually comes with a 20% discount, but we'll put the one-time purchase price here to make it as clear as possible.
CBD Tincture, 500mg – $75
CBD Gummies For Chilling – $39
CBD Vegan Gummies – $44
The brand also offers 'Unicorn Jerky' CBD candy at $19 per pack, although it had sold out when we visited the website.
The CBD Energy Shots are $12 for a 3-pack or $39 for 12. They contain coffee, taurine, and ginseng alongside their CBD and vitamins.
Sunday Scaries also stocks CBD Bath Bombs, with natural essential oils. They cost $59 for a pack of 3.
Where to Buy Sunday Scaries CBD
It is best to purchase your Sunday Scaries products from the official website. As well as a wealth of information on CBD, they offer discounts on subscriptions and a generous referrals program.
There is free shipping on all subscriptions and orders over $69. The company also claims to offer a 100% discount if you are unhappy with your purchase for any reason.
Final Thoughts on Sunday Scaries CBD
There are quite literally hundreds of different CBD retailer options out there, all offering different varieties of CBD oil which all simultaneously claim that they are the very best.
However, one thing that is sorely missed in the CBD market is a keen focus on mental health, as well as offering a simple way to combat something we all feel – that awful dread of going into work the next day.
Sunday Scaries is an excellent retailer not just because they offer high-quality CBD that is responsibly sourced and contains fantastically detailed dosages and instructions, but because they care intensely about something that most people don't acknowledge, yet all of us suffer from.
Our only complaint is that their product range is rather small in comparison to other brands. This in itself is not a huge issue, but we would at least like to see more than one strength of CBD oil.
By taking some of Sunday Scaries' products, you can safely combat that ever-persistent dread that plagues us all every Sunday. It won't ever go away for good, but at least with Sunday Scaries, we have a way of fighting back.
---
Trending Now