Bluebird Botanicals CBD Hemp Oil Review
---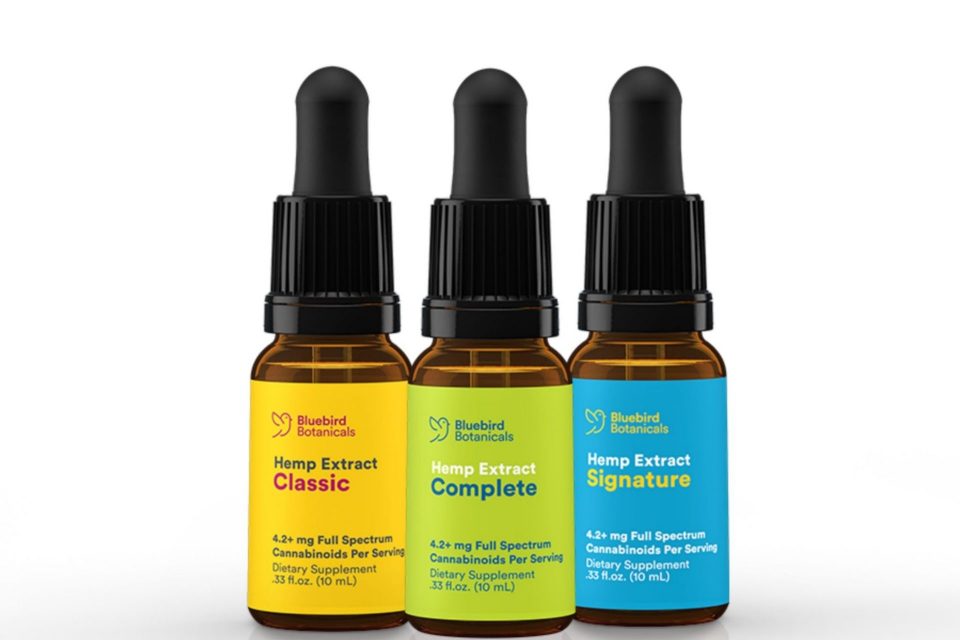 Overview
I think you'll agree with me when I say: It's difficult to find quality, blended CBD oil.
Or is it?
BlueBird Botanicals' Hemp Complete blend is a special formula of various hemp extracts. Hemp Complete contains both the decarboxylated and raw forms in a 1:1 ratio. This blend also contains a steam (water) distilled hemp extract which contains a significant amount of terpenes, the chemicals that you smell. So what does that mean? Let's dive in.
Why Do I Care About Terpenes?
Terpenes mix to produce an enhanced effect of the various compounds known as the entourage effect. The Hemp Complete blends contain at least 26 different aromatic terpenes plus various aldehydes and ketones.
The Classic Hemp Blend contains CO2 hemp extract emulsified in organic hemp seed oil.
The Easiest Way To Consume Is…
These blends should be taken orally. Both products have the taste of hemp-based CBD oil — a bit bitter and earthy. However, these products are easier to swallow than the raw form because they've been decarboxylated.
That's not all…
The Classic Hemp Blend tastes a bit "woodier" than the Hemp Complete blend. The bottles are 2oz and 1oz respectively, with a syringe, for easy dosage control. These oils are golden brown in color (see color below) and smell like most other CBD oil products.

25% Coupon Code: ROOTD25
Coloration and Viscosity
These Bluebird products are thin and run faster like water. The Hemp Complete blend contains a distilled form of hemp, so it's lighter in color. The Classic Hemp blend has been CO2 extracted, which removes the chlorophyll and thus, any green coloring.
Bluebird uses a full-spectrum CO2 extract.
Why does this matter?
According to BlueBird, "A truly full-spectrum CO2 extract includes first performing a subcritical extraction, separating the extracted oil, and then extracting the same plant material using supercritical pressure, and then homogenizing both oil extracts into one. In the essential oil industry, an extract made using this specific process is referred to as a CO2 Total."
What Does Color Mean About a CBD Oil?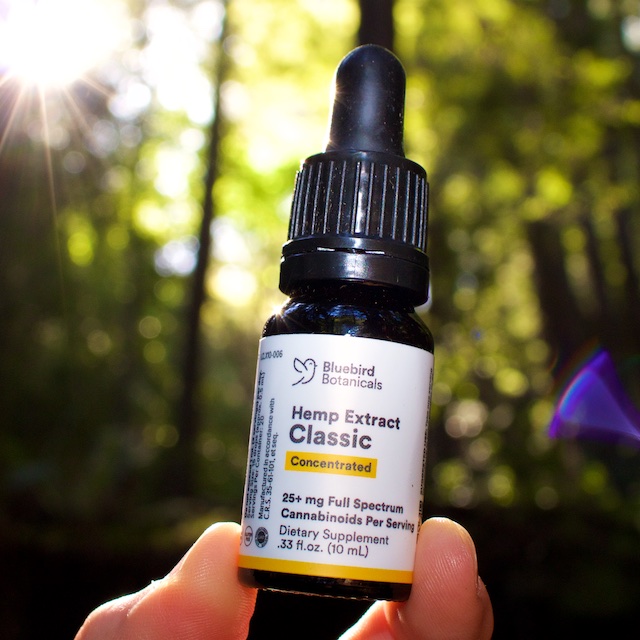 CBD oil generally comes in three main forms: raw, decarboxylated, and filtered.
Raw oil will not be processed past original extraction and will likely contain other compounds that have not been filtered out, like chlorophyll, terpenes, and microscopic plant material. Raw oil tends to be green in color because the plant material has not been filtered out.
Flavor and Scent
• How does it smell?
The Hemp Complete blend has a leafy smell to it while the Classic Hemp Blend has a wood-like smell to it.
• How does it taste?
Easier to take than the raw form, but CBD oil, in general, doesn't boast a delicious taste.
If You Can Learn One Thing
Since CBD is typically not consumed for medicinal or wellness purposes, it's important to know what you're consuming. CBD products sourced from hemp are not as potent as CBD products sourced, because hemp lacks the that contribute to the entourage effect. The entourage effect is said to be a phenomenon whereby various, diverse terpenes — produce an enhanced effect on the body.
Hemp plants lack a robust profile, so quality control is an important concern when evaluating hemp-based CBD products. The lack of governmental regulation in potency testing also creates space for companies to improve their customer service and transparency guarantees to appeal to savvy consumers.
But what's the difference between isolate and full-spectrum?
An isolate is exactly what it sounds like: a pure CBD compound with absolutely no other added compounds.
Full-spectrum oil, on the other hand, contains other active plant compounds in addition to the CBD.
So how do full-spectrum and CBD isolate impact you differently? How do you know which one's better for you?
Choosing Between Full-Spectrum CBD Oil and CBD Isolate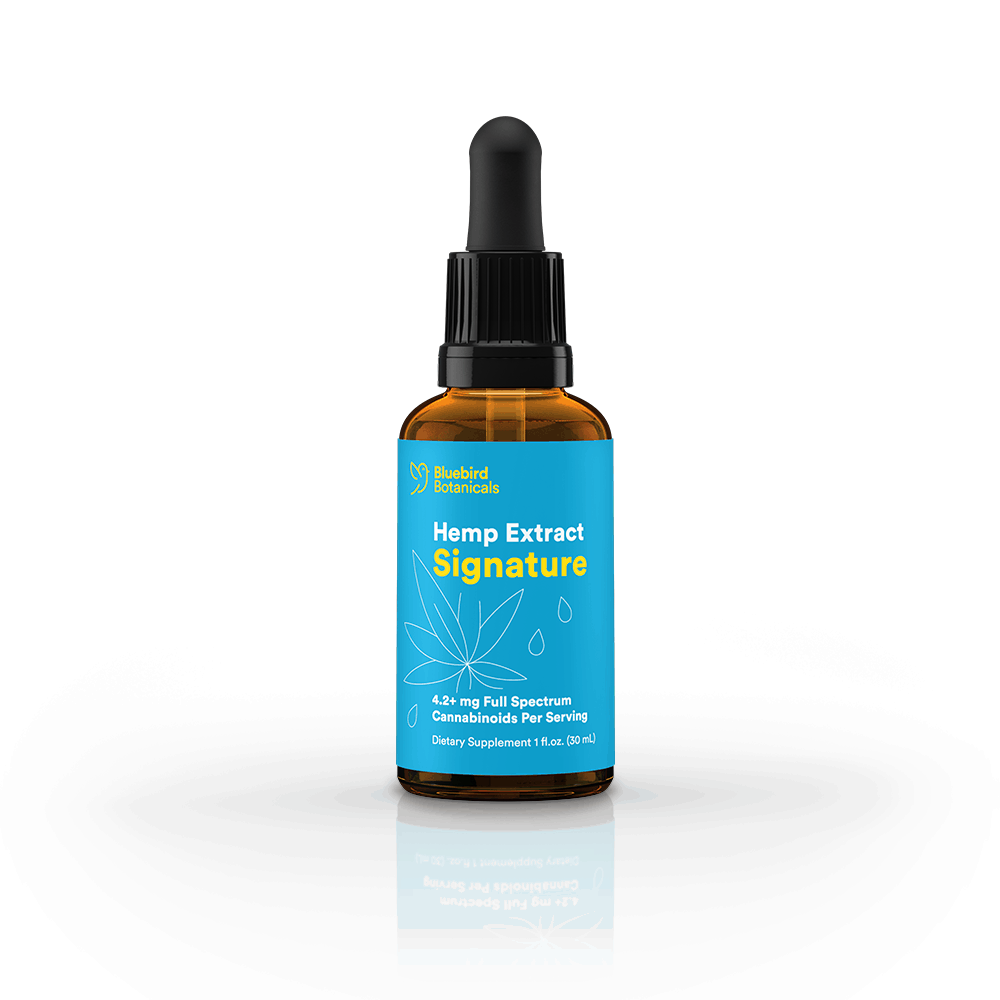 In general, full spectrum CBD is more effective, but there are still many situations in which isolate might be a better option.
Research finds that isolate has a minimum and maximum threshold: in other words, you have to take a minimum amount for effectiveness, and there's a maximum amount you can take before the effects start to plateau.
Full-spectrum CBD does not have the same minimum and maximum threshold limits, and this is again thanks to the entourage effect optimizing the way in which our endocannabinoid system utilizes the present compounds.
While the amount of THC present in full-spectrum CBD is federally-legal and too insignificant to produce any psychoactive effects, there is a chance for it and any present to show up on a drug test. For anyone concerned about this, Bluebird's isolate is a better option.
The Most Versatile Vape Oil On the Market
Bluebird Botanicals sells one type of CBD vape oil that will quickly become your go-to. With upwards of 1,000 milligrams of CBD per ounce, this vape oil is pure CBD and therefore impressively potent.
The vape oil comes unflavored, making it extremely versatile and allowing you to mix it with every vape flavor you can imagine. Not only will you never tire of vaping the same flavor every day, but you won't have to endure the unpleasant smelling fumes so common with standard vape oils.
That's caused by combustion of terpenes and plant cellulose, which are also in hemp and its derivative, CBD oil.
Bluebird Botanicals' Vape Oil does not emit this odor. This means your vape fumes will have no detectable scent at all, giving you the benefit of being more discreet with your vaping. Also, if you choose to mix in your favorite vape flavor, you'll be welcomed with a nice, subtle aroma – whether it be of fresh strawberry, sweet mint, or whatever you fancy!
---
CBD for Your Furry Friend
Knowing your beloved dog or cat is in pain is the worst possible feeling for a pet owner. That's why Bluebird created CBD for pets.
Rub Companion Oil on the external surface of a sore limb or an injured paw to help soothe the aches away. Or if your pet needs quicker pain relief, use the convenient Companion Capsules.
Perfectly-sized to tuck into a pill pocket, these capsules are a wonderful approach for animals in need of CBD to help with anxiety, stress, and sleep disorders.
What's Critical To Know About BlueBird Botanicals
Bluebirds products are different than others on the market because you can look up third party testing results for each product. According to their website, "every single bottle that goes out our door now has a full set of 3rd-party Certificates of Analysis associated with it that is available online for our clients to see.
Bottom Line
This quality testing process is certainly unique in the industry and sets the standard for accountability. It is very important to know that your hemp-derived oil does not have a toxic amount of heavy metals. Often hemp is used as a soil cleaning plant to suck toxins out of the polluted soil. As such many hemp and CBD retailers simply look for the cheapest hemp they can find and extract the oil from those plants not knowing they are purchasing hemp plants that have toxic levels of heavy metals.
All In All
BlueBird Botanicals is one of the early quality CBD oil companies and they continue to do a great job, we highly recommend Bluebird if you are new to CBD or if you want to try a new brand.

25% Coupon Code: ROOTD25
---
Disclaimer: Please keep in mind, though, that before you start using any CBD-based or related products, you should always consult with your family doctor. While I can tell you about the general collective feeling that most people have about certain CBD providers, this information should never substitute that of professional advice.
---
Trending Now