CBD American Shaman Review 2021
Posted On February 5, 2020
---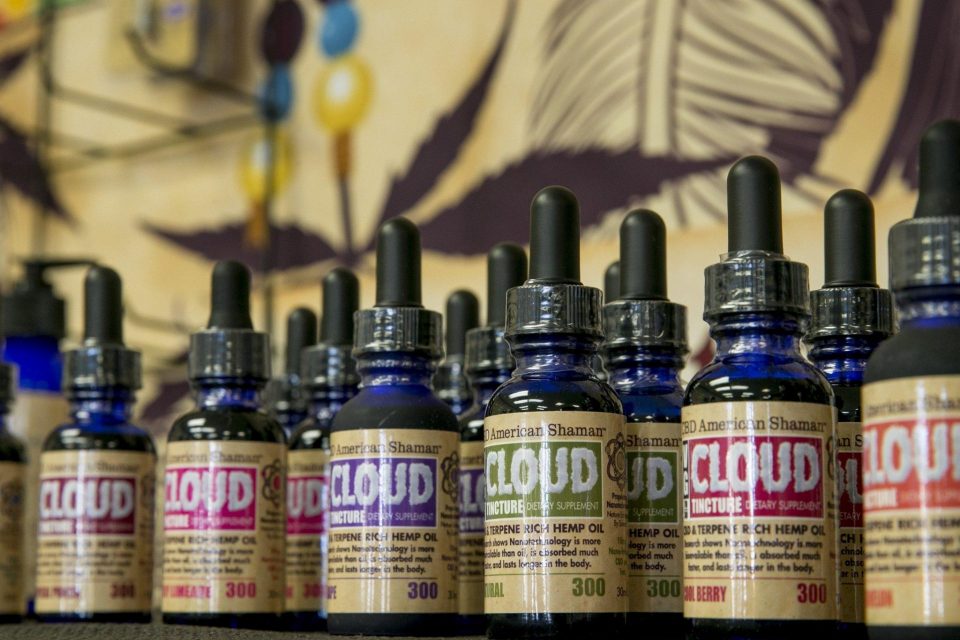 Overview
CBD American Shaman is a new and emerging CBD brand based in Kansas, Missouri. Their products are created from highly concentrated, superior hemp extracts. Their mission is to spread wellness through the benefits of CBD.
With all the talk of CBD in the past few years and with its legality across all 50 states, you may finally be curious to try some out for yourself. But with the large amount of CBD products to choose from on today's expanding market, it can definitely be overwhelming when you want to pick a product that is really worth your money and will leave you feeling satisfied and content with your purchase. That is why we are here, however; to help you to make that choice by giving you a full review on top CBD companies from across the globe.
Today, we will be taking a look at an American CBD company called CBD American Shaman. This natural and holistic CBD company offers a new take on CBD products by incorporating traditional American vibes and elements into their line. So if you'd like to learn a little more about this unique and wellness focused company, read on for a breakdown of CBD American Shaman and all it has to offer.
Who is CBD American Shaman?
CBD American Shaman is a newer player in the CBD market and is based out of Kansas City, Missouri, U.S.A. They offer a refreshing and unique line of products incorporating CBD and CBD oils themselves. All of their CBD is ultra-concentrated and derived from the highest quality industrial hemp. Because it is derived from industrial hemp, it is legal in all 50 states. All of the hemp from CBD American Shaman is also 100% organic, gluten-free, and non-GMO.
Furthermore, all of the oils are lab tested for heavy metals and insecticides using Ultra Performance Convergence Chromatography – so you know that the quality and purity is top-notch. CBD American Shaman is really dedicated to bringing about well being, natural support, and relief to the world. They focus on relieving stress, helping you to be focused, productive, and pain-free.
They follow the industry's standards when it comes to producing hemp oil and utilize nanotechnology that makes their products 9 times more bioavailable than other CBD products out there. This CBD nanotechnology makes their products a lot more readily absorbed by the body as well as faster too.
They are really focused on the satisfaction of their customers and even offer programs to help people who suffer from chronic conditions, who are veterans, or who are low-income. It is called the Compassionate Care Program. They also have a money-back guarantee that is valid within 45 days of purchase. This is a bit longer than most companies, so they really give you a chance to give their products a chance, which is really great of a CBD company and shows how much they stand behind their products. This is only if you purchase from the website, however. If you are buying from a wholesaler or retailer, you have to deal with that store specifically.
Although there isn't any information about who the founders were or what their goals and ambitions were, as well as their history, CBD American Shaman does seem to be a company that is focused on customer support and human wellness. Some of their products are pretty expensive, so that was something that we were kind of thrown off by, but overall CBD American Shaman seems to offer some really unique and high-quality goods, and lots of different CBD-infused food and drinks. It's kind of like a general store in a way, with a traditional American vibe found throughout the products and website.
Review of CBD American Shaman Water Soluble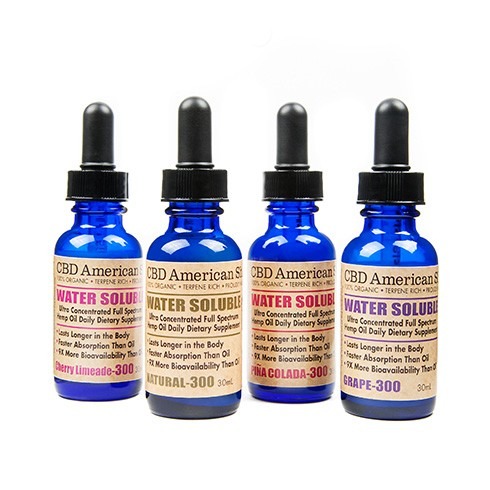 First up, we have the CBD American Shaman Water Soluble Full Spectrum Hemp Oil. With this water-soluble hemp oil, you can now drink your CBD daily since it can be immersed in water; hence the title water-soluble. It is super fast-acting and up to ten times more bioavailable than regular hemp oil alone. You can add it to any drink you'd like, so you don't really have to make any changes to use it – just add it to anything you already drink.
The supplement comes in five different and very tasty flavors: Cherry limeade, grape, natural, lemon, or pina colada. The bottles are all 300 mg bottles and have 10 mg of CBD per milliliter. They come in dark blue glass bottles to ensure shelf life, and with a dropper, so you just simply measure out and drop into your drink, simple as that. You can take the Water Soluble Full Spectrum Hemp Oil two times daily. Simply mix half a milliliter in 8 oz of liquid, stir it up, and drink. All the water within the oil mixture is purified by reverse osmosis.
Overall, this product is super unique because it can be incorporated into any drink you already consume on the daily. You don't have to take it under your tongue for it to be as effective and absorbed by the body since it is made using the proprietary nanotechnology. This supplement promotes calm, focus, and wellbeing, and is a great addition to your CBD regimen. In addition to the wonderful flavors, you can also choose whether you want a 0.3% THC content or 0% THC.
Review of CBD American Shaman 500 Topical Cream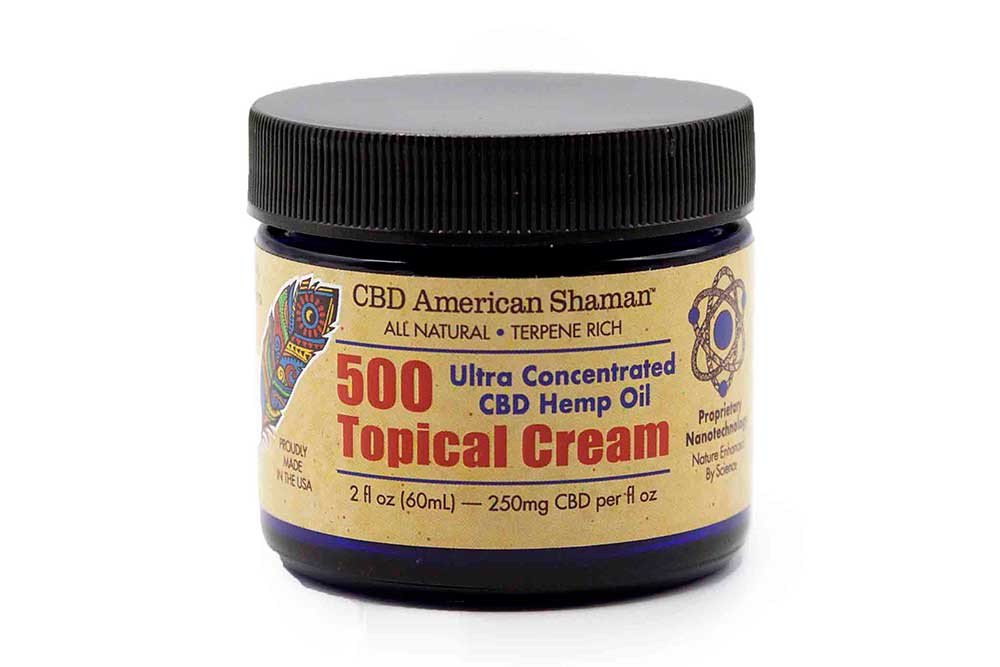 In addition to the Water Soluble Full Spectrum Hemp Oils offered by CBD American Shaman, another of their top products is the 500 Topical Cream, which is an ultra-concentrated CBD hemp oil. Each jar of this all-natural and terpene-rich cream contains 2 fluid ounces (60 mL) of cream, with 250 mg of CBD inside.
It is made from the highest quality hemp oil that is non-GMO and contains high amounts of CBD. And just as the oils, it is tested for heavy metals and insecticides and you can see the results of the lab tests right on their website. To use, all you have to do is put a drop of the topical cream in the area of concern. A very small amount is all you need because it spreads very easily. It contains aloe vera, vitamins A, D, and E oil, as well as vegetable glycerin.
This topical cream is rather pricey, however, and runs at $109.99 for a 2 oz bottle. This is quite a hefty price to pay, but because they offer a 45-day money-back guarantee, you have time to test it out and see if it works for you.
500mg is a lot and you also only really need a tiny bit because it really does spread quite rapidly and a little goes a long way. So we didn't think that $110 was too bad of a price to pay considering it will last a very long time and offers pretty good relief as well.
What About CBD American Shaman's Other Products?
CBD American Shaman has a lot of different products to choose from and the overall vibe of the online store is a bit like a general store. They offer many different oils, creams, honeys, candies, popcorn, almonds, probiotics, and even sparkling water and tea. Although you have a lot to choose from, the most noteworthy ones that we felt were worth mentioning are:
CBD Honey – $29.95
The CBD American Shaman honey is a great way to get your CBD to your favorite foods. The CBD infused honey is harvested raw from Cooper's honey in Missouri. Each 2-ounce bottle will give you 120 mg of CBD and around 10 mg of CBD per 4 ml serving. We thought this was a fun and unique way to combine the natural and beneficial properties of CBD with sweet and organic honey.
CBD Tea – $30.00
CBD American Shaman also offers a black tea. It is infused with the flavors of lemon and CBD extracted from industrial hemp. Is a perfect way to refresh yourself while at the same time getting your CBD. A six-pack of this tea will run at $30, so it is quite pricey.
CBD Gourmet Gummies – $49.95
The Gourmet gummies from CBD American Shaman are a fun way to get your CBD. Each bag contains 250 mg of CBD and 2.5 oz of gummies per bag. Each gummy contains 25 mg of CBD. The flavors include Sweet Watermelon, Sour Watermelon, Sweet Blue Raspberry, Sour Blue Raspberry, Sweet Blackberry, Sour Blackberry, Sweet Tropical, and Sour Tropical.
Where Can I Purchase CBD American Shaman Products?
The best way to purchase CBD American Shaman products is through their website at cbdamericanshaman.com. You can also buy it from retailers that happen to sell CBD American Shaman, such as local dispensaries or other places where CBD items are sold. There is a store locator on the official website, so simply type in your zip code and you can find the nearest retailer that carries CBD American Shaman Products near you.
CBD American Shaman offers a 45-day money-back guarantee, so this is really great as you get a chance to try the product out and test it to see if it works for you. And if not, you can be refunded the full amount. This 45-day refund works only for products purchased directly from CBD American Shaman on their website, however, so if you are dealing with a third-party retailer you have to take care of all returns through that specific retailer directly.
Final Thoughts on CBD American Shaman
CBD American Shaman is one of those unique companies that really stand out from the rest. It doesn't just sell basic hemp oil but combines different aspects into it which makes it more unique. Their top products, such as the Water Soluble Hemp Oil, are nanotechnology-prepared hemp oils that you can add to drinks to take your CBD through, and they are available in very fun flavors.
It is also the same effectiveness as sublingual drops due to the nanotechnology, so you're not losing out on bioavailability through this method of administration either. They also offer all kinds of food products like popcorn, marshmallow treats, honey, candy, gummies, teas, sparkling waters, and even music soundtracks to put you in a calm state of mind and make your CBD experience with them all the better.
Additionally, they seem really focused on their customers and their well-being, as well as their satisfaction. They offer a 45-day refund, so you have over a month to test the products and be completely satisfied with your purchase. A company that stands behind their products is definitely one we think highly of, as they will refund you and not simply steal your money, so we commend CBD American Shaman on this.
You can also buy their products from many stores which are retailers of their products, so you don't only have to order online, but can pick them up when at a dispensary or the like. They also have active Instagram, Facebook, YouTube, and other social media accounts and have a pretty well-established name amongst their following and fans.
So overall, we think that CBD American Shaman is a pretty great company that offers very unique and high-quality products. Although some of them are quite expensive, the quality seems to be top-notch and we definitely recommend giving CBD American Shaman a go.
Rating: 8/10
CBD American Shaman Pros
All organic and non-GMO hemp used in their hemp oil
45-day money-back guarantee
Unique and fun product line with many items to choose from
CBD American Shaman Cons
Some items can get pretty pricey, i.e. upwards of $200 for honey sticks
---
Disclaimer: Please keep in mind, though, that before you start using any CBD-based or related products, you should always consult with your family doctor. While I can tell you about the general collective feeling that most people have about certain CBD providers, this information should never substitute that of professional advice.
---
Trending Now