CBD Living [Full Product Review]
---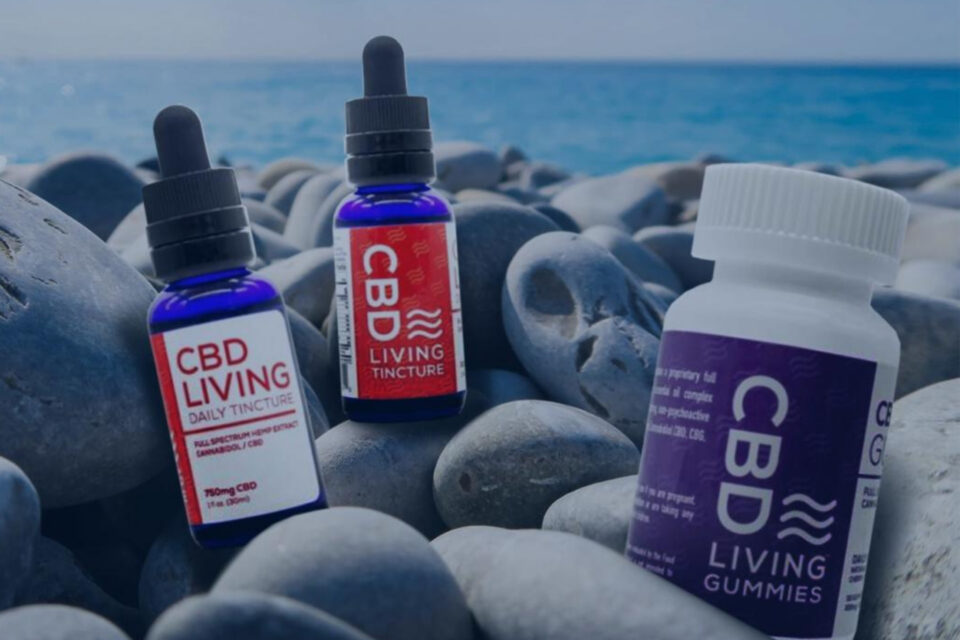 Overview
International CBD company 'CBD Living' was formed in 2013 and has taken to scientists, business-minded individuals, and world-class hemp to bring their products to life. They use the CO2 extraction method as well as a nanotechnology emulsification process to ensure one of the most effective and high quality oils on the market.
CBD Living Pros
Nanotechnology means highly potent and effective products.
Enormous range of CBD products available.
Well-designed website with third-party lab reports easy to find.
Its products work well in the evening and may prove useful for insomniacs.
CBD Living Cons
The products ARE high-quality, but a little on the expensive side.
A possibility of dry mouth.
Now that the CBD industry is on a decided upturn, the range of products being released is truly astounding. Not that long ago, the primary CBD items one could purchase consisted of oils/tinctures, capsules, and perhaps balms. Now? CBD-infused everything seems to be on the menu! A handful of breweries have even released CBD-infused beer.
CBD water has been heralded as an innovative and effective way to consume the cannabinoid. It is infused with nano-sized CBD molecules that boost bioavailability. In other words, more of the cannabidiol you ingest gets to where it is needed. This is mainly because the nanoparticles can go through the body's digestive system more effectively than if you use CBD oil, for example.
These molecules are almost the same size as DNA, which means they can theoretically be transported to every cell in the human body. The main issues are the level of consumption and cost. CBD water is usually significantly more expensive than oils or tinctures. In today's review, we look at CBD Living, a well-known seller of cannabidiol products, including their CBD water which they calls their 'flagship' product.
Who are CBD Living?
CBD Living was established in 2013 by Bill De Segna and has its headquarters in Corona, California. It is a large organization with a global reach; its 53,000 Instagram followers attest to that fact. The hemp is grown organically in Colorado, and they use nanotechnology in their products.
As we explained above, this practice involves reducing cannabidiol to nano-sized particles to ensure that the majority of the CBD you consume is absorbed by the body. According to the firm, the bioavailability of its products is 90%. All of its products are full-spectrum which means they contain numerous other cannabinoids. Crucially, none of CBD Living's products have even trace amounts of THC.
In a bid to boost its reputation, CBD Living posts the results of third-party lab reports on the website. You can click on the requisite product to discover the levels of CBD, CBN, CBC, CBG, and other cannabinoids.
Review of CBD Living Water
It is with its CBD-infused water that this company has made its name. It is made with 100% organic, and natural hemp CBD extracts with nanotechnology ensuring you get the most out of the 5mg of CBD per 500ml bottle. A single bottle of water costs $5.99 or else you could grab a case of 24 bottles for $119.99.
The water also contains Coenzyme 10, D-Ribose, Methyl B12 and several other goodies. To be honest,you would find it hard to distinguish it from 'normal' mineral water in a taste test. This is a good thing, but on the other hand, it may cause you to wonder why you paid $6 for a bottle of water!
What I discovered was that CBD Living's water quickly eliminated the feeling of dry mouth that I had, and noticeably reduced my anxiety. The main question is: Are you prepared to pay that much for CBD water? 100mg of CBD costs approximately $120. In contrast, 250mg of CBD Living Tincture costs just $50; which equates to $20 per 100mg.
The thing is, the water's bioavailability is 90%, which means 90mg of the 100mg CBD will affect your body. When CBD is taken sublingually, its bioavailability ranges from 12% to 35%. At the top end of that range, it means about 85 mg worth of CBD will affect out of 250mg. At the bottom end, just 30 mg will affect.
The answer to the question is: "It depends on the quality of the CBD overall." Although the CBD water seems very expensive, the gap in price isn't so great when bioavailability is taken into account. Speaking of CBD tinctures…
Review of CBD Living Tinctures
CBD Living's Tinctures come in four sizes:
250mg: $50
500mg: $70
750mg: $90
1000mg: $110
Pricewise, there is quite a gap in mg of CBD per dollar from the smallest bottle to the largest, so it may be worth using the 1000mg version (as I did) if you are confident that CBD Living offers high-quality products. In all four versions, the bottle contains 30ml of liquid and comes with a 1ml dropper.
The tincture is infused with MCT oil to boost bioavailability. I placed a few drops beneath the tongue and held for up to 60 seconds; standard practice when consuming CBD sublingually. According to CBD Living, the cannabidiol should enter the bloodstream almost immediately.
The tincture had a reassuring grassy herbal taste and began to take effect in around 45 minutes or thereabouts. I'm not a great sleeper, but can report that this tincture aided my sleep a little. I used 1ml of the 1000mg bottle each day in two x 0.5ml doses for a total of 33.33mg of CBD.
Review of CBD Living Chocolate
I don't need much of an excuse to sample chocolate, so was delighted to find that CBD Living sells some. There are milk and dark chocolate options (I went with milk chocolate). Each bar contains 120mg of full-spectrum Nano-CBD, and there are eight squares per $28 bar. It is best if you only eat one square per day for 15mg of CBD.
If you are hoping for a delectable chocolate experience, you will be disappointed. CBD Living chocolate tastes like hemp and even offers a hemp-seed aftertaste.
The entire bar contains just 120 calories but has a sweet taste. I felt a little more relaxed about 20 minutes after eating a square, and also experienced a slight energy boost. It may not strictly taste like chocolate, but it is far healthier!
What About CBD Living's Other Products?
CBD Living is a company on a mission to expand, and their huge range of products is proof of their desire to cater to every taste. Here is a quick overview of some of their products:
CBD Gummy Rings: Each container has ten ring gummies in flavors including cherry and green apple. At $20 for 10 x 10mg gummies, it isn't a cheap treat, but it will satisfy your sweet tooth and ensure you get your daily dose of CBD.
CBD Living Lozenges: These lozenges are also in cherry and green apple form, and there are four x 25mg CBD lozenges in each $20 pack.
CBD A.M and P.M Syrup: Try grape or cherry flavored syrup. Each bottle contains 118 ml of liquid and 120 mg of CBD for $30. Take the AM syrup in the morning or the PM syrup (which contains melatonin) around half an hour before bedtime.
CBD Living Gel Capsules: This is a handy way to consume CBD if you don't want to use a tincture. Each gel contains 25mg of CBD. You can purchase a bottle of five gels for $30 or 30 gels for $120.
If all of the above isn't enough, CBD Living also sell CBD isolate, shatter, vape cartridges, a vape device battery and charger, bath bombs, soaps, a CBD freeze, patches, suppositories, and pet capsules.
Where Can I Buy CBD Living Products?
You can see the enormous range of CBD Living goods on the official website. I didn't get in touch with customer service, but hundreds of others have and are happy at the level of support. Each product was well-packaged, which is a nice touch and adds to the company's air of professionalism.
Final Thoughts on CBD Living
Based on what I felt upon using their products, there is no doubt in my mind that CBD Living's products are the real deal. Usually, it takes far more CBD tincture or oil to have a noticeable effect on me, which is a clear sign that the company's claims regarding bioavailability are on the level. The easily accessible third-party lab reports are only further proof.
Aside from the CBD water which helped fight it, most of the company's products caused dry mouth, at least the ones I tried. This could merely be down to potency, which is a good thing. The chocolate and water are very expensive, but in CBD Living's case, you get value for money.
---
Trending Now