Eighty Six Brand Review (2023)
---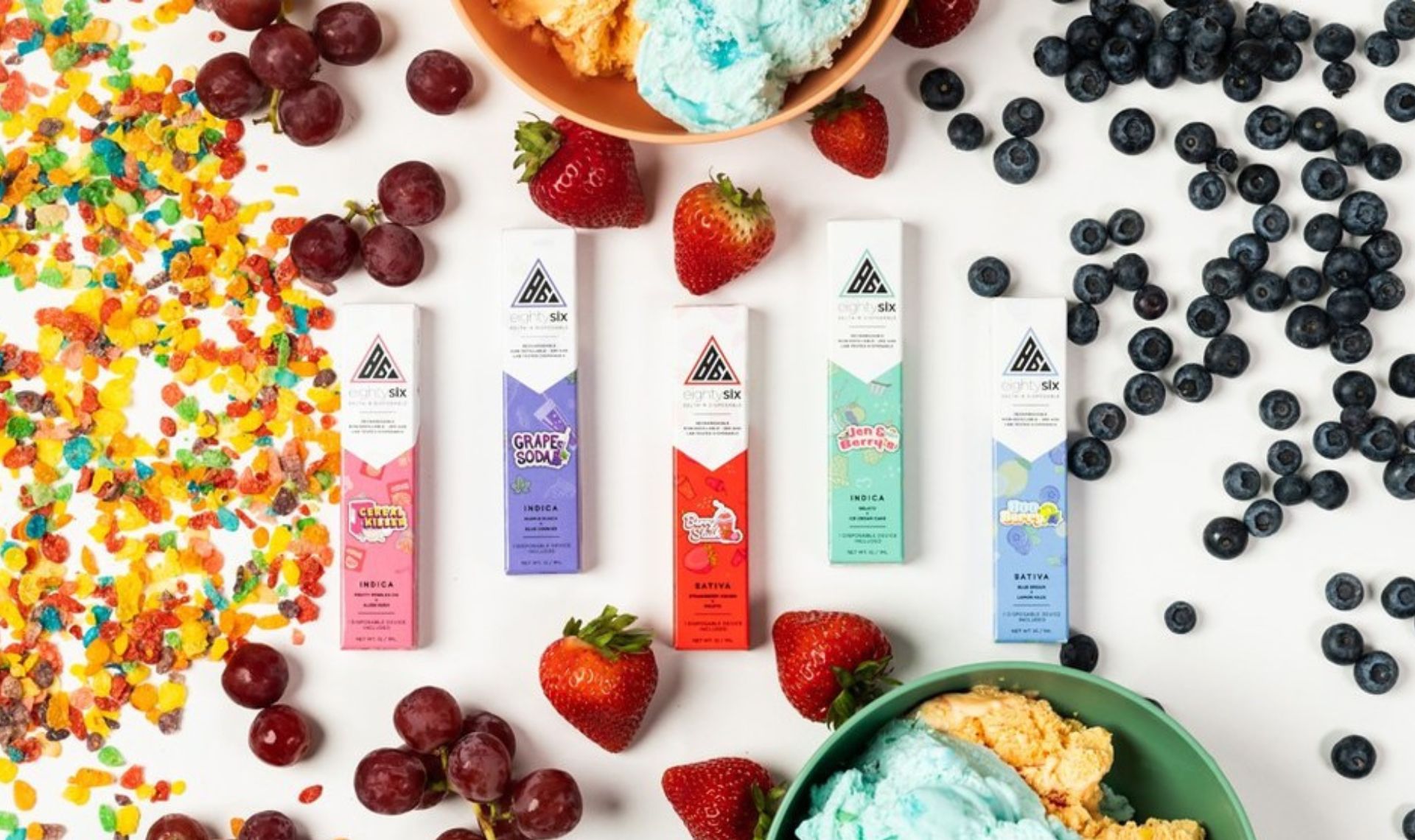 Do you doze through your days at work but find it difficult to get sound sleep at night? If your answer is yes, you're not alone. Millions of people across the world share your plight.
Stress naturally becomes a big part of our lives now due to many life circumstance such as work, bills, mortgages, family issues, etc — there are many factors that cause stress. Many of us secretly wish for a cure-all for stress, but most of the substances that do it are, unfortunately, either illegal, have too many side effects, or both.
However, there is one compound that is legal in many US states and could solve your problem. Delta-8 is a compound that is able to put these issues at ease.
However, the market seems to be teaming with brands selling "top-notch" Delta-8 products. First, the compound is not easy to extract. So, it's expensive. Second, not every company has the wherewithal or the know-how to make genuinely top-notch cannabinoid products.
Sounds interesting? Let's get to know it better.
So, What's Special About Eighty Six?
Eighty Six is just a baby in the cannabis marketplace. It popped up towards the end of 2020. However, this new brand is already making waves in the cannabis world.
While many brands focus on many cannabinoids, Eighty Six has decided to focus only on Delta-8, at least for now. It offers only vape cartridges and gummies at the moment, apart from some trendy merchandise. However, the products come in a range of cool flavors and terpene profiles. And, we can expect more in the coming years because the brand has already added to its initial repertoire.
Transparency
A great thing about the brand is that it is trying to be transparent. The website needs some improvement and it's not easy to find all the info. But the important points can hardly miss your eyes.
The brand makes an effort to clarify your doubts about Delta-8 THC. It assures you that the compound is legal and that it won't get you stoned. And, it also gives its share of disclaimers.
Naturally Sourced Delta-8
The brand has clarified that it derives the compound "naturally" from "hand-selected hemp" grown in the US. No synthetic ingredients go into the products, making them effective as well as safe.
The brand goes on to explain that it follows a method of extraction where all the esoteric cannabinoids are concentrated. This allows the condensation of all the Delta-8 THC in a hemp strain. This condensation allows it to derive maximum Delta-8 and keep Delta-9 below the 0.3% legal mark.
Third-Party Lab Tests
All of the brand's products are tested by PharmLabs San Diego or Kaycha Labs. You will find the reports or CoAs on a separate page on the website. The link is present on the individual product pages as well. The reports are exhaustive, i.e., they cover the cannabinoid and terpene profiles as well as scan the product for the presence of heavy metals, toxins, and pesticides.
Organic and Eco-Friendly Products
All Eighty Six products are GMO-free, pesticide-free, ISO-certified, and cGMP-certified. The Delta-8 THC is derived from hemp and not marijuana, following the federal farm laws.
Customer Policies
The website mentions the shipping and returns policies at the bottom of the page. It's a bit of a damper that Eighty Six does not allow returns and exchanges unless the shipment is damaged or the products are defective.
Orders take 24–48 hours to be processed, weekends and major holidays excluded. Shipping takes about 3–7 business days. Eighty Six ships its products to 38 states in the US. Twelve states are yet to legalize Delta-8 THC. These include Alaska, Arizona, Arkansas, Colorado, Delaware, Idaho, Iowa, Michigan, Mississippi, Montana, Rhode Island, and Utah. These are, of course, excluded.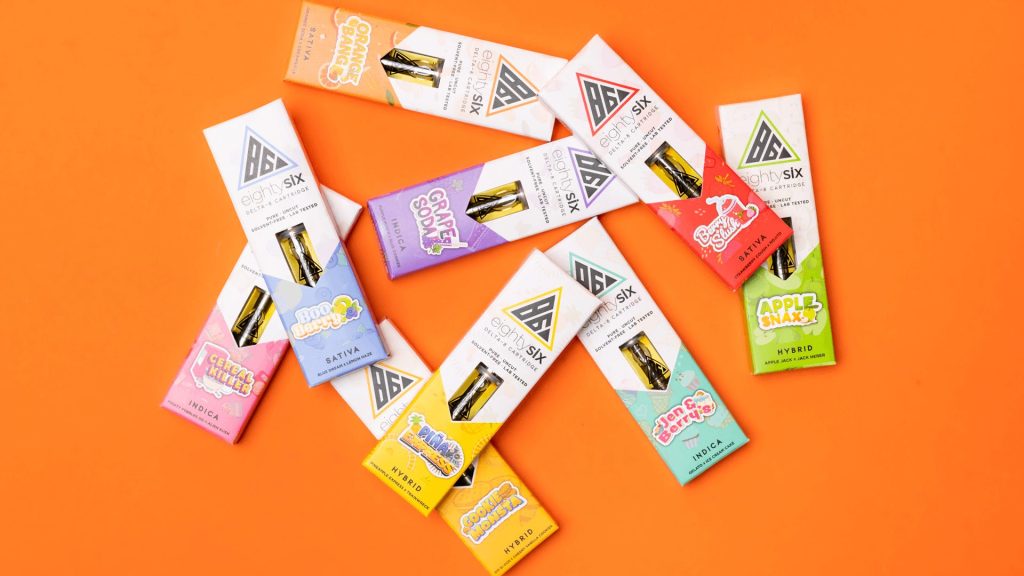 Inhalables
The brand promises a "full-body elevated" from its vape carts. So, depending on the solution you are looking for, i.e., to get creative, sleep, or just relax, you can choose from among the nine.
Strength
1 gram of Delta-8-predominant in every cartridge
Batteries
Choosing the right vape battery type is important, as it's one of the single biggest factors that will affect your vaping experience. If battery life is your most important criterion, for example, you may want to go with the PCKT One Plus to get the most out of each charge.
If portability is your preference, we'd recommend considering the CCell Palm.
Cartridge
The BLINC® cartridge promises to get the maximum potency out of the Delta-8 e-liquid. The ceramic heating element prevents the charring of the wick. This ensures that you get rich and flavorful clouds to the last drop. They are made of food- and medical-grade materials that ensure zero leakage and consistent, dense clouds.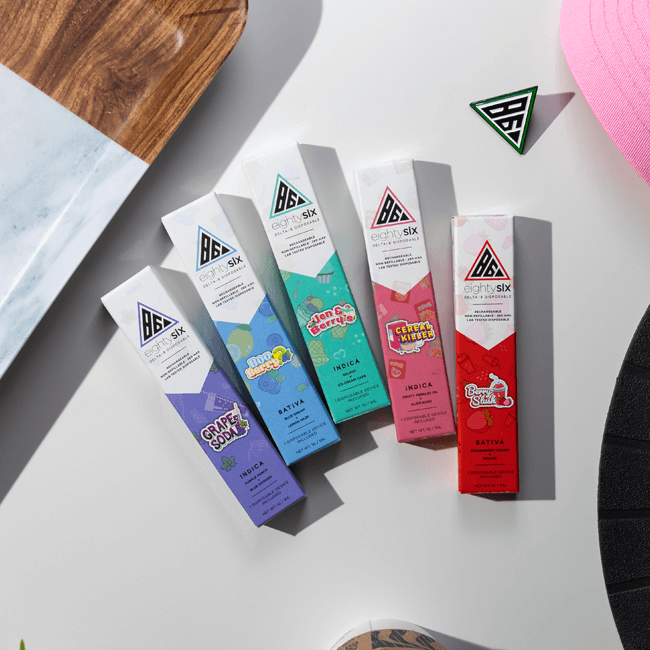 Disposables
If cartridge's a hassle, you can always opt for hassle-free Delta 8 disposables. With a pre-charged battery and all the Delta-8 distillate you need, there's nothing left for you to do except sit back and enjoy your new Delta-8 dab pen.
Eighty Six uses authentic ALD Disposable Vape Devices, which are made from medical-grade and food-grade materials. Not only are they safe for you, but you also dispose of them when the juice reservoir is empty. Better yet, every hit is full of flavor with pure, potent vapor. You'll enjoy a pleasant experience with every hit!
Strength
2 gram of Delta-8-predominant in every disposable
THC-P
I've been hearing good things about this affordable, and legal, high-performance disposable that promise to deliver the 3 things I'm looking for in a mind-altering vape experience.
I was not disappointed.
Wait. What is THC-P Anyway?
If you're unfamiliar with THC-P, you may have just found your new best friend. This psychoactive, naturally occurring cannabinoid is reportedly up to 30 times stronger than THC.
I can't speak to that because I'm not a scientist. What I can say is, THC-P is serious business. Over vape one of these disposables and you'll be trying to wipe something off your face… and it will be the floor.
My advice when vaping THC-P is to go slow when you inhale, and then let the effects hit all around you. If I can make a single promise to you, it is this:
YOU WILL GET VERY HIGH, TOO HIGH, IF YOU MAD-VAPE THC-P – SO DON'T.
If you're new to THC-P (I was), like me, you may have just found your favorite new way to chill out, relax, and ease the stress of living in this strange new world post-pandemic.
You will get hundreds of pulls (puffs) from each disposable. Its price tag will feel tiny after your very first purchase.
This is one potent disposable, and the hemp-derived THC-P will give you many hours of pleasure.
Vaping a THC-P disposable from Eighty Six will deliver a relaxing and euphoric feeling that you won't lose control of when vaped slowly and gauging your feelings along the way.
Strength
2 gram of THC-P-predominant in every disposable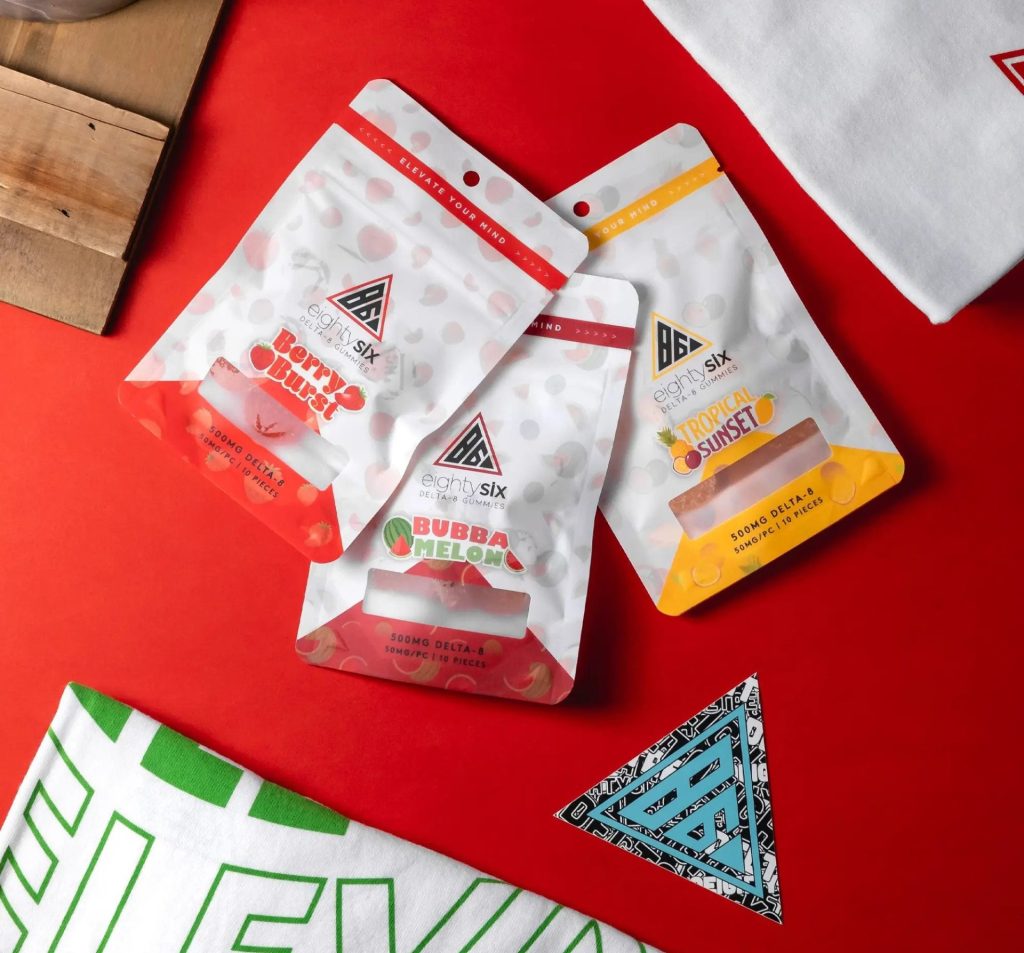 Edibles!
Edibles come in candies, krispie treats and gummies.
Gummies are a tasty and discrete method of taking Delta-8 THC. You can pop a gummy into your mouth anytime and anywhere. Eighty Six gummies come in four fruity flavors, which are sure to delight your taste buds.
Strength
Ranges from 25mg – 50mg of Delta-8 THC in every pack
Many were taken aback by the strength of the gummies. The package mentions that consumers should start with half a gummy or one depending on her/his experience with Delta-8 products. Many said they got very high after taking two or more.
I loved the flavors. The artificial flavoring can be a bit of a dampener but the beet-sugar sweetness is healthier than cane sugar. Everything else is natural and it's difficult to get all-natural gummies of this quality at these prices. So, make the most of these prices while they last. I certainly give a thumbs-up to the gummies.
Summary
Eighty Six may be a relatively new company but it has already earned rave reviews from customers because of its tasty and effective products.
It may be difficult to vouch for its market reputation yet. But its transparency is impressive. The products have all been tested by third-party labs. Their CoAs are up there on the website for all to see.
So, yes, I would recommend it. I have tried its products and they seemed to be some of the best in the industry.
---
Trending Now