Five CBD Review (2023)
Posted On August 14, 2023
---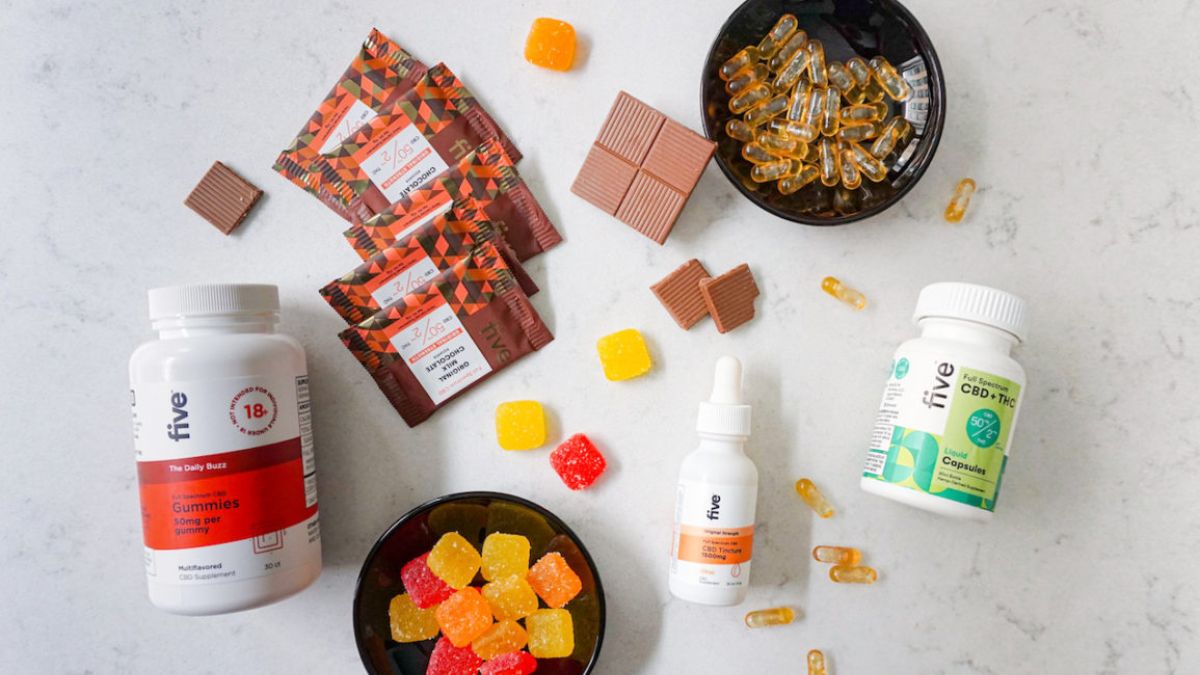 Five CBD is a budget-friendly option for high-quality full-spectrum CBD products. You're guaranteed to get at least 20% minor cannabinoids in every product, which is quite high and enhances the effectiveness of CBD. I tested out the company's CBD oil, gummies, capsules, and chocolate, which tasted great and had noticeable effects.
Summary
Five CBD offers low prices for potent, full-spectrum CBD products rich in minor cannabinoids. The products I tested were both delicious and effective.
Pros
Over 4,000 positive customer reviews
Full-spectrum products rich in minor cannabinoids
Exceptionally low prices
Impressive third-party test results
Tasty flavor options
Cons
Lacking details about hemp source
Some products missing terpenes
Five CBD Overview
Five CBD is a hemp brand that gets its name from the impressive 5:1 ratio of CBD to minor cannabinoids in its products. This high ratio ensures that full-spectrum CBD products provide the greatest benefits possible by making the most of the cannabis entourage effect.
Third-party tests confirm Five CBD's claims, showing high minor cannabinoids and in many cases terpenes. In contrast, most of the brands I've come across have a much worse ratio: 10:1 or even higher.
Five CBD was founded in 2020 by John Larsen, who is also the co-founder of Medterra, one of the leading American CBD companies. It has some of the lowest prices on the market, especially for the kind of high-quality full-spectrum formulas you're getting.
CBD Terminology
Hemp: cannabis variety with high CBD and low THC levels (no more than 0.3%).
Terpenes: aromatic plant compounds with various beneficial properties.
Minor cannabinoids: CBN, CBG, CBC, and other beneficial cannabinoids found in smaller amounts in hemp. They may work in synergy with CBD.
Full-spectrum: whole-plant hemp extract containing multiple cannabinoids, terpenes, and flavonoids. This form of CBD is about four times more potent than pure CBD.
Broad-spectrum: whole-plant hemp extract similar to full-spectrum CBD, but with THC removed (may contain trace amounts).
CBD isolate: pure CBD without any other hemp compounds.
Five CBD Product Lineup
Five CBD makes full-spectrum CBD oil, gummies, capsules, and chocolate in several flavors and formulations. All products contain at least 20% of minor cannabinoids (a 5:1 ratio of CBD to minor cannabinoids).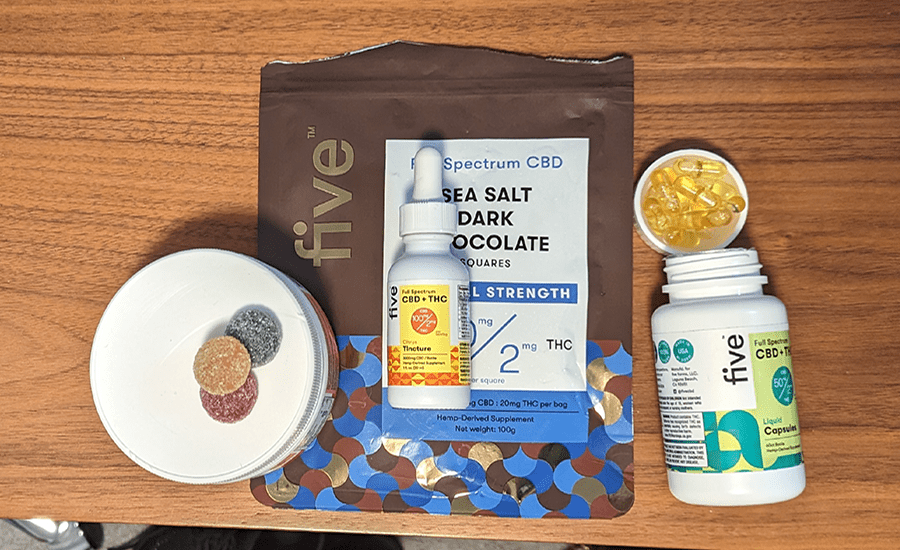 For my review, I tested out Five CBD's 1500 mg citrus full-spectrum CBD oil, dark chocolate, capsules, and gummies.
Full-Spectrum CBD+THC Oil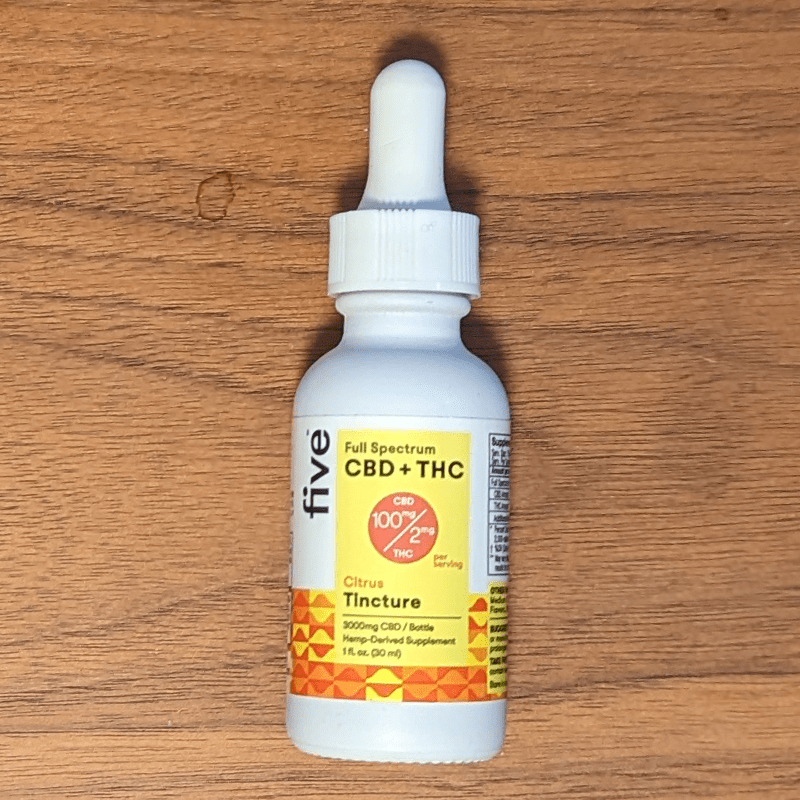 Five CBD's full-spectrum CBD oil is available in two strengths, 30-60 ml bottles, and two flavors: citrus and chocolate mint. Third-party tests confirm that this CBD oil contains at least 20% or more minor cannabinoids as well as multiple terpenes, which is great to see.
My experience: I received and tested the 100 mg/ml citrus tincture, which had a pleasant orange taste. I started to feel more chill, relaxed, and happy within 20 minutes. The effects lasted for at least a few hours.
Full-Spectrum CBD+THC Capsules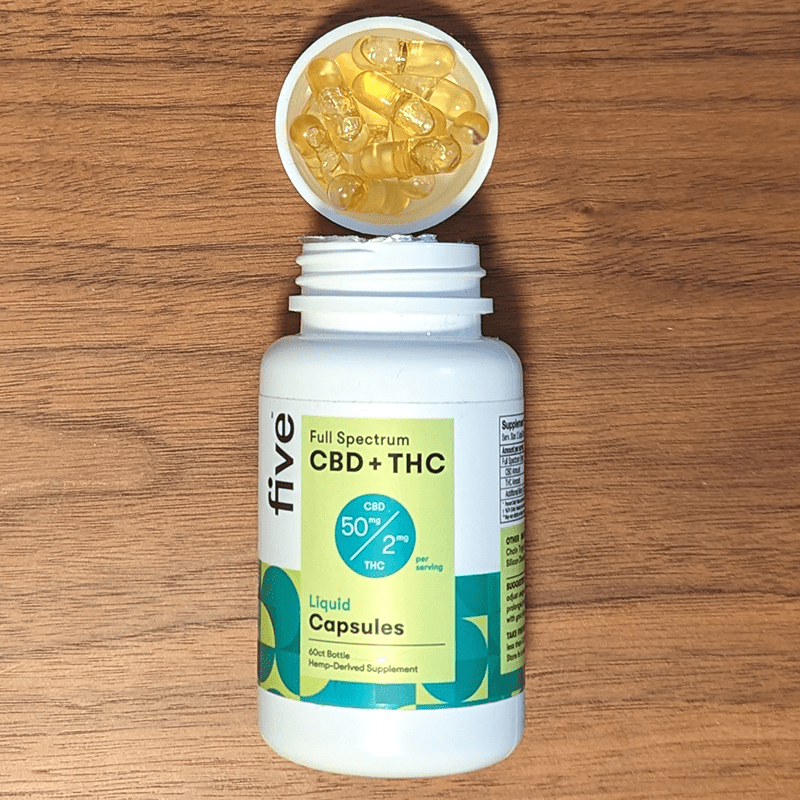 This product is essentially a capsule version of Five CBD's oil, except it's even cheaper. Once again, third-party tests confirm the advertised 5:1 ratio of CBD to minor cannabinoids.
My experience: I took a capsule before bed and it kicked it about 50 minutes later. I started to smile and feel more upbeat and relaxed with a little bit of a high. I had an easier time falling and staying asleep.
Full-Spectrum CBD+THC Gummies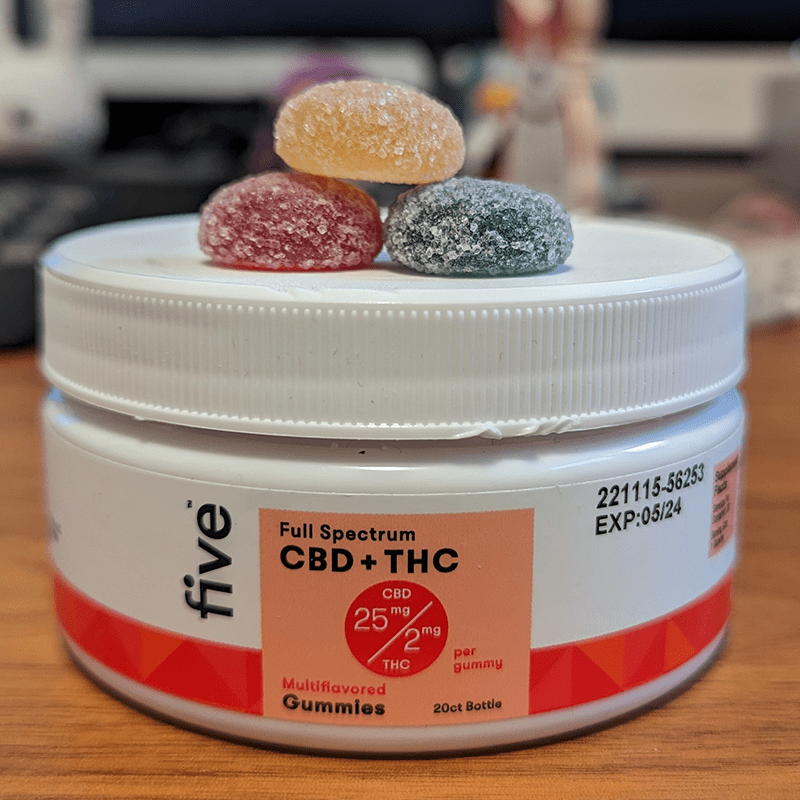 Five CBD's popular full-spectrum gummies come in five varieties:
Original 25 mg CBD/2 mg THC gummies
Sour-flavored gummies
Daily buzz gummies with 25 mg CBD and 5 mg THC for more psychoactive effects
Daily buzz in sour flavor
Sleep gummies (25 mg CBD/2 mg THC) with added 3 mg of melatonin for sleep
Each type of gummy is made with vegan, natural ingredients and comes in four assorted flavors.
My experience: I tried the standard gummies. They were some of the most delicious CBD gummies I've ever tasted and had fairly strong and noticeable relaxing and uplifting effects. I'm not surprised they amassed over 3,000 positive reviews relatively quickly.
Rosin Gummies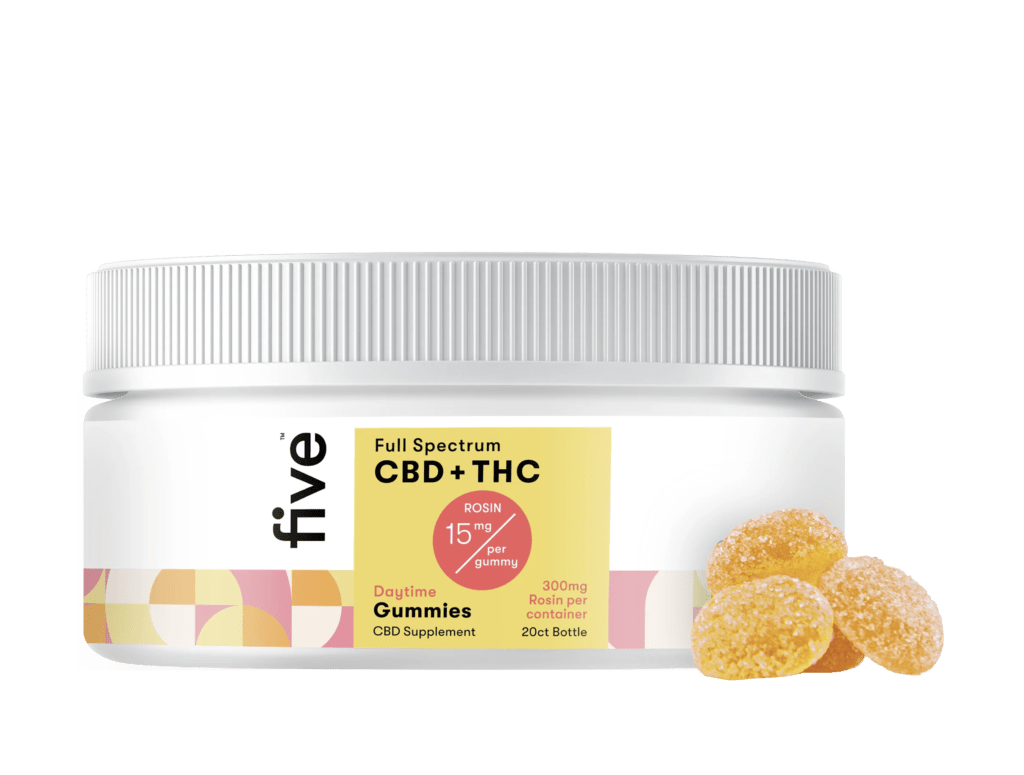 Rosin is a special type of cannabis extract made by applying heat and pressure to hemp flower, which makes it not only free of solvents but also rich in the full, natural spectrum of beneficial cannabinoids and terpenes. These gummies contain mostly cannabidiolic acid (CBDa) and smaller amounts of CBD and other cannabinoids.
You can choose from regular gummies and nighttime ones with added melatonin (3 mg).
Full-Spectrum CBD+THC Chocolate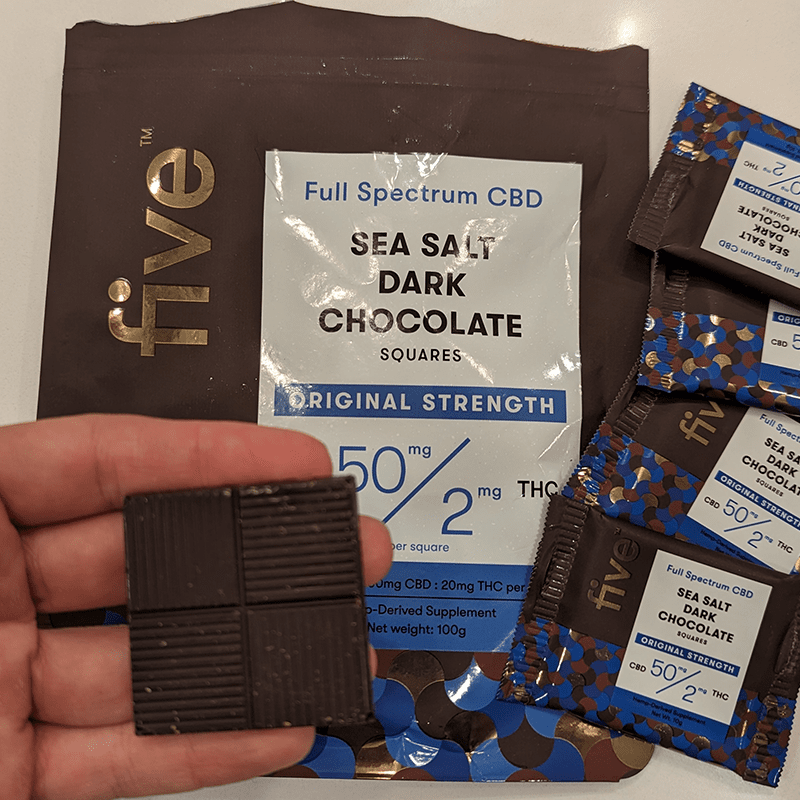 This delicious full-spectrum CBD chocolate comes in single-square servings. You can choose from chocolate milk, sea salt dark chocolate, and toffee crunch buzz flavors (with higher THC levels).
My experience: I got the sea salt dark chocolate version, which tasted absolutely amazing. This is undoubtedly my favorite Five CBD product. I'm a huge chocolate junkie so I'm happy any time I can get CBD in this delicious form. I felt relaxing effects just from one square, whereas two squares made me feel a little high because I'm sensitive to THC.
Five CBD Reviews – What Do Their Customers Say
It's important to understand what the Five CBD reviews look like from their customers. We can give you our opinion but customer reviews are also important to look at when trying to decide whether or not to buy from a CBD company.
Overall it seems that customers of Five CBD are pleased for the most part. There are a handful of reviews that are lackluster but you have that with any CBD company that is being honest. There is just no way around it, not everyone is going to be completely happy no matter how good your product is.
But the vast majority of customers have great things to say about Five CBD in their reviews. You will notice a lot of people commenting on how good the taste of the CBD oil is. CBD oil can be difficult to get right because of the strong hemp flavor involved. But Five CBD has really done a great job fine-tuning their formulas using all-natural ingredients.
My Verdict: Potent Full-Spectrum CBD on a Budget
Five CBD offers some of the best affordable CBD products on the market. The only other brands at a similar price point with this level of quality are Lazarus Naturals and Upstate Elevator Supply Co.
Getting full-spectrum CBD products with over 20% minor cannabinoids at Five CBD's prices is a great deal, plain and simple. Especially when they taste great. I'm also a fan of the up-to-date third-party testing with impressive results.
My only criticism is that Five CBD isn't the most transparent brand out there. It doesn't tell us much about its hemp source production process, and the people behind the company.
Final Thoughts
If you are looking for a few core CBD products then Five CBD is a great brand to try. What we mean by this is that they don't have a ton of product offerings on their site. It is not necessarily a bad thing unless you are looking for something specific. CBD chocolate is the exception to this as not a ton of CBD brands offer this.
If you are looking for CBD oil, gummies, or gel capsules as a staple of your CBD diet then Five CBD is a good option to look at.
Five CBD is not flashy so if you are looking for a 'flashy' brand then Five CBD is not your pick. If you are looking for a solid core of CBD products that are full-spectrum, made in the USA, and 100% natural then Five CBD should be on your list.
When it comes to pricing Five CBD is going to be hard to beat. Especially considering that their hemp comes from the US, their products are made in the US, and they are also 100% natural.
As an example, we will look at their CBD oil. The 1500mg CBD formula has a list price of $49.99. That comes out to approximately 3.3 cents per mg of CBD. If you go with the 6000mg CBD formula you are looking at about 2.9 cents per mg of CBD. That is impressive!
Even with those great prices, they don't stop there. If you subscribe to having the 6000mg formula shipped to you every month you would only be paying about 2 cents per mg of CBD. That's basically unheard of in today's CBD market. It's a fraction of the cost you can see at some other CBD brands.
---
Trending Now