Hi On Nature Review (2023)
---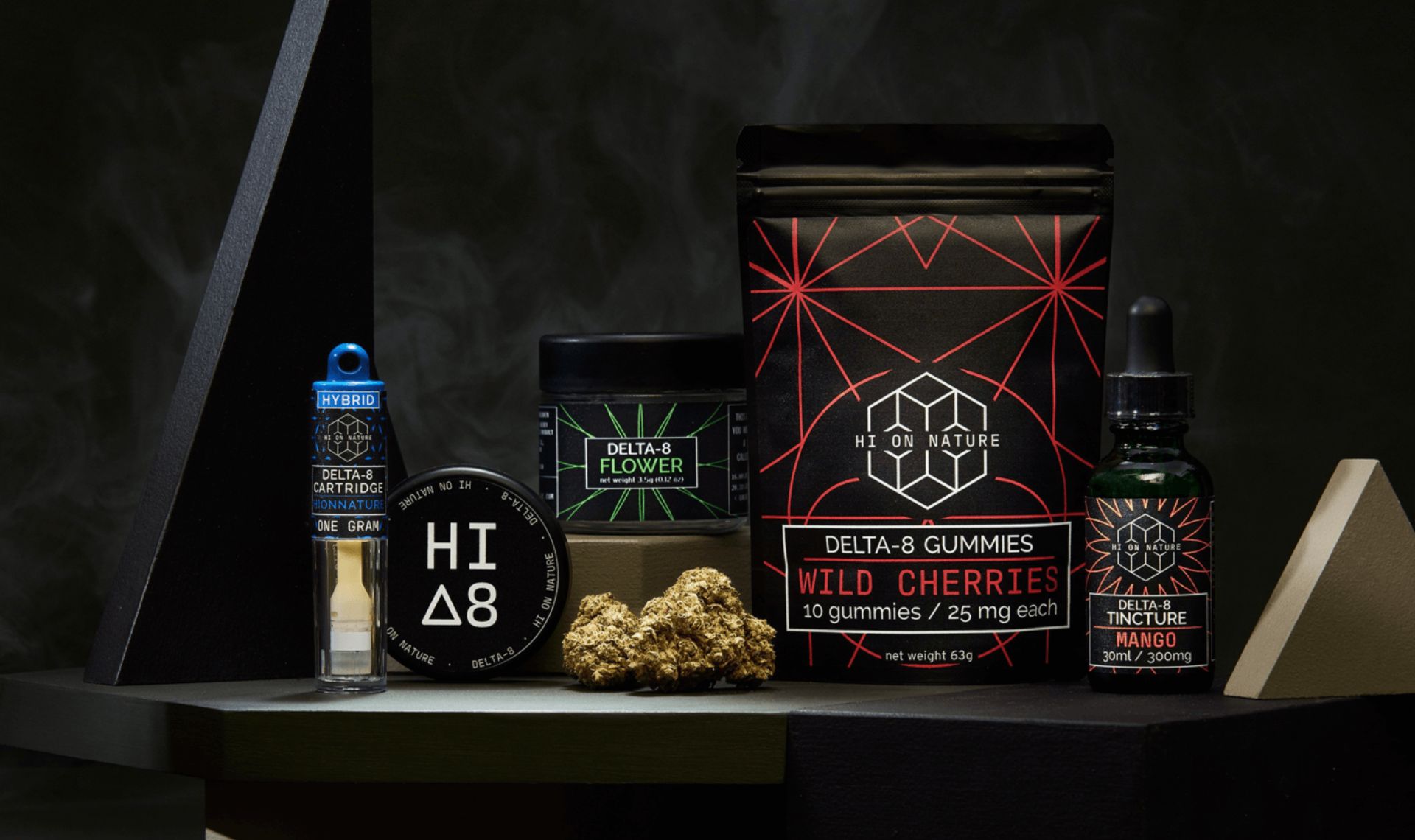 Having written content for over 5 years I've seen brands come and go. Some are gone in a flash, while others continue to march ahead. Hi on Nature is the latter.
After spending some hours testing Hi on Nature's products, I've been to the moon and back enjoying some of the goodies they offer.
Strap in for lift-off, because if you want to get higher than you've ever been In states without access to recreational weed, you need to keep reading.
Follow along for my review.
Is Hi On Nature Legit?
In a world full of stress, say Hi to a new kind of chill. Hi On Nature is a Los Angeles-based company on a mission to bring the calming benefits of industry-disrupting hemp extracts like Delta 8 to those who seek relief from the endless grind of everyday life.
I have tried a variety of products in their range, and as you'll find out below – I was shape shifting in space, wondering how I ended up as high as an astronaut.
Although not as well known, have been acknowledged all around for their high-quality delta 8 THC and their impeccable taste. Anyone who enjoys vaping on the go should pick up one of their three flavors.
Hi On Nature is legit, and their products will knock you back in your chair in the best way possible!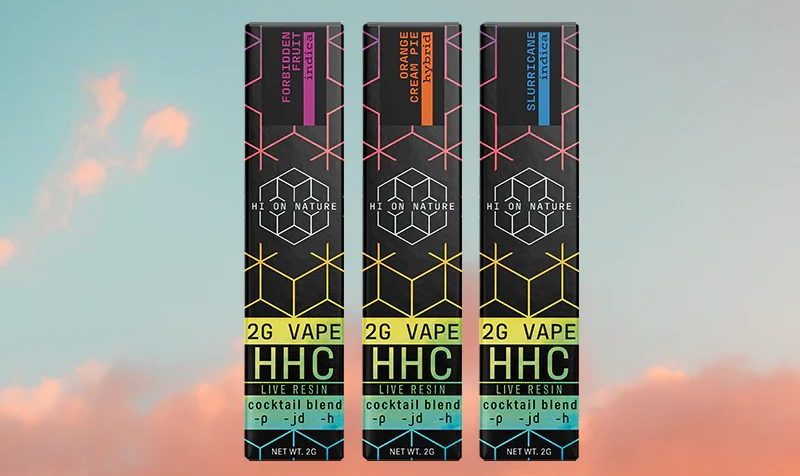 Delta 8 Vape Cartridge
Their vapes come in ceramic tipped cartridges, for maximum comfort, with flavor profiles from Pineapple Express to Mimosa, to GSC. Although they only have three flavors, each one is highly flavorful and distinct to their strain.
Besides tasting great, the essential part is potency, which they come in 10 fold. Hi On Nature delivers some of the strongest and potent delta 8 THC on the market.
They also have the remarkable psychoactive properties of delta 9 while contributing a functional and euphoric high. Although their lab reports also confirm their potency, they only come in 3 flavors at the moment. While each cartridge is $33, these vapes are the best-valued vapes on this list.
Hi On Nature is perfect for anyone who wants to experience a high-level delta 8 experience without breaking the bank.
The Good:
High-quality delta 8 THC
Ceramic hardware = no heavy metals
Affordable yet effective
All flavors are distinct and taste great
The Ugly:
Only 3 flavors to choose from
Only offers botanical flavors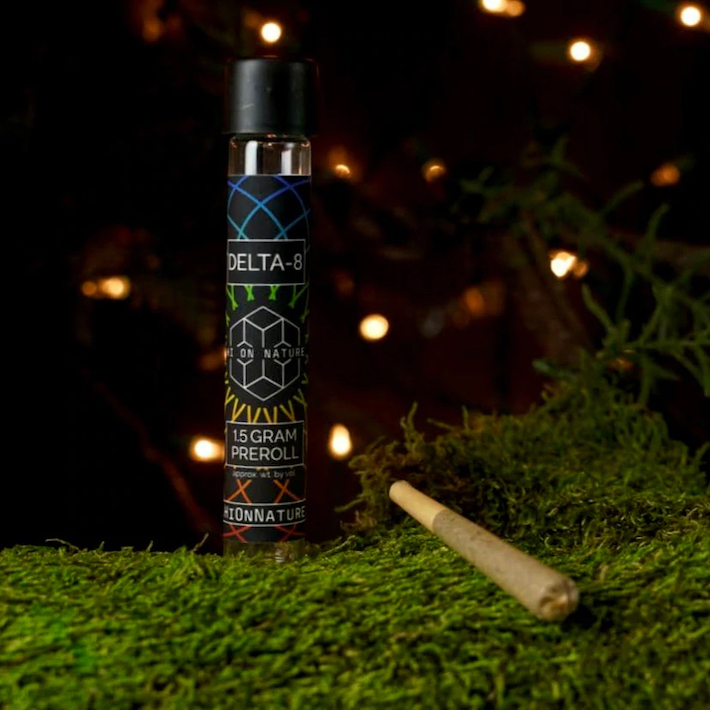 Best for Before Bed
When it comes time to relax and unwind, the delta-8 pre-rolls from Hi On Nature are the perfect helping hand.
After smoking half of one of Hi On Nature's delta-8 pre-rolls, I was ready for bed. These joints are potent when it comes to pain relief and relaxation, as I could feel my stress melting away each minute after I smoked. Eventually, the high traveled throughout my body and left me feeling super relaxed and heavy — including my eyelids. That's how I knew I was ready for bed.
While it was great that Hi On Nature's D8 joints are so relaxing, they're pretty expensive at $17 (now on sale for $12) a piece. They also only have one strain option, and they use a nondescript house strain that doesn't taste very good. If you're not picky about how your pre-rolls taste and you're just looking to experience some TLC, these pre-rolls are a great option.
Pros:
Produces strong sedative results
Reduces pain and stress
1.5+ gram joint
California-grown flower
Cons:
Expensive at $17 a joint normally
Only one option
Utilizes a vague house strain
Not tested for contaminants (see COA)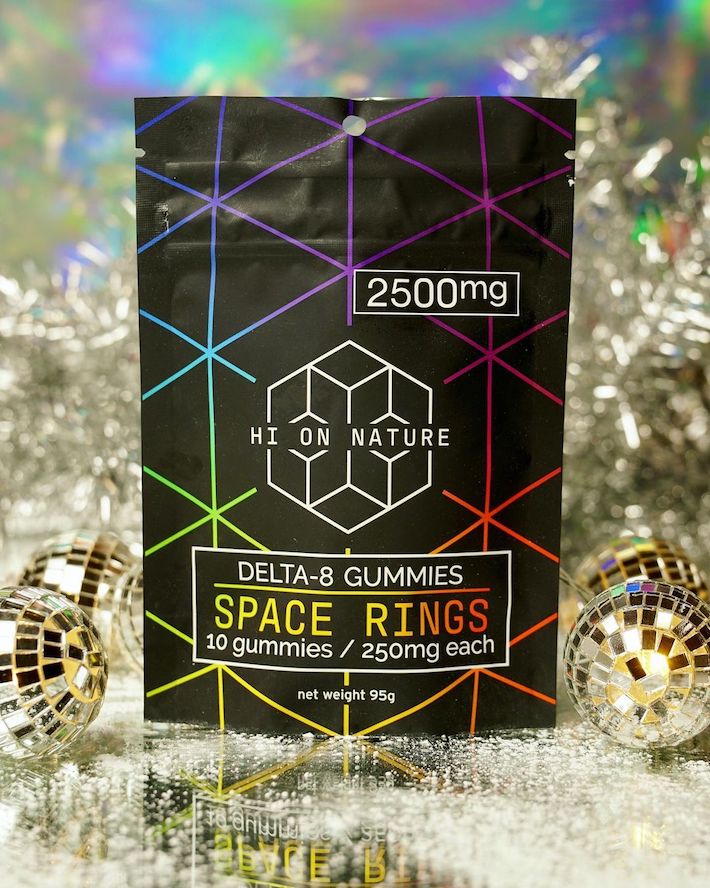 Space Rings
Hi On Nature is a relative newcomer to the delta-8 marketplace but they're making their presence known. These Space Rings gummies claim a whopping 250mg delta-8 THC per chew, and their lab results validate that. This is the strongest delta-8 gummy available, and after testing them, I can confirm that.
These take about 45 minutes or so to come up. And it can last about 4 hours.
In terms of intensity, these hit pretty damn good. So far Hi on Nature hasn't put out a single bad edible as far as I'm concerned.
This gummy has an insanely tasty flavor, similar to a Haribo type-candy, and then completely takes over your body and mind. Just one of these will produce potent effects that rival any strong cannabis edible, I'd highly recommend starting with a quarter of a ring and working your way up. After taking two full rings, I had to put myself to bed within a couple of hours – my head became the pillow and my body the bed. It was the best sleep I've had in months.
Everything I've had from them has been pretty damn intense and good. They still make the strongest edible I've had so far – shockwaves.
If you're looking for a wild ride, this is the strongest delta-8 edible you can find.
Pros
Second strongest delta-8 gummy available at 250mg per gummy
Candy-like flavor that's not bitter
Long lasting, day-long effects
Massive sleep enhancer, best sleep I've had in months
Child-proof container
Clean lab results; fully tested for contaminants (view COA)
Cons
Dry-mouth is prevalent with this product
Made with Gelatin so not safe for vegans or vegetarians
One of the more expensive options on this list
Seriously potent, not for beginners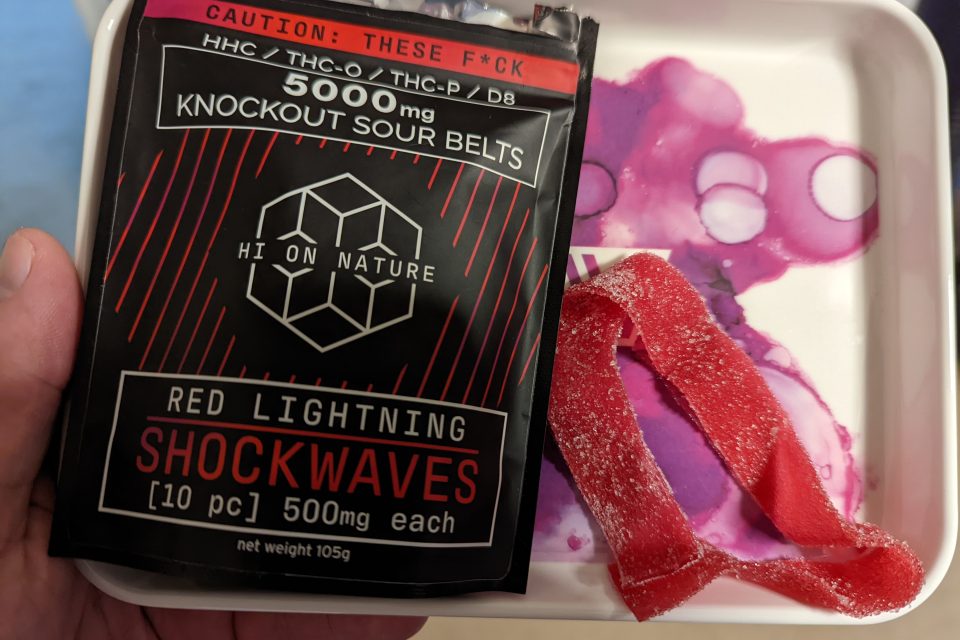 Shockwaves!
If you thought we couldn't ramp up the potency even further, you were wrong. The Shockwaves not only one upped the Space Rings in terms of potency, they doubled them! Coming in hot at 5,000mg per container, the Shockwaves will certainly have you buzzing.
These are made with a THC-P "Knockout Blend," and I can attest that they are deserving of the name. The Shockwaves had to be one of the hardest hitting edibles I've ever tried, and I've tried a lot of them in this line of work.
The high from these was extremely euphoric, yet relaxing, similar to the Space Rings but more intense. I got a little bit lost in the sauce around the peak and wasn't quite sure what was going on anymore, but I loved every second of it. I would definitely caution newbies or low-tolerance havers to take it slow with these!
Flavor wise, Hi On Nature hit the bullseye again: they taste just like some delicious hemp-free sour belts. I tried the Electric Lemonade, and I thought they had a really great balance of sweetness and sour tang to them. Although I can only attest to the beauty of the Electric Lemonade flavor, based on what I've experienced, there's no going wrong with Hi On Nature. I'd really like to try the Cloud 9 cotton candy flavor next!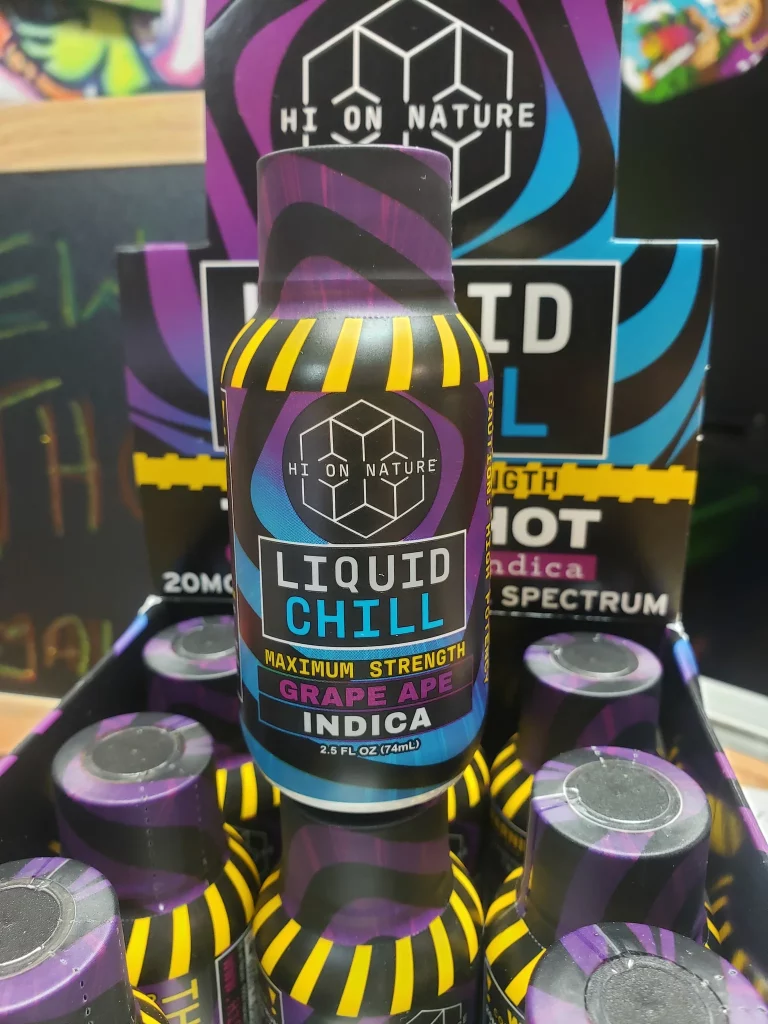 Liquid Chill
Are you ready to blast off to the coolest parts of the galaxy?
Look no further than Hi on Nature's maximum strength Liquid Chill. Made full spectrum THC-P, CBC, CBD-P, and some added cosmic terpenes, this potion will have you forgetting which planet you even came from. With a delicious grape taste, it's easy to chug but watch out, don't go ape-shit!
I can say it doesn't make me feel like I'm drunk as hell like the Shockwaves do if I eat a whole strip. I swear I lose my balance trying to stand up after those things lol… but anyway, back to this liquid shot – I'm impressed so far.
Summary
As you can tell, Hi On Nature has earned our seal of approval and more! I honestly struggled to come up with any downsides or cons for any of these products, as they were just that solid. From delicious hemp-free flavor profiles, to immediate and hard-hitting effects, Hi On Nature has to be one of my personal favorite brands I've ever reviewed.
As a last and final note, I'd like to drop our custom discount code in the chat to thank you for being one of our readers! We love what we do here, and want to spread the joy we've gotten out of our own Hi On Nature haul.
---
Trending Now