Overview
Holistapet offers a novel line of cruelty-free, organic, non-GMO, gluten-free, and dairy-free pet CBD products. Part of their mission is to help restore the "homeostatic imbalances caused by modern-day medication."
HolistaPet CBD: Quick Summary
Pros
The best option for pure, authentic CBD oil for your pets.
Offer specific selections for dogs, cats, and horses.
Third-party lab results are available on the site.
Products are cruelty-free, organic, non-GMO, gluten-free, and dairy-free.
A variety of products and formulations depending on specific pet needs.
Offer CBD bundle packages at discounted prices.
Cons
Some items cannot be shipped worldwide.
HolistaPet Review: The Best CBD Products for Your Pet?
Holistapet is a burgeoning pet CBD brand that's slowly amassing a broad fan-base – and we can easily see why. Their pet CBD products are top of the line, and they feature ingredients that are wholesome, organic, and pet-safe. In reviewing this brand, we found that they offer several advantages over other companies that offer pet-specific hemp CBD products.
First, we like that they have a wide range of CBD oils. Their oils run the gamut from 150mg, all the way up to 3000mg. There's something in that range for any sized dog or cat, which they clearly explain on their website. They also have a handy dosage guide with pet recommendations according to weight and size.
Equestrian lovers are not left out either. They sell CBD oil for horses at 7500mg, as well as 3000mg CBD pellets. Likewise, their wide range of cat and dog products are perfect for owners looking to quell their pet's anxiety, soothe aches and pains, increase mobility, and improve overall quality of life.
What HolistaPet Products Did We Review?
In preparation for this review, we checked out all of the brand's products via their official website. The first products we looked at included their line of CBD oils. With their extensive selection of oils, it was a bit confusing at first glance to make sense of everything. Fortunately, their guide allowed us to find oils that fit the needs of dogs and cats of all sizes.
In terms of their prices, Holistapet CBD is actually very fair and competitive considering the quality of product and organic ingredients that they're offering. There really does appear to be a price point that fits a variety of budgets, which is wonderful since buying good CBD oil for pets is cost-prohibitive for so many individuals.

HolistaPet: Amazing CBD Products at Affordable Prices
For now, HolistaPet sells CBD products in 3 categories:
Holistapet has a well-rounded set of products. They not only have CBD oils and pet treats, but they also have a wide variety of CBD capsules and bundle options that can save you loads of money. If you plan on buying several different items at once, the bundles are the best way to go.
In fact, the extensive line of bundles includes an array of CBD treats and CBD oils. Pet owners that are undecided can ultimately find what works for their pet. Holistapet also features a line of CBD capsules, infused catnip spray, and equestrian-centered products such as horse CBD oils and hemp pellets. We break down their popular products below.
CBD Oil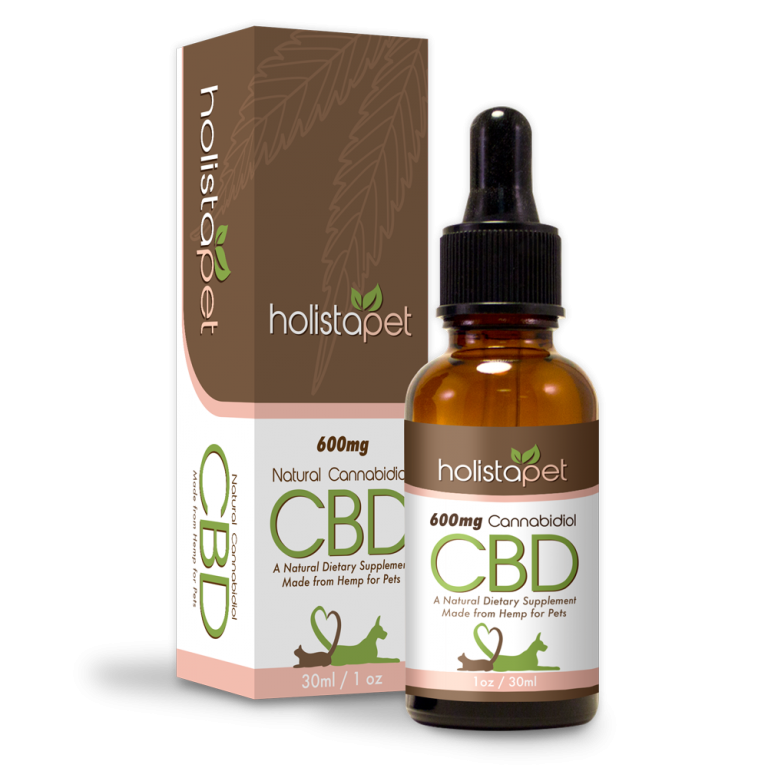 The first on our list is the Holistapet CBD oil review, a product that can be used by both cats and dogs.
CBD oil lowers your pet's anxiety, making them calmer and more relaxed. It also regulates pain and discomfort.
Furthermore, full-spectrum CBD oil has vitamins A, B, C, and E, as well as calcium, magnesium, zinc, and phosphorus. This type of CBD oil also contains 20 amino acids, of which 9 are not naturally produced by the body.
All you have to do is put a drop of the oil in your pets' food or directly into their mouth.
There are some slight issues with the Holistapet CBD oil, though.
First of all, you can treat this product either as a bargain or as pure luxury. This depends on the size of your pet. Larger dog breeds (and even some cats) might need much more oil than their smaller cousins.
The second issue in some of the Holistapet CBD oil for dogs reviews is that, while most pets love treats, some might not take to the taste.
Luckily, it's easy to administer, but picky eaters will still make your job a bit difficult.
CBD Dog Treats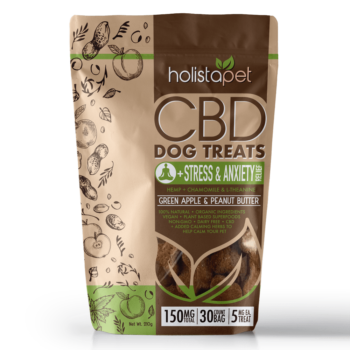 Holistapet sells a diverse range of CBD dog treats. Their treats come in several varieties and formulations. Each set of treats focuses on specific symptoms and complaints. For example, the Stress & Relief treats address daily stress and anxiety-related issues.
The Stress & Relief treats have a fun flavor and mix green apple and peanut butter. Another variety includes the Pumpkin Spice and Cinnamon treats that focuses on joints and mobility. The Heart & Immune treats seek to fortify a dog's cardiovascular and immune health with a boost of vitamins and antioxidants. It also has the Blueberry and Sweet Potato flavor.
Consumers can also purchase bundle packs of dog treats. Each bundle includes either the Heart & Immune, the Stress & Relief, or the Joint & Mobility treat. There is a variety pack which features one of each for an affordable price. Each package of treats has 150mg of CBD and 30 treats.
CBD Cat Treats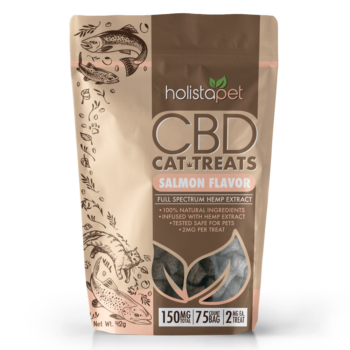 Holistapet also sells CBD treats for cats. Cat lovers can purchase the salmon-flavored option, which comes with 2mg of CBD per treat. They also have full-spectrum CBD oils that offer a host of vitamins, minerals, and phytochemicals. Each cat treat is non-psychoactive, and contains 0% THC.
There's also no dairy, gluten, or other additives, which is great news for cat owners looking to avoid digestive issues. Their cat treats are also grain-free, and have no artificial flavors.
CBD Capsules for Dogs & Cats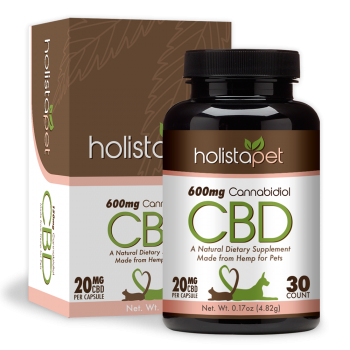 Holistapet CBD Capsules for dogs & cats are another alternative for pets to get their CBD. Each capsule contains a hemp seed powder and CBD extract. The hemp seed oil has a fatty acid and protein concentrate that boosts immunity and helps to promote a healthier coat and skin.
The capsules are vegan and cruelty-free, with no animal gelatin. Each capsule is broad-spectrum, and is generally small enough to give to a pet with little hassle. Consumers can enjoy a pre-measured CBD content, although the Holistapet site does offer a guide that provides owners with basic dosing recommendations. Capsules come in strengths of 150mg, 300mg, and 600mg.
CBD Catnip Spray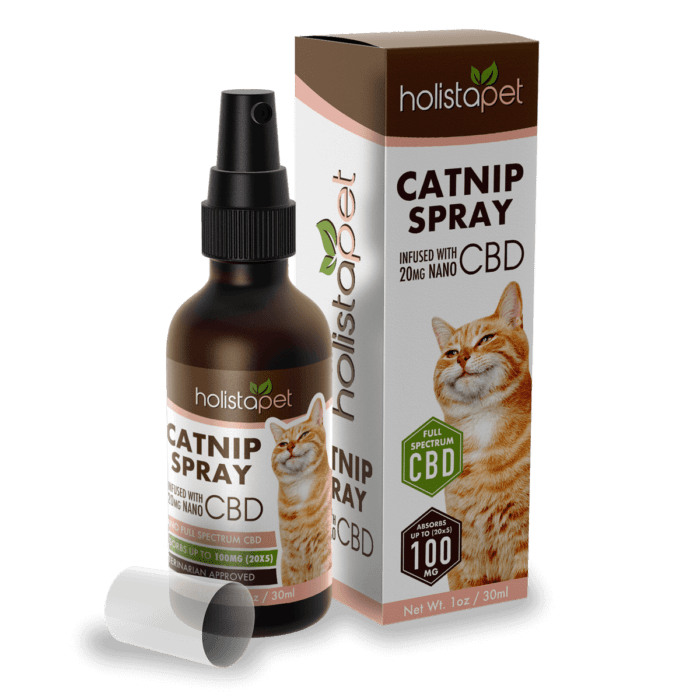 The catnip spray is an excellent way to calm and soothe an anxious or hyperactive cat. This spray comes with 20mg of Nano CBD. Nanotechnology allows for more efficient delivery of CBD, making each 20mg of CBD five times more powerful. It also contains catnip oil and nano-enhanced water.
Pet owners can easily stow the spray bottle out of the way for secure storage. The spray doesn't stain fabric and can go onto a variety of items, including cat pillows, toys, scratching posts, and blankets. There are no additives, and each bottle contains a total of 100mg CBD.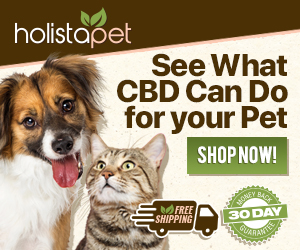 What Else Should I Know?
Holistapet's philosophy centers around the health and well-being of pets. They work with a Veterinary Advisory Board (VAB) to incorporate the highest quality information on animal health and CBD. Much of the VAB staff have immense experience in alternative, plant-based care of pets and livestock.
Holistapet also combines the benefits of superfoods with their carefully crafted CBD oils and items. The addition of superfoods assist with health maintenance, and may serve several other purposes:
Eases pain
Reduces stress
Assists motility
Aids in bone function
Promotes sleep
Minimizes digestive issues
Summary & Where to Buy
If you've been looking for a brand that focuses on health and quality of ingredients, Holistapet is an excellent option for pets. They have an array of fantastic products that come brimming with full-spectrum CBD and a variety of vitamins, minerals, and antioxidants.
They also boast very affordable prices, and offer products not only for dogs and cats, but also for horses and livestock. While they don't offer any products for other kinds of pets, as their line expands, we do expect to see more. However, they invest heavily in quality, and customers can access unbiased, third-party lab tests.
Interested pet owners can visit the brand's official site at holistapet.com and order products directly. They offer a host of shipping options and typically have just a 1 to 2 business day processing time. The only drawback is that they do not ship worldwide. They currently only ship across the United States. If you have tried CBD for your pets in the past and haven't been satisfied, we feel Holistapet CBD is worth checking out.
---
Disclaimer: Please keep in mind, though, that before you start using any CBD-based or related products on your pets, you should always consult with your vet. While I can tell you about the general collective feeling that most people have about certain CBD providers, this information should never substitute that of professional advice.
---
Trending Now