Plain Jane Review (2023)
Posted On January 11, 2023
---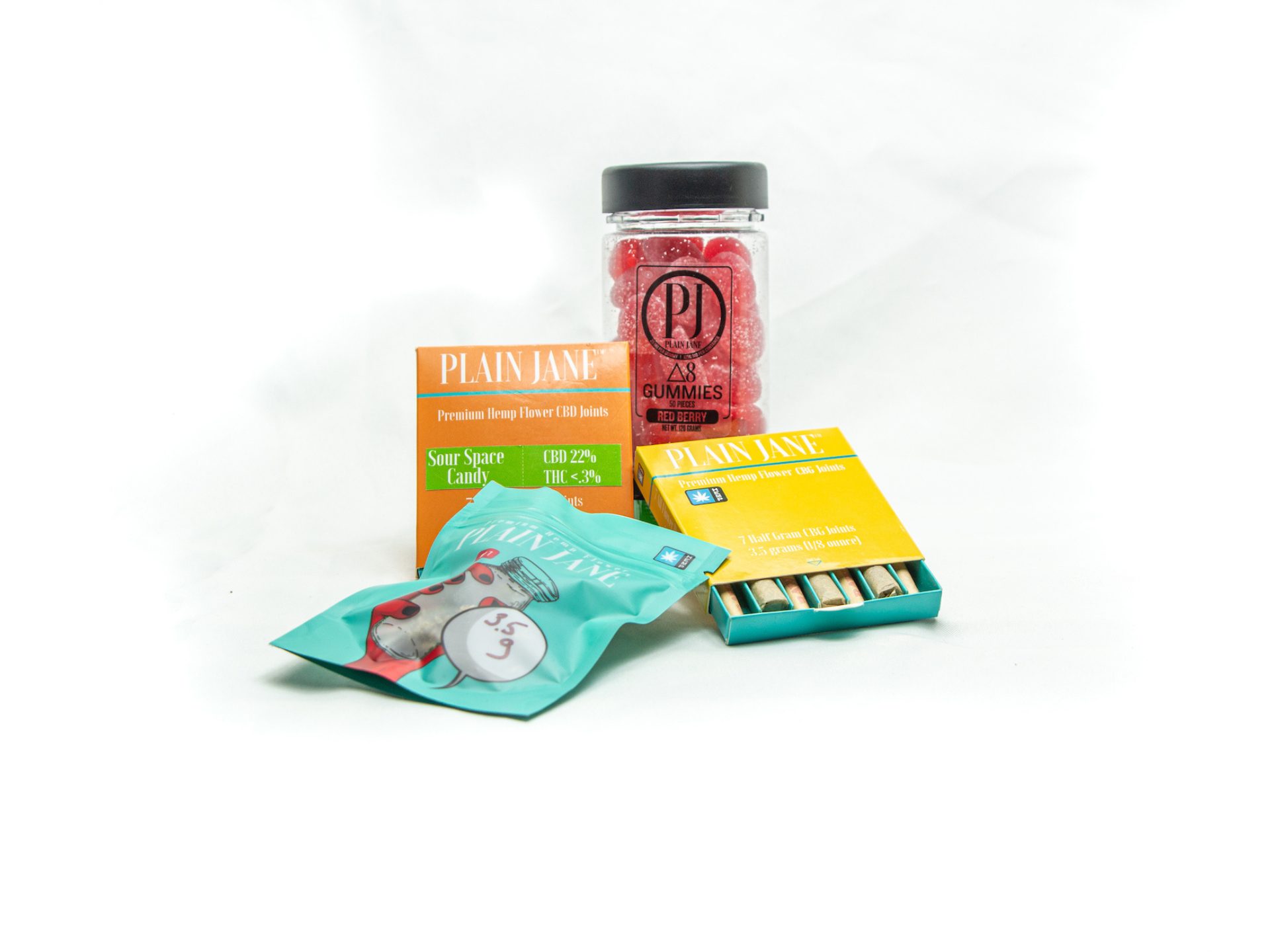 Plain Jane is a Medford, Oregon based hemp company specializing in flower, pre rolls, and concentrates. Their mom-and-pop-boutique vibes are a great representation of the implied Oregon Standard, an ethos that prioritizes user experience and quality of product over quick returns. Their products include sticky, sugary flower, a variety of pre rolls and blunts, gummies, oil extracts and a handful of strain specific CBD vape cartridges.
Plain Jane's flower is lush and mouthwatering, and across the board, their flower-products all have a high efficacy despite lower cannabinoid percentages. For the price, these prerolls, blunts, hemp cigarettes and buds are, inarguably, a bargain, and the rest of their line is similarly efficient, especially considering the lower price points.
Highlights
Plain Jane works with a select few Southern Oregon hemp growers to produce various CBD-rich cannabis products. Each of their many cultivars feature dense, fragrant colas, complex terpene profiles, and calculated cannabinoid compositions. Their pre-roll packs are full of even burning, smooth-tasting flower, and their extracts run the gamut from effect-specific gummies, tinctures, even CBD vape juice. Each of Plain Jane's products has the look and feel of a top-shelf dispensary item, despite bearing bargain price tags. And products like CBD moonrocks, CBD terpsolate, and full spectrum hemp cigarettes further set Plain Jane apart from their competitors. Whether users prefer a slick pre-roll pack, a kief dusted sampling of blunts, a flavorless isolate or a simple salve, Plain Jane has a diverse enough selection to meet a broad range of user needs, therapeutically and economically.
What's Good?
High quality flower
Mild sleep support
Mild pain relief
Mood lifting
Strain specific flower
Products for loud and discreet users alike
What's Bad?
Abundance of options can be overwhelming
Plain Jane Delta-8 THC Gummies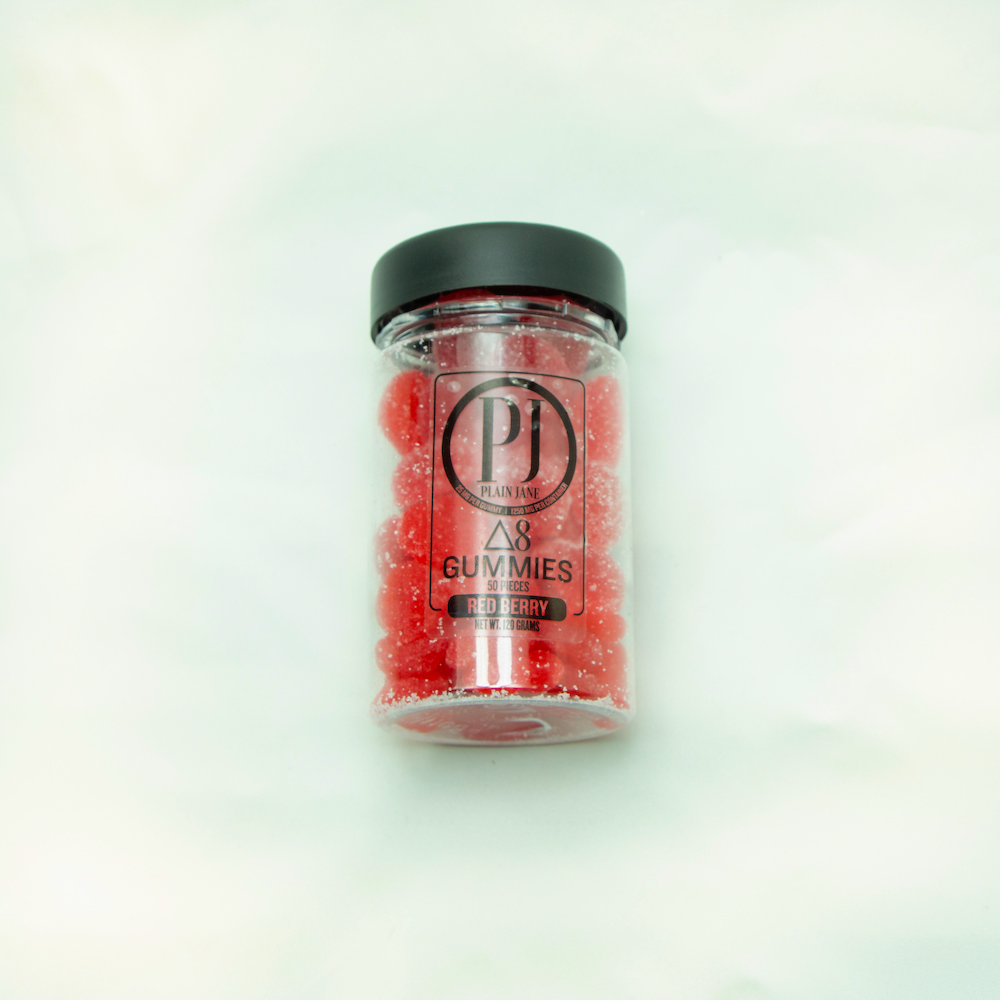 These quickly became a part of my husband's pre-work routine. His labor job can be incredibly physically taxing, and he found these to be hugely efficient in curbing post shift soreness.
The delta-8 THC gummies are a little soft for me, I prefer a firmer candy, but despite that they scored high marks with my family across the board. They both prevent and relieve physical pain, they gently ease stress, and they offer a sheer suggestion of psychotropia that can make arduous work feel marginally easier, or cushion your mood.
These gummies do, however, bear a striking resemblance to red spice drops, so exercise caution if you keep both these gummies and spice drops in the same room (as we did), spice drops hit pretty hard if your mouth is anticipating soft berry CBD sweetness.
Plain Jane CBG Pre-Rolled Joint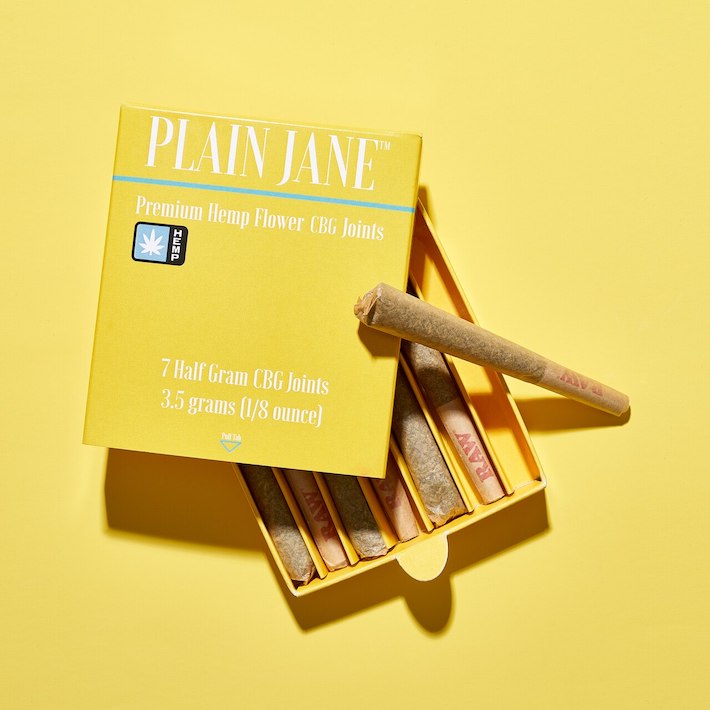 I shared these prerolls with my squad, and the opinions were all around positive. For one specific homie who happened to be enduring the painful process of quitting ciggies, these pre rolls ended up being the perfect crutch. The CBG variety in particular, she found, were an awesome way to start the day in lieu of her erstwhile coffee-and-a-smoke sunrise ritual.
Similarly, I love starting my day with one of Plain Jane's CBG prerolls. They offer just enough mood lifting, effervescent clarity to make working a breeze and just enough physical euphoria to act as a preventative for the everyday aches and pains I accumulate when bent over my desk for long periods of time.
Plain Jane CBD Pre-Rolled Joint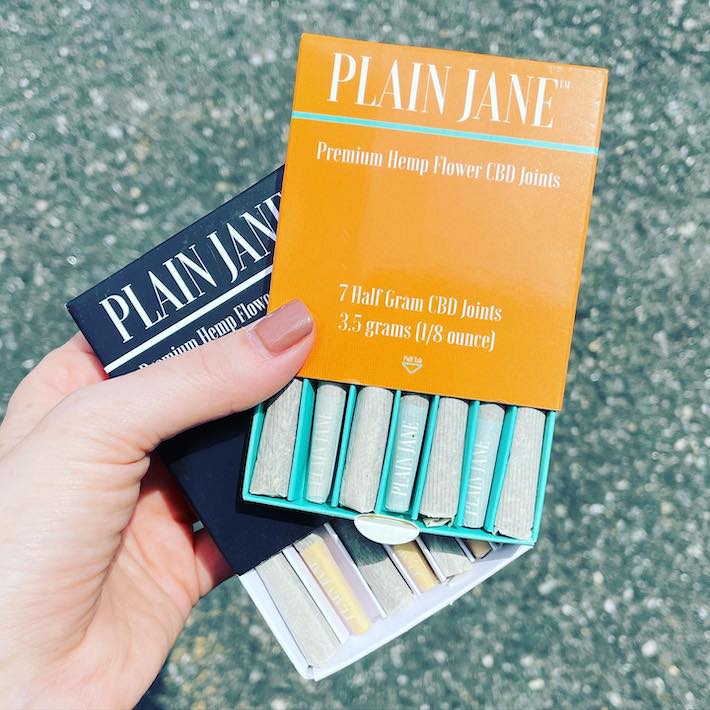 These CBD prerolls are another favorite of my squad, as well as members of my family who I've sent packs to. My evangelism for these little joints has inspired me to share them with as many interested cannabis users as I can. Even for dedicated THC smokers, there is considerable value in keeping a pack of these in the stash.
Plain Jane's hemp CBD joints offer a smooth, easy respite from straight cannabis that can either temper a manic high or soothe a sober mind. And for teetotalers not yet fully convinced contemporary herb is the right choice for them, like your uppity cousins or conservative grandma for example, these prerolls are a great introduction to alternative cannabinoids and their potential for not just therapy, but also an all around better mood.
Plain Jane Delta-8 CBG Hemp Flower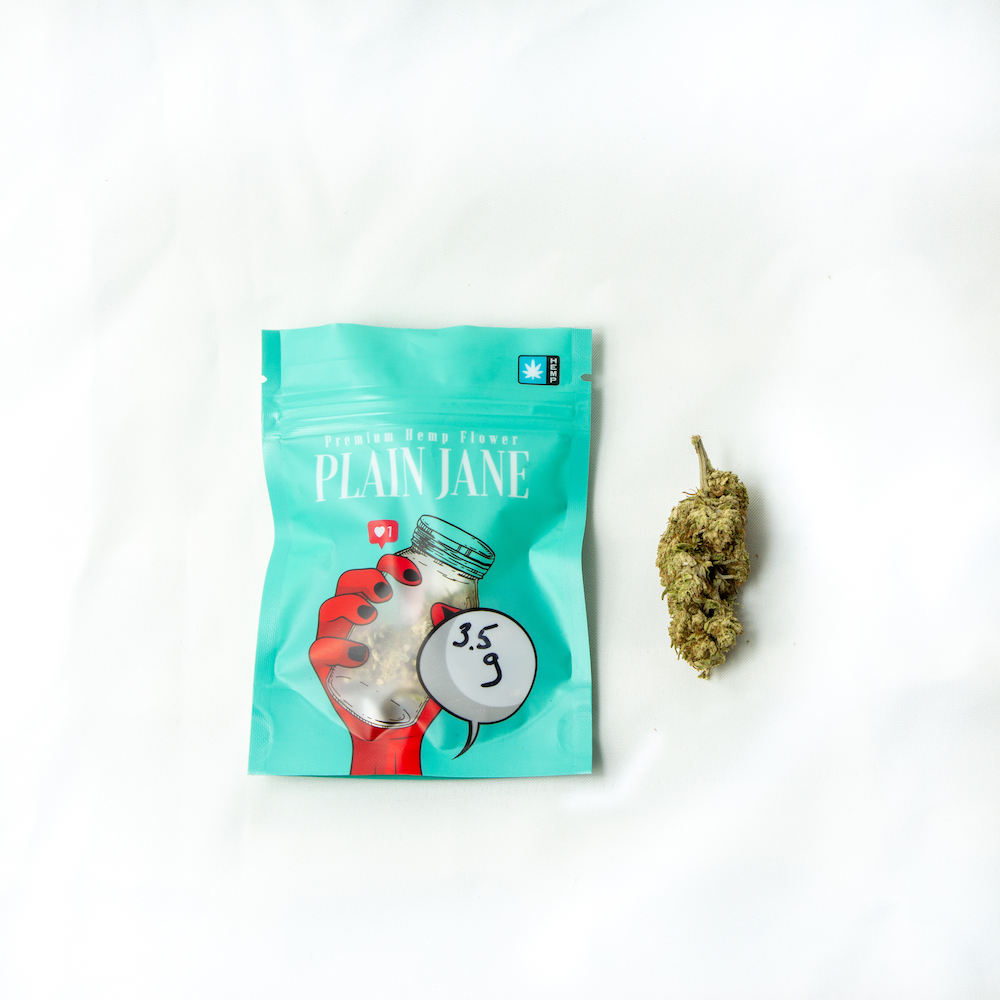 Plain Jane produces some of the highest quality hemp flower I've ever auditioned, so it stands to reason their Delta 8/CBG strain would also deliver complex terps, glistening buds, and ultra-smooth smoke. These buds feel low-key precious to me; in fact, I keep them in the back of the stash box and reserve them for special occasions.
As a daily THC smoker, a strain such as this feels almost too precious for everyday use. The effects are wholly specific to the strain (gently therapeutic, cerebrally stimulating, mood enhancing), but there is also a comforting undertone of psychoactivity that reminds me of my favorite astro-traveling cultivars, without actually launching me into the stratosphere. The parent in me finds these mild-but-notable effects exceedingly attractive.
Plain Jane Delta 8 Gummies Review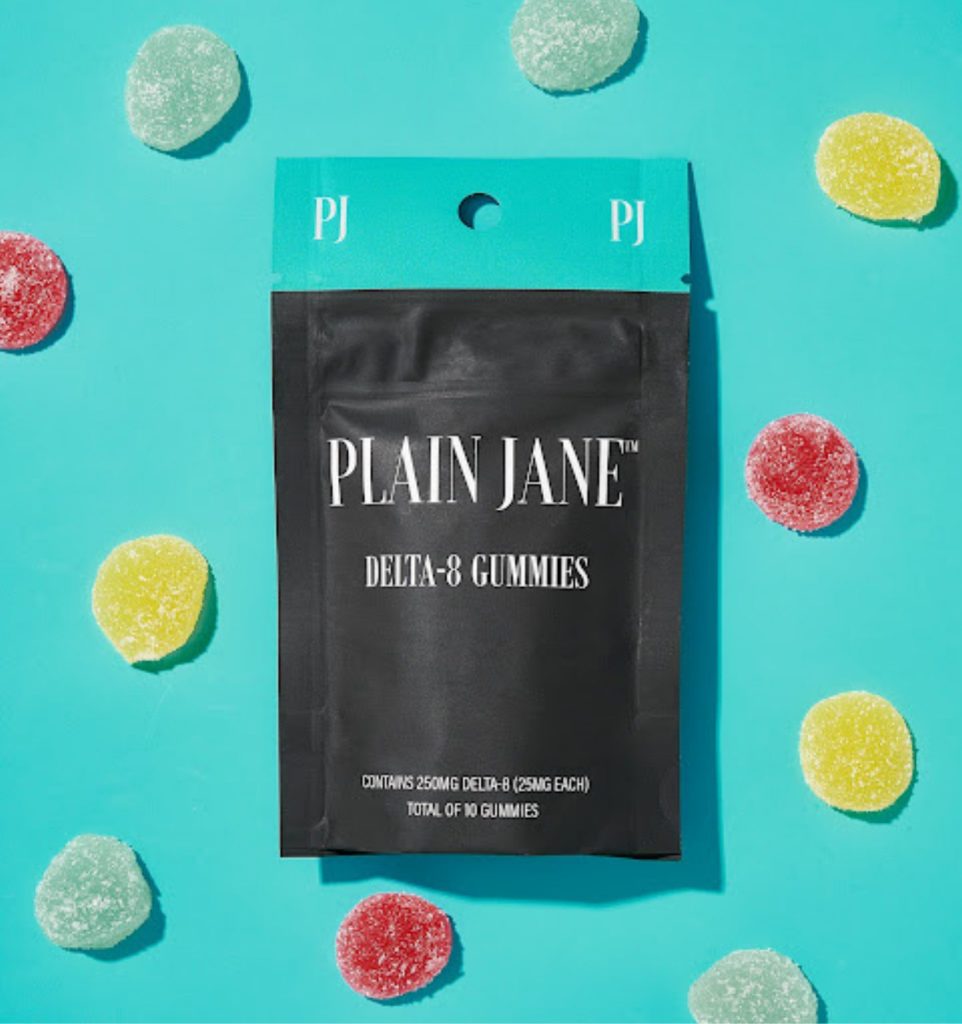 Everyone has a different way they like to get their daily dose. The Plain Jane Delta 8 Gummies pack in 25 mg of Delta 8 THC in every gummy—but just remember that they still contain under 0.03% THC overall, the legal limit.
This means that you'll feel a little something after chomping down on a few of these tasty guys, but you won't get high. Plain Jane describes it as a "cerebral and body-buzzing" effect that's enough to make your mood lift, but not totally levitate you off the ground. The gummies come in three different sizes:
125 mg: 5 gummies
250 mg: 10 gummies
1,250 mg: 50 gummies
With flavors of berry, lemon, and grape, these tasty candies are all-natural and take about 60-90 mixtures to kick in—plus they're 100% vegan. Start with ¼ of a gummy and up your dose depending on your needs.
Plain Jane Full Spectrum CBD Oil Review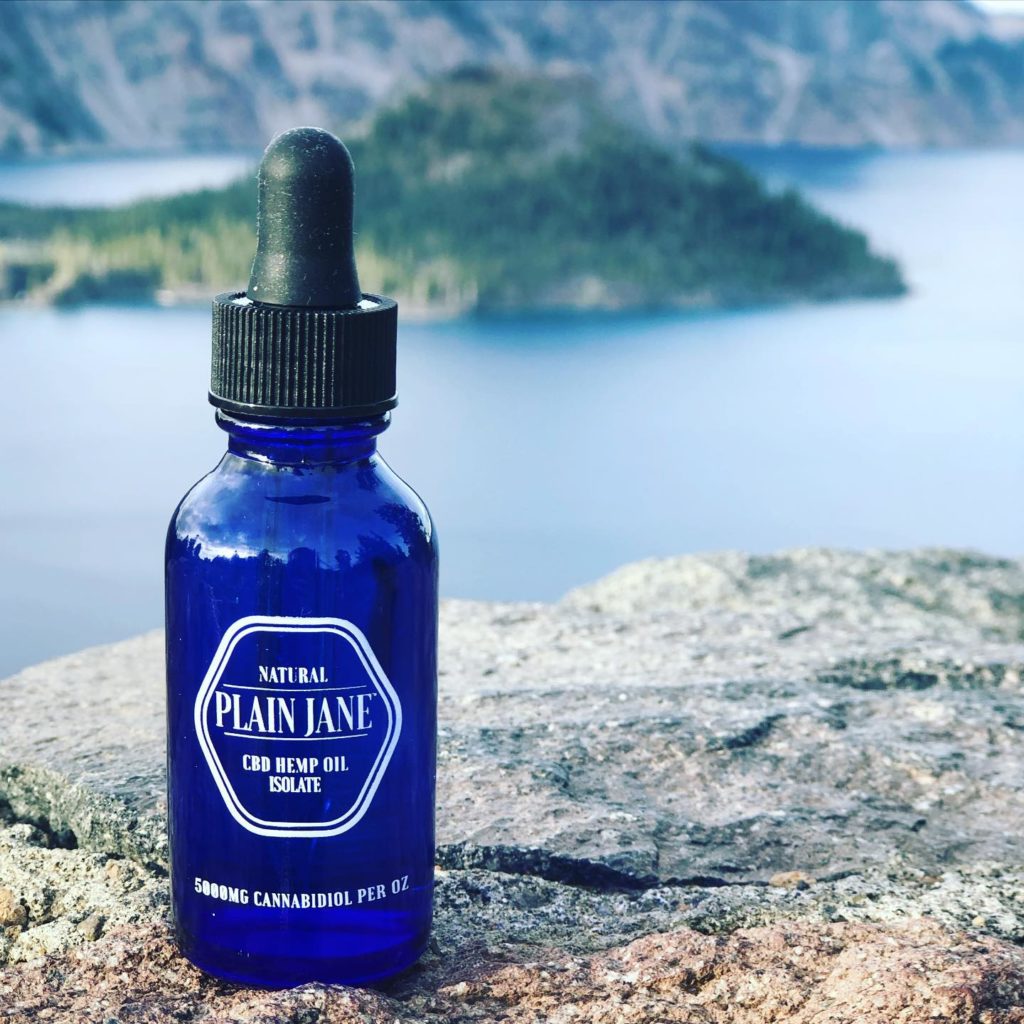 CBD oil is a no-brainer for anyone looking for an easy way to get their daily dose. The Plain Jane Full Spectrum CBD Oil is packed with everything you gravitate to hemp for, including phytocannabinoids (therapeutic), flavonoids (to fight off free radicals), and terpenes (for scent).
This particular oil has the trifecta: CBD, CBG, and Delta-9 THC—though it still clocks in at under 0.03% THC levels. Great for stress reduction, sleep, and muscle aches, it comes in natural, lemon lime, blood orange, and chocolate mint flavors that make it enjoyable to take daily.
The Full Spectrum CBD Oil comes in 1000 mg and 5000 mg bottles, with a 1 oz dropper yielding 1.6 mg or 8.3 mg of CBD. Plain Jane recommends starting with just 1-2 drops 1x per day to feel the effects.
Who Is Plain Jane CBD For?
Plain Jane offers a comprehensive range of CBD products from oil to gummies to the buds themselves, with a ton of flavors to suit different preferences. First and foremost, CBD is only for those 21+, and you won't be able to receive your order if you're under that age.
People choose CBD for a number of reasons, whether that's for pain, to improve focus, or to ease anxiety. Plain Jane has products to help with all of those areas, as well as a few that use Delta 8 THC (still under 0.03% THC) to give you an extra, legal buzz.
What Do Customers Think?
Whether you're new to the world of hemp or have been dosing for a long time now, when ordering from any online CBD company, there are a few important factors you may want to know before piling up flowers and pre-rolls into your cart.
In this section of our Plain Jane CBD review, we'll show you what we found after a thorough search for feedback about the brand and its products—specifically looking for what the quality of bud is like, as well as shipping, and the overall experience.
The brand's website led us to its Trustpilot profile, a page that showed an overall score of 4.6/5 stars and 7,592 reviews. Here's how that breaks down:
Excellent: 85%
Great: 6%
Average: 3%
Poor: 2%
Bad: 4%
As you can see from the scores, the majority of reviews were highly positive, with comments about its high-caliber products and fast shipping. One Plain Jane CBD review read: "Always a great company to purchase from. Quality products, quick arrival of items and perfectly packaged. Best hemp I've ever purchased."
When ordering anything online, fast shipping is going to be a big priority. Of course, opening up your package and actually enjoying the items inside is the real biggie here, so receiving them quickly is just the icing on the cake. We're happy to report that most customers mention both on Trustpilot.
For our next chunk of feedback, we went looking for something in-depth and landed on a Plain Jane CBD review on CBD Oracle. The review awarded the brand an overall score of 8.5/10 with ratings in the following categories:
Function: 8/10
Finish: 10/10
Flavor: 10/10
Feeling: 8/10
Reader Rating: 8.7/10 (26 votes)
The Plain Jane CBD review walked us through several of the brand's products, including pre-rolls and gummies. Of the Delta 8 THC Gummies, it mentioned a "balanced" flavor and "delicate tartness," before diving into their effects:
"The gummies each contain 25mg of Delta 8 THC, which we found to be hugely efficient in relieving superficial physical pain, supporting restful sleep, and buffering the rougher edges of a bad mood. These gummies deliver both therapeutic relief and a whisper of clear-headed euphoria."
Containing under 0.03% of THC, these gummies deliver just enough relief to be beneficial but won't send you to your couch for an entire afternoon. They sound like a great addition for anyone who wants a bump up from CBD but doesn't want to dabble with full-blown THC.
Overall, Plain Jane reviews have been off the charts. With high scores across the web, customers appear to really love this brand, its products, and the experiences they get from them.
Conclusion – Is Plain Jane CBD Worth It?
By now, you know what makes Plain Jane such a cool company and concept. Taking CBD and making it approachable, attractive, and an alternative to addictive and high-inducing joints, cigarettes, and gummies, this brand takes CBD to the next level, one that we believe to be the future of CBD.
The prices of its products are pretty standard for CBD, so no surprises there. Product selection is great and the variety of strains is vast too, so you'll have lots of options. All in all, this Plain Jane CBD review concludes that the brand is worth checking out. Plus, we love what it's doing for the world of CBD.
Where to Buy Plain Jane CBD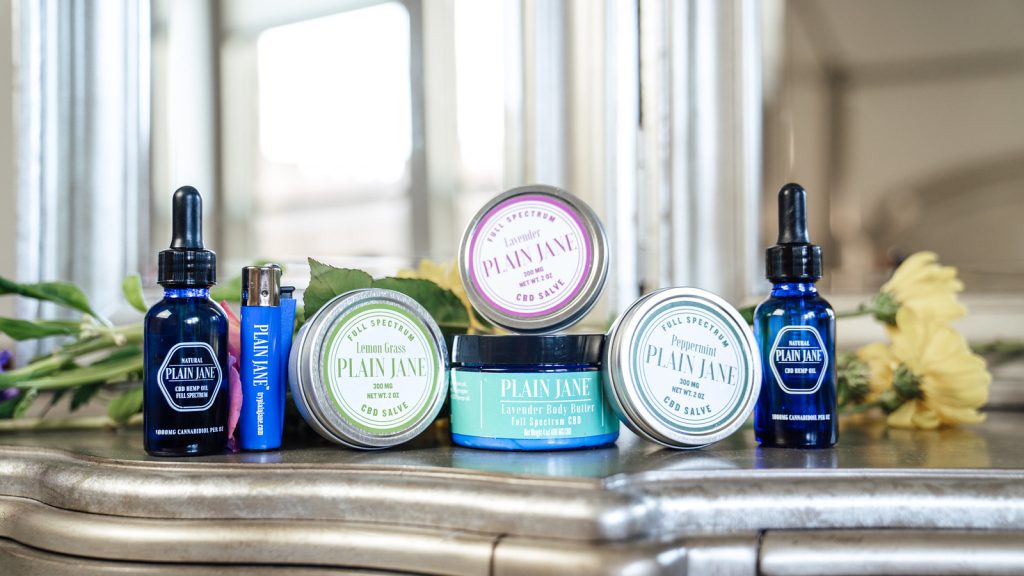 The brand is a boutique CBD shop of sorts, offering its products exclusively through its website:
---
Trending Now