Plus +CBD Oil Review [NEW Brand Info!]
Posted On September 18, 2020
---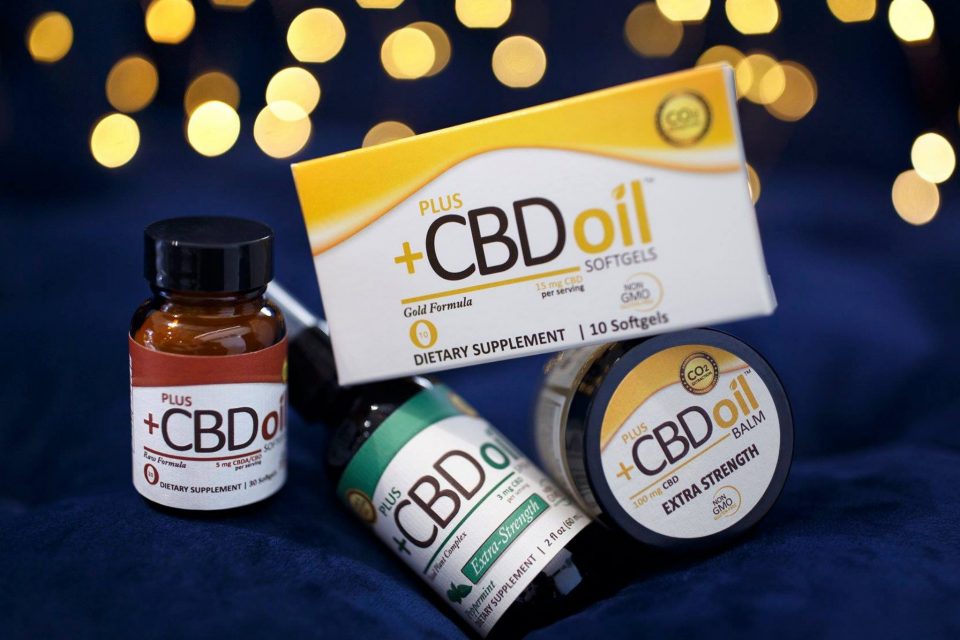 Overview
The Plus CBD Oil brand is a trusted leader in the CBD industry. They provide high-quality CBD sourced from top-grade EU certified hemp seeds. They utilize third-party testing to bring only the most potent CBD to the market. They also have seamlessly integrated quality assurance that provides quality and value.
Plus +CBD Oil Highlights
Pros
CBD Plus products are created in a state-of-the-art laboratory.
All CV Sciences products are traceable from 'Seed to Shelf.'
It uses a non-chemical CO2 extraction process.
The products are free from GMOs and gluten.
The products also carry third party quality assurance.
Cons
Some of the flavors are better than others.
The website is somewhat difficult to navigate.
To learn more, read on for the full Plus +CBD Oil review. You can also check out some of our top-rated brands by following the link below.
About Plus +CBD Oil
It is now becoming clear that CBD oil offers significant medical health benefits, so brand names such as Plus +CBD Oil are hopping on the bandwagon.
Tinctures, sprays, and oils from CBD are now available throughout the states. This is because the products come from the hemp plant which is known for its high-CBD and low-THC content.
Plus +CBD Oil has developed quite a name for itself, thanks to its potent CBD oil. But just to be clear, this is the name of their product range and not the company.
Just in case you are wondering, the company name is CV Sciences and their sole goal is to use the appliance of science to create the best hemp-derived CBD oil on the market.
Read on to see if Plus +CBD Oil's products make it a contender or a pretender.
Plus +CBD Oil Top Products
Here's how some of Plus +CBD Oil's most popular products fared when put through our in-depth review process:
CBD Oil Drops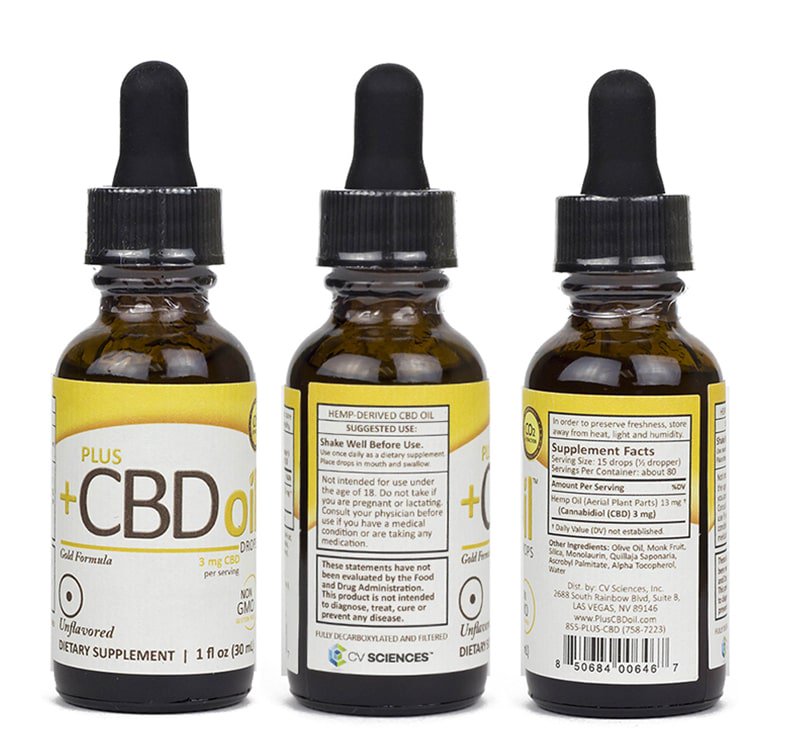 These drops are one of the CBD Plus brand's most popular products and contain a complex phytocannabinoid matrix which includes CBD from industrial hemp. This particular product uses CV Sciences' Gold Formula which is its highest concentration of CBD Oil.
The drops are available in 1oz and 2oz bottles and Unflavored, Goji Blueberry, and Peppermint flavors. There are 250mg, 750mg, and 1500mg options.
There are a total of 80 servings in a 1oz bottle, and the easy-to-use dropper means the drops absorb quickly. There is 3mg of hemp-derived CBD per serving, and you can add it to food or drink.
CBD Oil Spray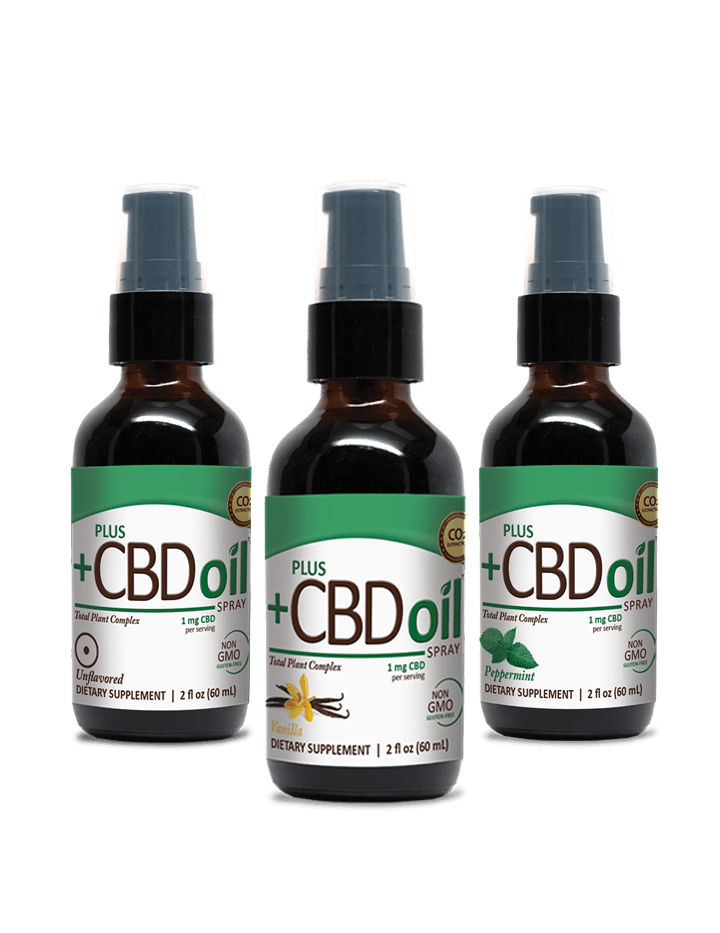 CV Sciences' CBD Oil Spray is significantly cheaper than its oil counterpart and is available in 1oz and 2oz bottles with concentrates of 100mg and 500mg. It is very similar to the drops product except it involves spraying the oil twice in your mouth. It comes in three varieties: Unflavored, Peppermint, and Cafe Mocha. The spray also contains nutrients and Vitamin E.
CBD Oil Softgels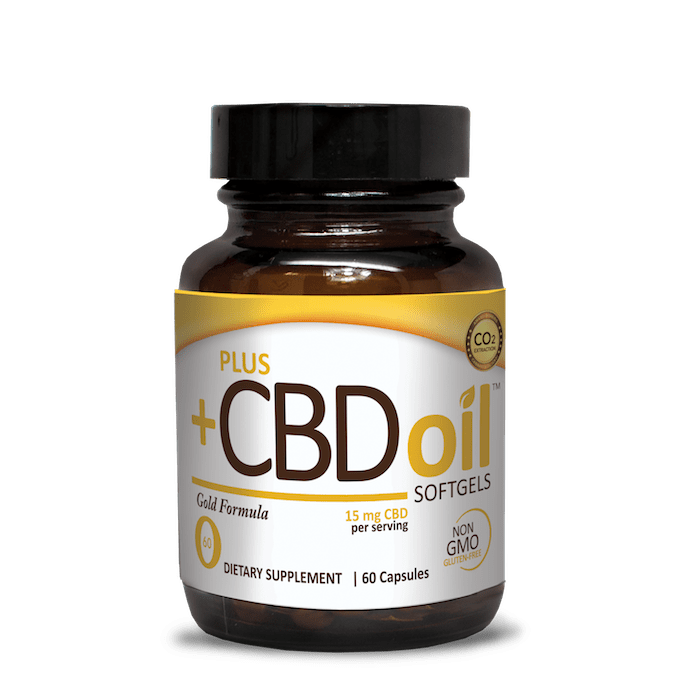 These softgels offer you one of the easiest ways to ingest full spectrum phytocannabinoids. The product is made from the aerial parts of the hemp plant after total plant CO2 extraction and decarboxylation to activate the CBD.
The capsules are available in packs of 10, 30, and 60, and each one contains 15mg of CBD. It uses an extra-virgin olive oil base and is free from gluten and GMOs.
The brand also offers Total Plant Complex and Raw softgels, for a variety of cannabinoids depending on your needs.
Plus +CBD Oil's Other Products
The brand also offers a range of topicals and gummies. Its topical products are especially popular and include balm, roll-on, serum, and body lotion.
The gummies are available in two flavors, Cherry Mango and Citrus Punch. They come in packs of 10, 30, or 60 with 5mg of CBD per gummie.
Benefits of CBD Plus Oil
The list of possible benefits is lengthy, and while research is still ongoing, newly released data suggests that CBD oil is the 'real deal.'
Plus +CBD Oil stands by the quality of its hemp which it says is:
Rich in Nutrients: It includes Natural Fatty Acids which are not produced naturally by the body.
Non-Psychotoxic: The extremely low levels of THC within hemp means there is no 'high.'
Eco-Friendly: Hemp grows quickly, is renewable, and practically every part of the plant is usable. Also, it doesn't need herbicides, it isolates and traps CO2, and it improves the condition of the soil.
What Plus +CBD Oil Clients Say
There are surprisingly few reviews on the website, but at least they come from happy customers! Denise C. was completely satisfied with her CBD Oil Drops and vows not to purchase low-quality alternatives again. She also said: "I am a loyal client of CBD plus and have referred friends and medical professionals to this product and company."
A reasonable amount of people wrote in to express their satisfaction with the brand name's CBD Oil Spray. According to Kelly: "The sense of calm I feel since taking this product has been amazing. Thank you so much for making such a quality product."
How to Purchase Plus +CBD Oil
As the Plus CBD Oil range sold by CV Sciences is classified as a 'health supplement,' it is available for sale throughout the states. The brand advises all customers to contact their physician before using any of their products and points out that you have to be at least 18 years old.
You could be eligible for discount 'bulk purchase' prices if you are a:
Food/beverage manufacturer.
Pet product manufacturer.
Formulator of supplements and vitamins.
Producer of Vape products.
Producer of topical or skincare products.
Otherwise, you can simply click on this Plus CBD Oil website link and start purchasing. It is almost as easy as purchasing something from Amazon!
Final Thoughts About Plus +CBD Oil
We believe the CBD supplements in CV Sciences' Plus CBD Oil range is of premium quality and for a reasonable price. The CBD content is extremely high in some of the products although there is a slight concern about the flavors in some of the range. For example, while the peppermint flavor in the CBD spray is nice, the other flavors are pretty awful! But that's just our opinion.
---
Disclaimer: Please keep in mind, though, that before you start using any CBD-based or related products, you should always consult with your family doctor. While I can tell you about the general collective feeling that most people have about certain CBD providers, this information should never substitute that of professional advice.
---
Trending Now