[How to Build a Better Brain] Qualia Mind/Focus Review 2020: Should You Buy It?
---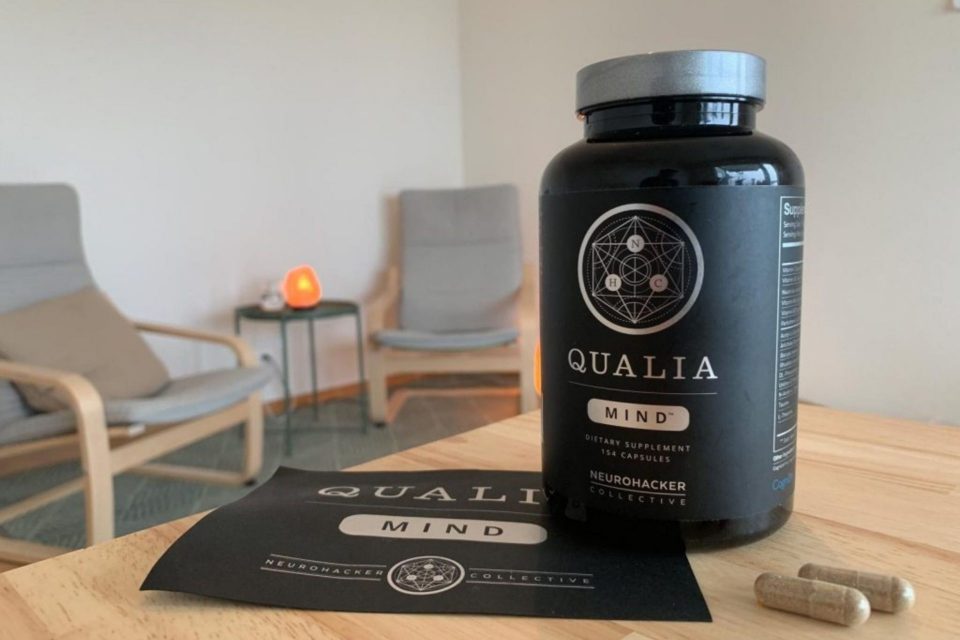 If you are dealing with brain fog, memory issues, mental fatigue, and lack of concentration, you have probably come through smart pills that promise to increase your brain capacity.
Well, maybe they do.
Qualia is a new brain booster in the market that has gained popularity in a short period.
It claims to target professionals to increase focus, improve mental energy, and boost information processing.
In this Qualia review, we bring you all the facts regarding this brain booster and whether it is the best option in the market.
Does it work?
Will it offer better value for money?
Let's find out.
What Is Qualia?
Qualia is a nootropic that aims to boost brain performance both in the short and long term.
It comes in two categories:
Qualia Mind – focuses on offering immediate short term executive cognitive function.
Qualia Focus – aims to boost long term cognitive function, including increasing metabolism and energy, encouraging neuron and synapse development, and promoting neuroplasticity and neurogenesis.
Neurohacker Collective designed Qualia in 2016; the company prides in developing a formula based on complex systems science.
This means that the company's scientists target the whole body ecosystem.
Qualia Mind Ingredients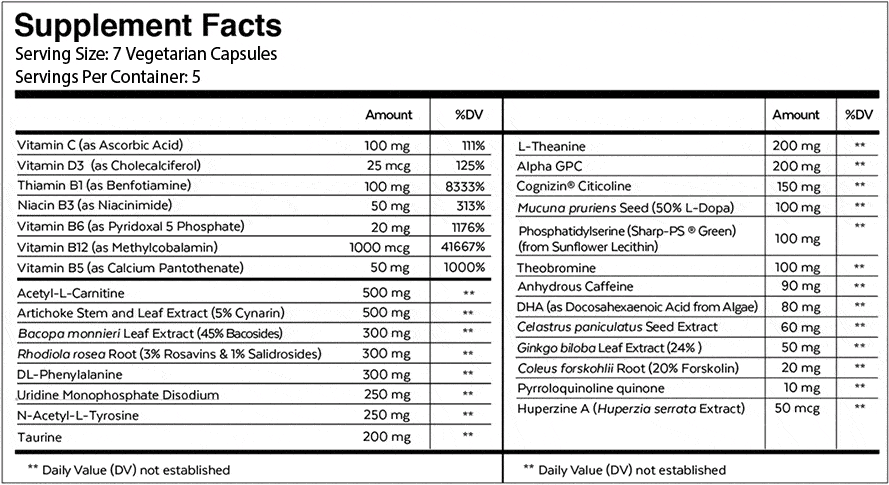 Qualia combines nootropic compounds, antioxidants, choline donors, neuro-vitamins, amino acids and adaptogen extracts.
What Is The Difference Between Qualia Mind vs. Qualia Focus?
Qualia Focus & Qualia Mind are both fast-acting, high-purity, research-backed nootropics designed to support and maximize brain health.
At first sight, these two might seem almost similar. But if you take a loupe and go through their list of ingredients, you'll notice some glaring differences. Here are some of those key differences.
4 Extra Ingredients for Mind
Focus is entirely made up of these 24 ingredients but Mind has 4 more ingredients (bringing its total list of ingredients to 28). The 4 are Cognizine (Citicoline), Phosphatidylserine, Docosahexaenoic Acid (DHA), and Pyrroloquinoline Quinone (PQQ).
Note: Mind and Focus are not intended to stack together.
One of the key distinctions you'll notice between Qualia Mind and Qualia Focus is that Focus was designed to have fewer capsules and be more easily affordable ($34.50).
Does Qualia Really Work?
Qualia Mind gives you the ability of quickly increasing;
Enhancing learning
Increasing your mental stamina
Eliminating brain fog
Fueling focus and concentration
Boosting brain nutrition
Upgrading energy
Promoting mental clarity
Your focus will be increased for a good few hours. Also, it is know to benefit your working memory.
Qualia Focus is a cheaper and less potent formulation compared to the Mind blend. But considering its quality of ingredients, it performs way better than some of the popular premium stacks out there in the markets.
The fact that it contains lots of Alpha GPC means that it's a reliable source of acetylcholine which directly affects brain energy. Some of the key effects associated with this product include:
Enhanced cerebral blood flow
Better metabolic support
Stronger cell structures
Enhanced neuroplasticity
Neuron & synapse development
How Long Does Qualia Last?
How long Qualia lasts for depends in each individual, and effects can vary. Here's the good news, people have seen an increase in mental focus in just under 30-minutes.
You can expect mental performance to last from a few hours, to possibly a few days.
How Does Qualia Work?
Qualia contains various ingredients, including nootropics, amino acids, adaptogens, neuro-vitamins, and choline donors that offer both short term and long term cognitive functions and improve general health.
Qualia targets various natural pathways that link both cognitive and performative functions.
Therefore, it focuses on brain chemistry, membrane health, brain energy, neuroplasticity, neuroprotection, choline signaling, dopamine signaling, and neurogenesis.
Qualia Mind is designed to offer immediate improvements in cognitive function, especially memory, executive function, and information processing.
On the other hand, Qualia Focus targets neuroprotection, neuroplasticity and neuron growth.
The blend of ingredients stimulates the release of neurotransmitters, growth, and development of cell walls, neuron and synapses growth, prevents oxidative stress and enhances energy metabolism.
This results in better cognitive function and slower age-related mental decline.
That's not all, Qualia offers cognitive improvements and also provides a neuro-system upgrade, meaning that you will enjoy better cognition in the long term even without the pills.
How To Use Qualia?
Each bottle of Qualia Mind comes with 154 capsules, and Qualia Focus comes with 100 capsules.
The manufacturer advises that 7 capsules of Qualia Mind or 5 capsules of Qualia Focus should be taken daily.
When you complete your first purchase, the manufacturer requires you to test your mental performance, before using Qualia and 5 days after taking the supplement.
---
---
Who Takes What?
The Focus blend is popular among the new age-y, beginner and intermediate nootropic users while the Mind blend resonates with advanced biohackers looking for something really really dope!
Are There Any Side Effects?
Qualia contains natural and high-quality ingredients that are safe for the user.
The ingredients have been tested in various clinical trials.
The manufacturer does not indicate side effects, but they state:
'we've taken care to avoid risky ingredients and to select dosages that are unlikely to have negative effects for most people.
That said,this isn't a placebo.
The supplements in Qualia have real effects, and there is a lot in here.
Read the instructions and follow them.
If something feels wrong, stop using it.
They also warn that Qualia may be contradicted in individuals who experience increased heart rate due to tachycardia or heart condition.
Besides Qualia may cause side effects if:
Instructions are not followed.
Using alcohol or cannabis.
Not taking enough water.
Lack of enough healthy fats in your food.
Always consult with your doctor before using Qualia.
Besides, if you are sensitive to caffeine, consider the caffeine-free Qualia.
What People Say About Qualia?
Qualia users have nothing but praise to say about the brand.
This shows that it is popular and effective.
Here are some reviews from users:
Devin Burke says:
"As an athlete and health coach, I'm always looking for products that can help enhance my clients and my own performance! Over the years, I've tried many different natural nootropic blends and supplements. Qualia Mind is a great formula that actually works. You can feel it kick in about 20 minutes after you take it and last for hours. I recommend experimenting with the dose a bit to find what works best for your unique biochemistry."
Jason writes:
"I have taken this for the past three days, and I have been very impressed with the effects. First, I have only been taking 5 a day rather than the 7 you are supposed to. I decided to start with a lower dose and raise it if I wanted to later. I think I will be trying a high dose, but the 5 capsules have had a very noticeable impact. I feel like I have more mental energy, increased creative, better mood, and just ease when trying to do and understand school work. I do think it is a little too earlier to judge ultimately, but my initial impression is impressed, and I would definitely recommend getting the small bottle to try."
Adrian Bustamante reports:
"Love these supplements! Great energy boost without jitteriness or a crash. Really got a lot done, so I feel like it helps with focus a lot as well. Just feel so much better in general after taking them."
Sal Volcano says:
"I don't often notice a difference when taking supplements, but this stuff works. The folks at Neurohacker know their stuff."
Qualia Pros and Cons
Pros
Increases focus and mental stamina.
Improves learning and memory.
Contains natural ingredients supported by clinical trials.
No side effects.
100-day money-back guarantee.
Offers a caffeine-free version.
Cons
Expensive.
Has a high daily dosage-7 capsules Qualia Mind and 5 capsules Qualia Focus.
Few reviews on the product.
Should You Buy It?
Qualia, like the Mind Lab Pro, is a top-quality brain booster that supports brain health and improved focus.
It combines various ingredients that are backed up by science to support better cognitive function, energy, and metabolism, brain nutrition, neuroplasticity, and neuroprotection.
There are no reported side effects; however, it is contradicted in individuals with heart conditions.
Besides, it comes with a full refund policy and a caffeine-free version for individuals who are sensitive to caffeine.
---
---
Disclaimer: Please keep in mind, though, that before you start using any CBD-based or related products, you should always consult with your family doctor. While I can tell you about the general collective feeling that most people have about certain CBD providers, this information should never substitute that of professional advice.
---
Trending Now