Tommy Chong's CBD Review (20232)
---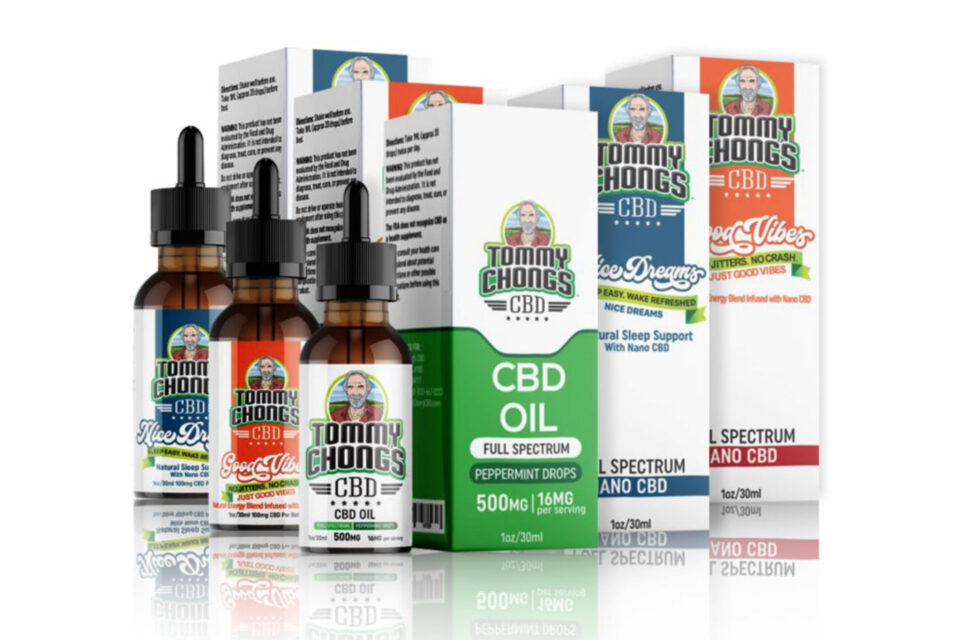 Overview
Tommy Chong's CBD is more than a "celebrity," brand. It's a CBD company that focuses on safety and quality. The line of tinctures, topicals, gummies and capsules is quickly becoming known for its superior composition, taste and potency.
Tommy Chong's CBD: Quick Summary
PROS
Utilizes a cold-fill process for cleanliness and safety.
Offers products that fit a range of unique needs.
Employs a top-notch research team and skilled CBD experts.
Products contain nano-emulsion technology for better absorption.
Products contain a wide range of terpenes and phytochemicals.
CONS
Products are a bit expensive.
Lab-testing results are not posted online.
Tommy Chong's CBD Review
Tommy Chong's CBD gets its name from a famous actor with a storied and exciting Hollywood background. His acting chops have been honed well on the silver screen alongside a cadre of other Hollywood elites. He's amassed a loyal cult following and has proven that he's more than a thespian with his activism. He's endorsed cannabis use both on and off the stage, and Tommy Chong CBD is a nod to his ongoing quest for cannabis accessibility.
While he's advocated the use of THC, his foray into CBD has become front and center. Many CBD enthusiasts and fans have become enamored with his take on this newest craze. While some may be reluctant, he strives to prove that his products are based on quality and value. Tommy Chong offers a burgeoning line of CBD products that fit a variety of health goals. In this review, we'll take a look at his products and highlight some of their aspects.
What Products Did We Review?
Tommy Chong's CBD has a wide range of products. They offer various CBD-infused topicals, gummies, tasty energy shots, tinctures, and capsules. Their selection runs the gamut from 300mg to 3000mg.
Their signature brand of tinctures serves various purposes, including increased sleep, energy, and focus. The topical line includes an assortment of muscle relaxing and stress-reducing balms and gels. We'll also take a look at their gummies, including their flavor profile and potencies.
Tommy Chong also offers a selection of CBD-infused softgels. We'll also highlight this product as well as its essential aspects and characteristics.
Tommy Chong CBD: The Full Product Line
Tommy Chong CBD offers a top-notch selection of items. This company takes CBD crafting quite seriously. Although they extol the fun and relaxing side of CBD, they also delve deeply into the composition. They included high-grade ingredients like GABA and taurine for a complete CBD experience.
Their line of nano CBD goods includes nano-emulsion, a technique that allows the body to absorb particles better. Their methodology seeks to increase bioavailability and the effects their products may have. Nano-emulsion may also impact how the oils and other products get digested and allow for less adverse reactions.
Their current product line has become immensely popular and includes options for novices and more experienced users, including:
Tommy Chong CBD Tincture
Their line of CBD tinctures includes CBD-infused options with nano-emulsion technology as well as the traditional tinctures. Each bottle comes equipped with a convenient dropper for ease of use. Consumers have a range of potency choices, from 300mg to the most robust option of 3000mg.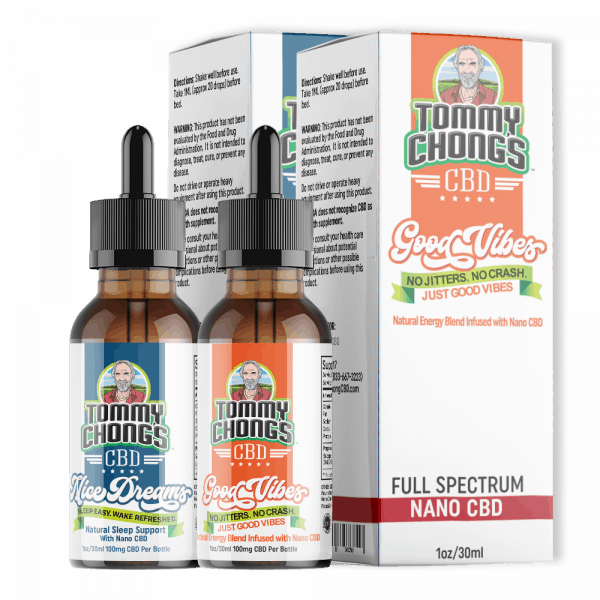 They don't have a wide flavor range, though they do feature a peppermint choice. Their nano CBD "Good Vibes," selection contains taurine and vitamin B6 but doesn't have a particular flavor profile. The other nano CBD, "Nice Dreams," doesn't have a flavor profile as well, but contains melatonin for better sleep.
Their CBD also has high-grade American grown hemp. They craft each bottle with cold-pressed hemp seed oil and offer the full-spectrum of flavonoids, terpenes, and phytochemicals.
CBD Topicals
Those seeking immediate relief of body aches and pains or tension may use Tommy Chong's CBD line of topicals. These topical options include:
100mg Full-Spectrum CBD Muscle Balm (60ML)
500mg Full-Spectrum CBD Muscle Balm (60ML)
250mg Muscle Freeze Gel (80ML)
1000mg Muscle Freeze Gel(80ML)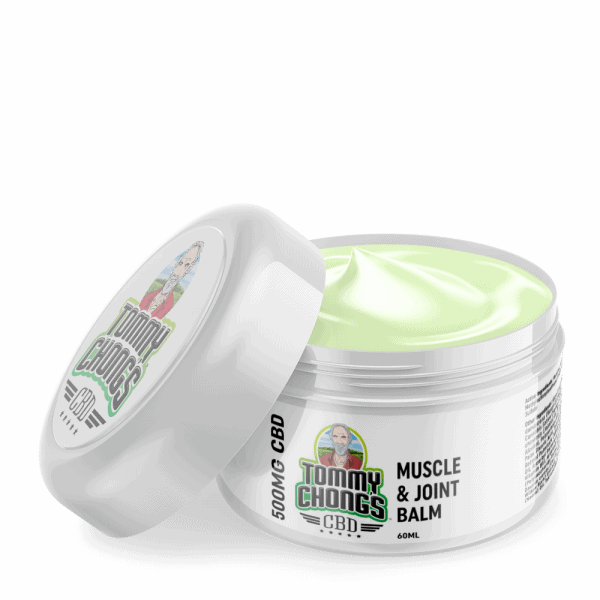 They market their topicals as an excellent way to recover after a harsh exercise routine or to relax and release stress. The muscle balms contain soothing ingredients like menthol and camphor to ease strain and soreness.
The freeze gels contain either 250mg of American hemp extract or 1000mg. Each 80ML bottle includes elements such as menthol and camphor, as well as isopropyl alcohol.
CBD Capsules
Tommy Chong CBD offers a line of capsules for anyone who may not enjoy the taste of hemp or peppermint. These capsules feature U.S. grown hemp flower extract. Consumers can choose between 10mg per serving with the 300mg bottle or 25mg per serving with the 750mg bottle.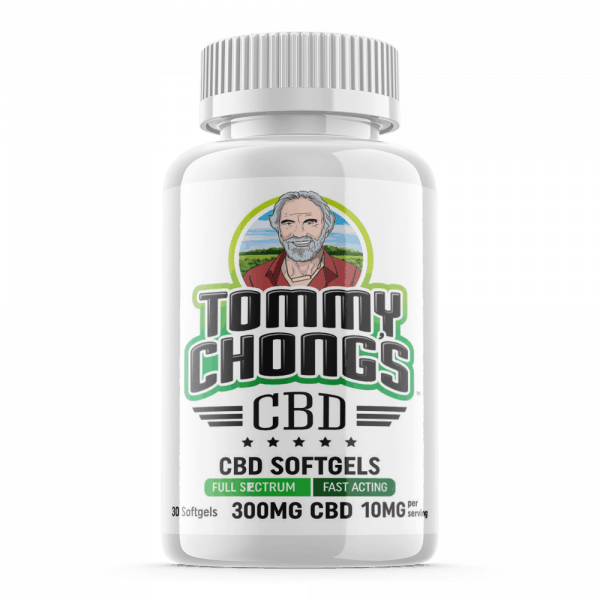 They encapsulate each dose in an all-natural gelatin shell for easy digestion and absorption. The capsules are all full-spectrum and contain the range of compounds found in the traditional tinctures. The tablets are an excellent way to transport CBD on the go. Users can take them with just a swig of juice, tea, or water.
CBD Gummies
For those looking for a fun way to take their CBD, there are the Tommy Chong CBD gummies. These gummies come in two options: 300mg of CBD or 750mg of CBD. Each gummy contains either 10mg or 25mg of CBD.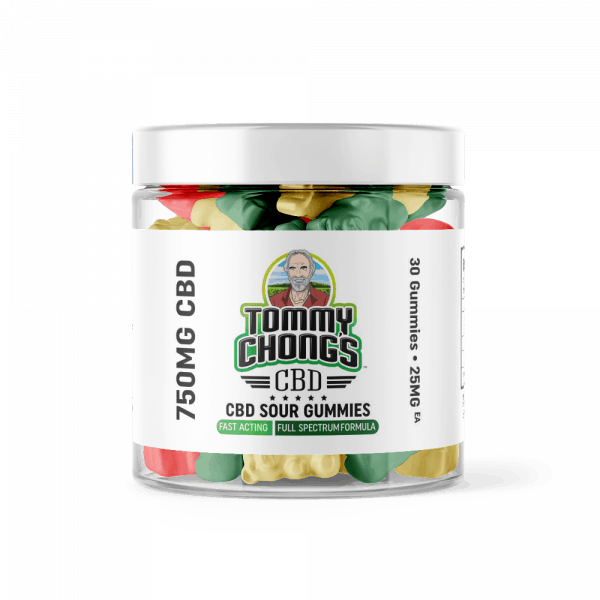 All gummies are third-party lab tested and bottled in a GMP-certified facility. They also don't contain any pesticides, heavy metals, or undesirable compounds. All gummies feature a tasty fruity flavor.
CBD Energy Shots
If consumers want a quick pick me up, the Tommy Chong line of energy shots may work well. Each bottle contains a blend of vitamins B6 and taurine. It also has nano hemp extracts, caffeine, stevia, and natural sweeteners. It boasts a delicious peach-mango flavor and comes in a two-fluid ounce compact container.
The energy shots contain a total of 20mg of nano CBD. The nano-particles are great for quick digestion and energy. Consumers can take this product alone or with a beverage. They've geared this product for focus, energy, and uplifting mood. Anyone looking for a sleep or rest inducer should steer clear of this item.
What Else Should I Know About Tommy Chong's CBD? Some Helpful Highlights
Tommy Chong CBD strives to prove that CBD can become part and parcel of a healthy lifestyle. While the company does have some THC products, they have expanded their line to include hemp-derived CBD. They seek to change the way individuals see CBD and influence how people use CBD in their daily lives. Other highlights of this company include:
Work with a leading nutraceutical manufacturer
Pasteurization that doesn't strip away essential compounds
Facilities that are cGMP (Certified Good Manufacturing Process)
CEO and founder, Tommy Chong uses CBD in his own life
Tommy Chong's CBD Review: Summary & Where to Buy
Tommy Chong's CBD seems dedicated to providing more extensive accessibility to great CBD. They carefully select their CBD from American farmers for high-grade hemp that makes a difference in quality. Their processes offer an extra layer of protection from degradation and toxicity, allowing consumers to have a safer experience.
Their products don't contain pesticides and harmful chemicals. However, while they tout their lab testing, consumers can't access these results on their site. Despite this point, they have a responsive customer service team and support line for questions and feedback. Those interested in purchasing can log onto the website and get products delivered right to their door.
---
Trending Now