TRE House Review (2023)
Posted On November 1, 2023
---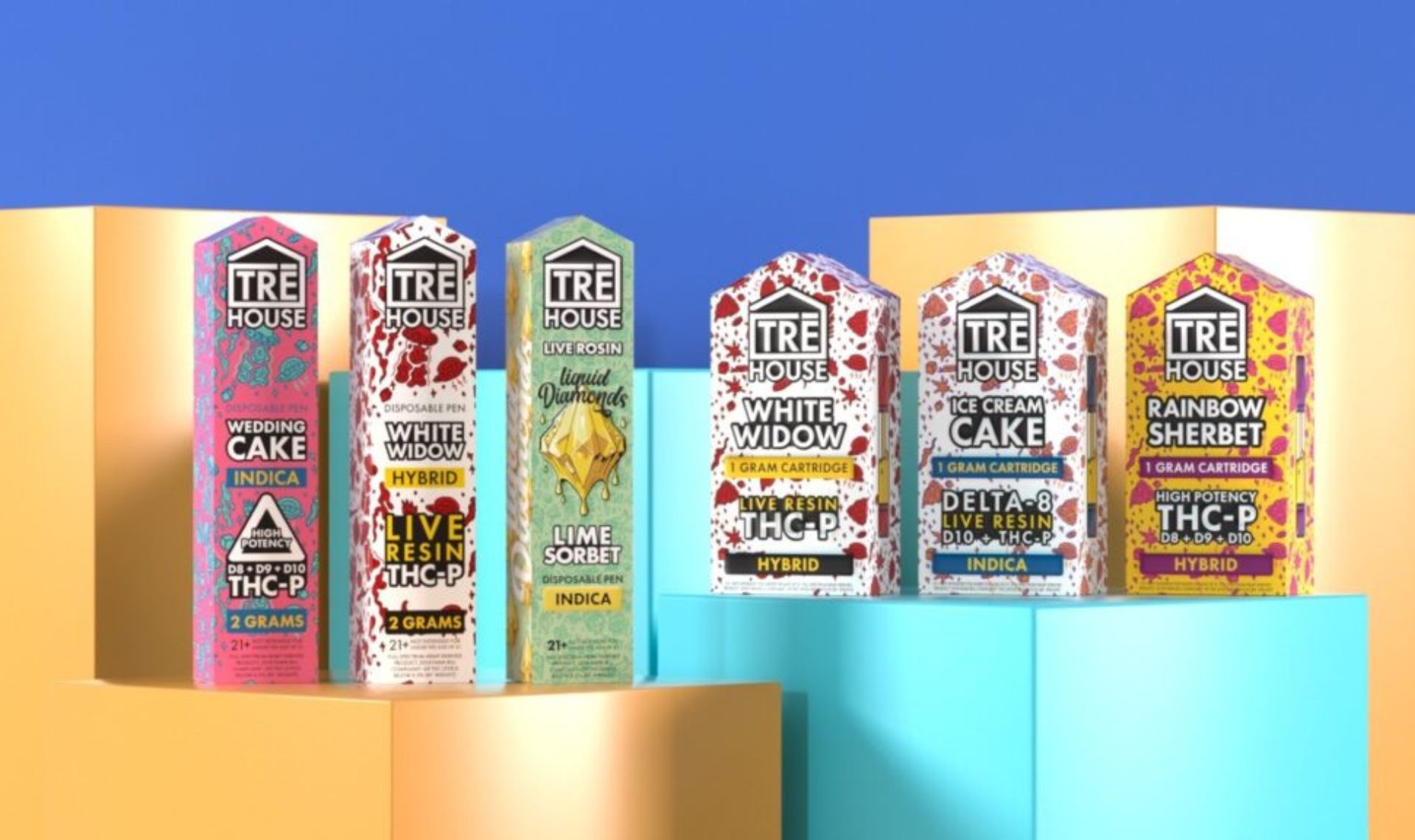 Using a range of cannabinoids, Tre House has turned into one of the best sources of hemp-derived products. From disposable vapes to gummies to cartridges and even syrup, it is an excellent brand to discover some of the industry's most unique, and effective products using your favorite cannabinoids. Their packaging is extraordinary, they offer a large variety, and we find Tre House is an exceptional brand. Don't take our word for it, though. There are many products to use and cannabinoids to discover, so feel free to browse through the collection we've shared below in this review.
TRE House Brand Collection
From a well-put-together story to the products Tre House believes have been formulated perfectly, it's hard not to get behind this brand. Founded by experts in the cannabis, CBD, and vape categories, Tre House has become a popular hemp-based products brand that has set out on a mission to "create the best recreational delta products imaginably," and we believe they're making a solid effort. Headquartered in California, Tre House has developed a solid offering, and its brand is built around the special formulations of cannabinoids, which includes products combining THC-O, Delta 8, Delta 9, and Delta 10. Other products consist of Delta 9 and CBD, and so many more mixtures. You can enjoy everything from THC-O Live Resin Disposables, Delta 8 Gummies, HHC Cookies, and a range of many more products that are sure to deliver the most impressive experience you've had yet. HXC is a popular cannabinoid that has been gaining a lot of attention lately, as well.
TRE House Product Collection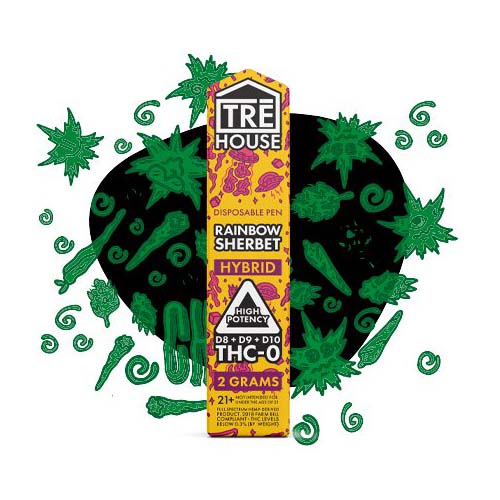 THC-O Live Resin Disposable Vape by TRE House
Giving a convenient and enjoyable way to experience potent THC-O Live Resin, this quick and easy disposable makes vaping a breeze. It is a compact device that is pre-filled and pre-charged, ready for you to take action. It's loaded with 2 grams of THC-O, THC-P, and strain-specific terpenes. Another option available is packed with THC-O, Delta 8, Delta 9, and Delta 10, giving you a special blend for the most amazing effects.
Delta 8 Gummies by TRE House
Delivering a delicious taste that will make your mouth water with excitement, these Tre House Gummiesby Tre House are just the treat you need to reward yourself throughout the day. It is a delicious gummy candy that features potent Delta 8 and is enriched with HHC, CBD, and THC-O. It's an incredible blend of cannabinoids and offers 35mg per gummy, alongside an incredible tropic mango flavor.
THC-O Live Resin Cartridge by TRE House
Perfectly pairing with your 510-capable device, the THC-O Live Resin Cartridge is a perfect option. It is a cart that delivers great performance and features an ideal blend of THC-O, which is enriched with THC-P. Each cart contains 1 gram of live resin concentrate and terpenes from the White Widow strain, delivering an effective vape that you can puff on all day long.
D9 + CBD Gummies by TRE House
Splashing your taste buds with the most pleasing flavor, these gummies will act as your own personal stash of candy. They're small and packed with flavor, alongside a hefty blend of Delta 9 and CBD. It's a perfect 1:1 ratio, pairing 10mg of Delta 9 and 10mg of Full Spectrum CBD. Along with amazing effects, you'll also enjoy each and every chew bite-sized snack that is infused with a delicious peach and pear flavor.
Delta 8 Live Resin Disposable Vape by TRE House
Compact, portable, and performance-driven, the Delta 8 Live Resin Disposable is an awesome device to have by your side. Like many Tre House Disposable, it's pre-filled and pre-charged and is also rechargeable. It comes with a 2-gram special blend, containing Delta 8, Delta 10, THC-P, and strain-specific terpenes, like Super Lemon Haze, Wedding Crasher, and Ice Cream Cake. The effects and the flavor combined make for an amazing vape.
D9 + CBD Cookie by TRE House
There are many gummies that exist on the market but we're certain you won't find another snack more pleasing than this cookie. It is a scrumptious pairing of Delta 9 and CBD, along with the taste of a freshly baked chocolate chip cookie. It features a balanced 1:1 ratio of the two, giving you 20mg of CBD and 20mg of Delta 9 for a potent, yet delicious treat you're going to want to bite into any chance you can get.
Delta 10 Gummies by TRE House
These Delta 10 gummies will definitely become one of your all-time favorites. They're chewy, potent, and filled flavor the most delicious flavor. The little bite-sized gummy candies are infused with 400mg of Delta 10, HHC, and Delta 9, giving you a highly potent experience. It's made even more enjoyable by adding in an incredibly blue raspberry flavor, which we're certain you'll want to chew on throughout the entire day.
HHC Cookie by TRE House
Unlike any cookie you've tried before, this HHC Cookie takes the cake or more taste like cake. It is a delicious birthday cake-flavored cookie that is packed with the highly potent HHC cannabinoid, delivering euphoric effects that are unbelievable. The cookie contains 50mg of HHC and there are 2 25mg servings. Along with great flavor and amazing effects, this is one snack you cannot get enough of.
HHC Gummies by TRE House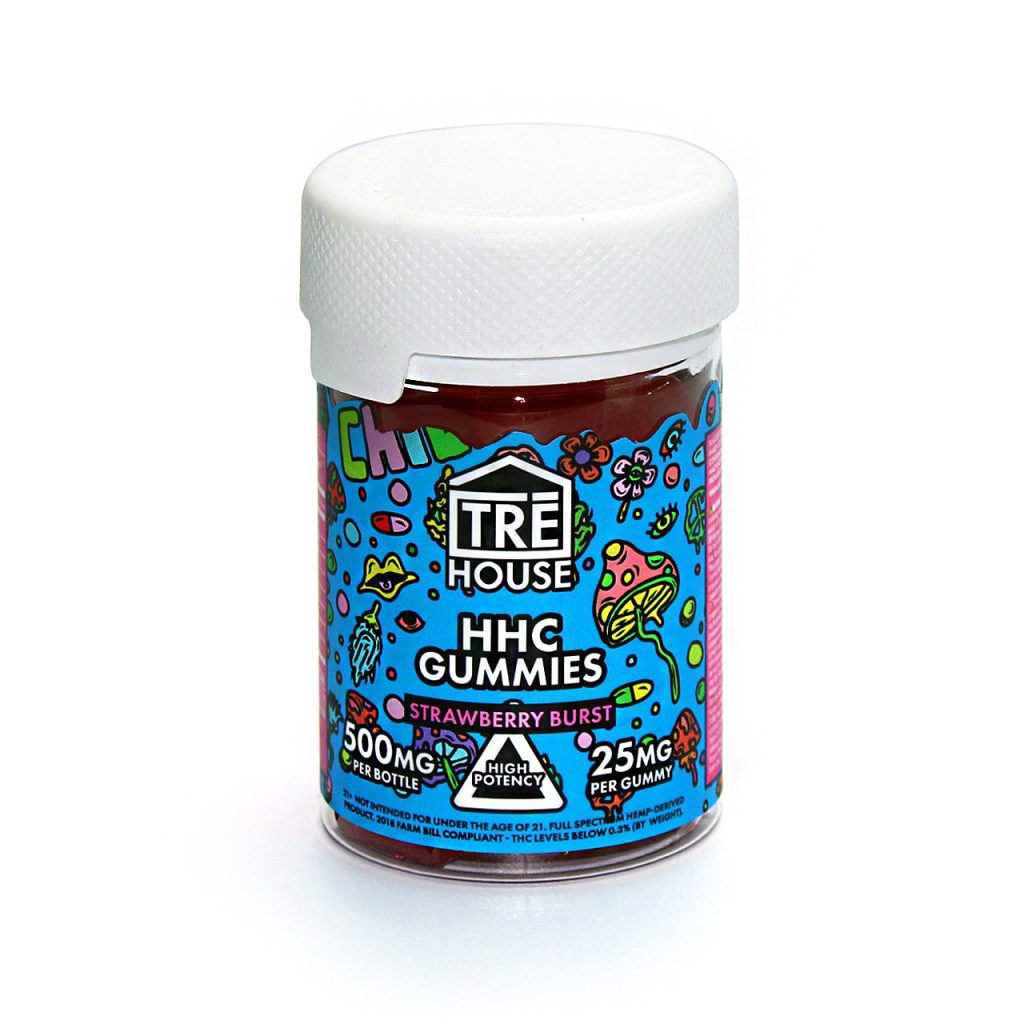 The HHC Gummies by Tre House produce the most flavorful taste thanks to an infusion of HHC and a delectable strawberry burst flavor. They also have euphoric effects. It is a bite-sized vegan, gluten-free treat and will guarantee you have the best experience yet! You can find these and many more at Superstrain.
Tre House's HHC Gummies are tiny, bite-sized gummy candies that harness the power of HHC to provide you with a powerful, euphoric high that you can enjoy as you move from one gummy to the next. Each bottle contains 20 gummies that have delicious sweet strawberry flavors. Each bottle contains 500mg total and 25mg of HHC per gummy. Get ready for the ride because these high-potency gummies will take you on a psychedelic adventure with a ton of flavor to experience.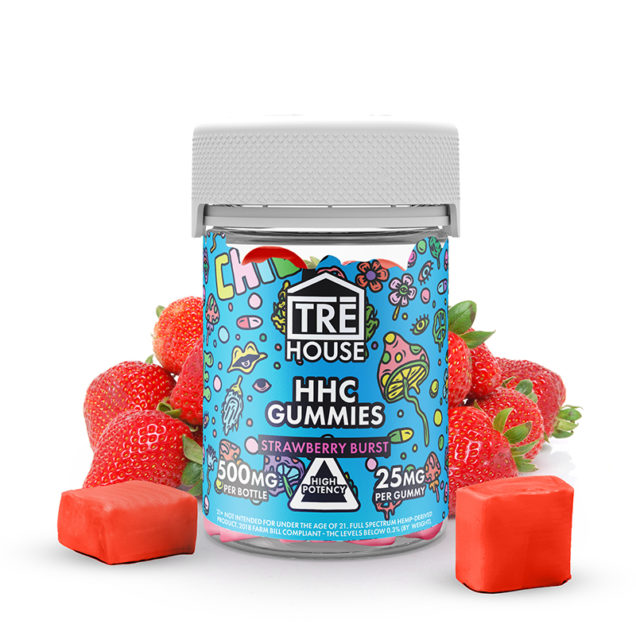 The HHC Gummies from Tre House are undoubtedly what you need if you want a delectable pleasure to enjoy throughout the day. It is a delicious, bite-sized snack that mixes the most incredible flavors with HHC made from hemp, providing you with a premium candy gummy infused with the cannabinoid you enjoy most.
One of the most prevalent cannabinoids on the market right now is HHC, and of all the HHC products available, these gummies are by far the fans' favorite. With their highly potent HHC gummies, TRE House really went all out. These are not for the weak of the heart and can make you feel extremely euphoric. That said, if a whole gummy is too potent for you, you may always break it into smaller pieces.
These gummies have the finest ingredients and a mouthwatering flavor combination. I wholeheartedly endorse these gummies if you want to treat yourself to a potent HHC experience! TRĒ House uses real fruit flavors to produce the most accurate strawberry flavor that we've ever tasted.
Directions for Use
Gummies are pretty simple to use. Simply decide on a serving size you want to eat, remove your gummy from its packaging, and eat it. TRE House gummies are potent; therefore, I advise starting with just half of one and gradually increasing your dosage as needed. These gummies can get you really high. Don't drive or operate any heavy machinery when consuming cannabis products.
HHC Disposable Vape by TRE House
Sharing the most exciting tastes and the most potent effects, these HHC Disposable Vapes will definitely deliver if you're looking for something that's potent and flavorsome. Each disposable comes pre-filled, and pre-charged, and can be used from the moment you receive it. They contain 2 grams of HHC and strain-specific terpenes that will have your mouth watering.
HHC Live Resin Cartridge by TRE House
Compatible with nearly any 510-threaded battery, the HHC Live Resin Cartridge is the perfect companion for people who want to explore the effects of HHC and experience the tastes that come along with it in these Tre House carts. Each cart is 510-threaded, offers great performance, and contains 1 gram of HHC live resin with strain-specific terpenes, like Grape Ape, and Watermelon Zkit.
THC-O Cartridge by TRE House
Producing yet another remarkable blend and packing it into a convenient cartridge, Tre House has once again outdone itself. The THC-O Cartridge is perfect for any 510-capable device. It offers great performance and features an amazing blend of cannabinoids, which include THC-O, Delta 8, Delta 9, Delta 10, and uses Rainbow Sherbet terpenes to provide a flavorful experience.
Delta 8 Live Resin Cartridge by TRE House
With tons of flavor, great performance, and filled inside of a convenient cartridge, the Delta 8 Live Resin Cartridge is just what you need if you're looking for flavorsome tastes and potent effects. Each cartridge is compatible with nearly any 510-threaded device or battery and is sure to deliver a solid performance. It features a special blend of Delta 8 Live Resin, Delta 10, THC-P, and Ice Cream Cake strain terpenes.
Summary
Before we reiterate that the ultimate choice is completely yours, let's state some facts.
The D8, D9, D10 and HHC market is growing fast and sharp; bringing in immense opportunities to new companies foraying into the cannabis marketplace. You could easily find tons of brands that are just there to make a quick buck. They may not be as reliable as the brands we would usually project.
However, with TRE House, you can be sure about the ingredients and lab results of the products.
TRE House is one of the most sought-after brands due to its wide range of effective and quality products.
The brand thrives on giving its customers the best of natural Delta-8 THC through seamless scientific research and development.
Its popularity speaks for its trustworthiness.
Overall, If you're interested in potent products that taste great and actually live up to their listed potency, it has something for you.
I thoroughly recommend that you check out TRE House!
---
Trending Now