What You Need to Know About Vitamin E
---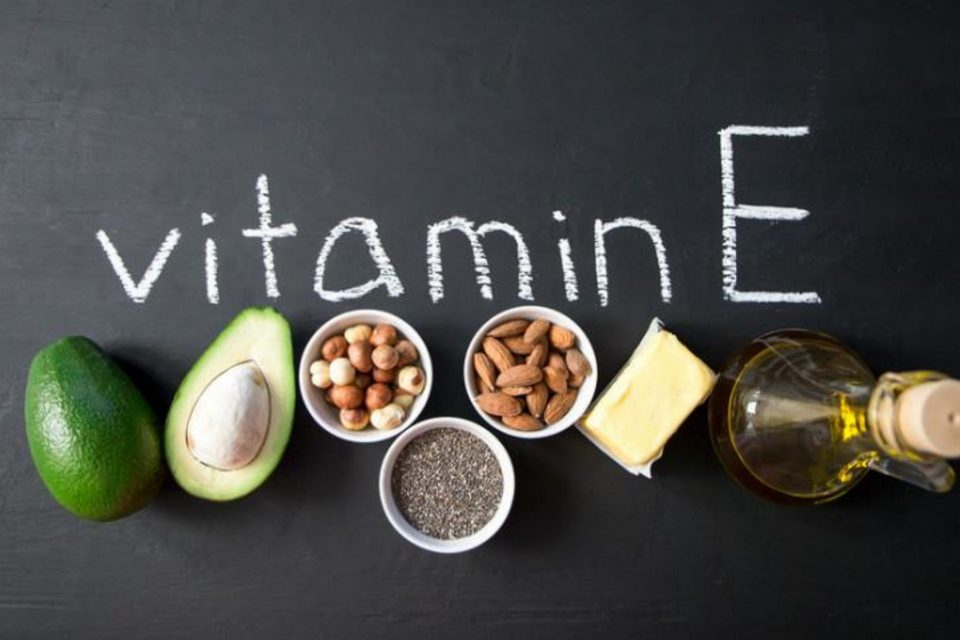 You may have heard that vitamin E may help protect against cancer and heart disease. Are you concerned you're not getting enough or that you need a supplement? Read on for the truth about your vitamin E needs.
What Can Vitamin E Do for Me?
Vitamin E is a powerful antioxidant whose main job in the body is to protect against cell damage. Vitamin E may also play a role in maintaining a healthy immune system and protecting against chronic diseases, such as heart disease and cancer.
How Much Vitamin E Do I Need?
| | | |
| --- | --- | --- |
| Age | Vitamin E needs (mg/day) | Don't exceed (mg/day) |
| 19 years and older | 15 | 1000 |
| Pregnancy | 15 | 1000 |
| Lactation (breastfeeding) | 19 | 1000 |
Food Sources of Vitamin E
Vitamin E is found mainly in foods that contain fat. Some examples are nuts, seeds, avocado, vegetable oils and wheat germ. Some dark leafy greens and fish are also sources of vitamin E. Use the following table to help you choose foods with vitamin E.
| | | |
| --- | --- | --- |
| Food | Serving size | Vitamin E (mg) |
| Toasted almonds | 60 mL (1/4 cup) | 18 |
| Roasted sunflower seeds | 60 mL (1/4 cup) | 10-12 |
| Almond butter | 30 mL (2 tbsp) | 8 |
| Wheat germ oil | 5 mL (1 tsp) | 7 |
| Wheat germ | 30 g (1/4 cup) | 5 |
| Avocado | 100 g (1/2 a fruit) | 4 |
| Peanuts | 60 mL (1/4 cup) | 3 |
| Peanut butter | 30 mL (2 tbsp) | 3 |
| Sunflower oil | 5 mL (1 tsp) | 3 |
| Canned tomato sauce | 125 mL (1/2 cup) | 3 |
| Cooked spinach | 125 mL (1/2 cup) | 2-4 |
| Cooked Swiss chard | 125 mL (1/2 cup) | 2 |
| White tuna, canned in oil | 75 g (2.5 oz) | 2 |
| Sockeye salmon | 75 g (2.5 oz) | 2 |
Do I Need to Take Vitamin E Supplement?
No. Most people can get enough vitamin E through their food choices. Vitamin E is a fat soluble vitamin, which means that our bodies can store the vitamin in our liver to use for days when we might get less vitamin E than usual. People who may have trouble getting enough vitamin E are those who are on very low-fat diets or who have health conditions that make it difficult to absorb fat.
As long as you eat a variety of antioxidant rich foods such as vegetables, fruit, whole grains and moderate amounts of unsaturated fats from vegetable oils, fish, nuts and seeds, you should be able to get a healthy amount of vitamin E each day.
Can Taking Vitamin E Supplement Help Prevent Cancer or Heart Disease?
No. It is not recommended that you take a vitamin E supplement to help prevent chronic diseases like heart disease or cancer. In fact, some research has shown that in certain individuals (such as those who have had heart disease, cancer or diabetes), high doses of vitamin E supplements can actually cause harm. More research is needed to determine how vitamin E supplements can affect the risk of chronic disease. Always speak with your doctor before starting a vitamin E supplement.
The amount of vitamin E found in a multivitamin is considered safe and appropriate for healthy individuals.
Meal and Snack Ideas Rich in Vitamin E
Skip the mayo and add sliced avocado to sandwiches and salads.
Top your toast with peanut butter, almond butter or sliced avocado instead of butter.
For an after-school snack, the kids will love apple or pear slices with almond butter for dipping.
Keep a small portion (1/4 cup) of almonds or sunflower seeds to have as a convenient snack during the day.
Add wheat germ to smoothies, hot cereal and other items such as muffins and pancakes.
Garnish hot cereal and salads with almonds or sunflower seeds.
Add cooked spinach, collards and Swiss chard to foods like soups, lasagnas, frittatas and quiches.
Garnish a spinach salad with peanuts, sunflower seeds or almonds, top with avocado, tuna or salmon and serve with salad dressing made with sunflower oil.
---
Trending Now